2/3 of $25 million for new zoo elephant, rhino & hippo areas already raised
The Zoological Society of Milwaukee announced today that it quietly launched a capital campaign that has already raised $16.7 million toward a $25 million required for the first phase of a plan that will transform the Milwaukee County Zoo over the course of the next 25 years.
That initial phase of the plan – which is called Window to the Wild – will redesign 25 percent of the zoo's developed footprint, which according to zoo officials will be the largest physical change to the zoo since it moved to its current site from Washington Park in 1961.
The initial phase will create Adventure Africa, which includes new exhibit areas for the elephants, rhinos, hippos and African hoofstock.
Work on this project has, in fact, already begun and the new elephant area – designed in collaboration with HGA, a Milwaukee-based architecture firm – is expected to open by next spring.
A 360-degree panoramic rendering of the elephant project can be seen here.
"Elephants are wonderful, intelligent animals. They have great social needs and we have to continue to accommodate that," says Zoo Director Chuck Wikenhauser.
"The amount of space and the amount of enrichment opportunities we have in there is really going to create such a wonderful atmosphere for the animals."
The new area will be larger and will have both a semi-heated outdoor space for the elephants to use in winter and a barn in which the public can view the humongous residents on a year-round basis. There will also be a variety of "enrichment items" – aka toys – to help keep the elephants mentally and physically healthy.
"This is the first step toward transforming our beloved Zoo, and I invite the community to be a part of this exciting adventure and help us make Adventure Africa a reality," said Zoological Society president and CEO Jodi Gibson.
Adventure Africa will also encompass a new rhinoceros exhibit and, next up after the completion of the elephant area, a new hippopotamus exhibit with an underwater viewing area.
According to Katie Krecklow of the Zoological Society, plans are underway for those projects but no completion dates are yet set.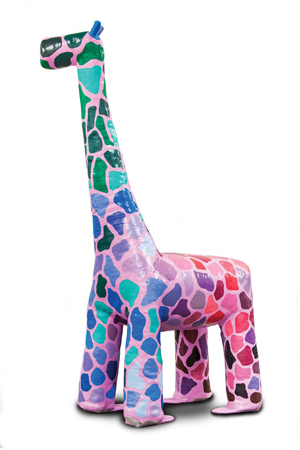 The Milwaukee County Zoo currently has two elephants – Brittany and Ruth – as well as two hippos (Happy and Patti) and two rhinos, Jozi and Mimi.
The zoo is using a "Beastie Safari" – featuring the beastie sculptures (see Paul Ruffalo photo at right) designed by Milwaukee artist Dennis Pearson – to launch the capital campaign and you will find 42 colorful beastie's, including 17 on the zoo grounds, 18 around Milwaukee and seven in the Waukesha area.
A map of the locations is here.
Stay tuned for more information as it becomes available.
Facebook Comments
Disclaimer: Please note that Facebook comments are posted through Facebook and cannot be approved, edited or declined by OnMilwaukee.com. The opinions expressed in Facebook comments do not necessarily reflect those of OnMilwaukee.com or its staff.