Checking into Wisconsin Ave. School before it becomes Ambassador Suites
Now that Ambassador Hotel owner Rick Wiegand has completed the purchase of the former Wisconsin Avenue School, 2708 W. Wisconsin Ave., we checked back in on the progress of Wiegand's plan to convert the 1919 schoolhouse into an extended-stay suites hotel.
News of the project emerged last September, when Wiegand said he was planning to purchase the building for in order to create a $15 million high-end suites hotel on the site.
Wiegand paid $200,000 for the property according to an updated land disposition report prepared for the Common Council by the Department of City Development.
You can see more photographs in this gallery and read more about the history of the building here.
In addition to the Ambassador Hotel a few blocks east, Wiegand owns a number of other properties in the neighborhood, including the adjacent former Tower Theater.
The school closed in 2007 and the 92,600-square foot building on two acres of land was declared surplus by MPS two years later. It had since been considered for a number of uses, including storage for Milwaukee Police Department, a teacher housing development and a new home to Highland Community School (which opted instead to occupy and purchase the former MacDowell Montessori on 17th and Highland).
None of those took root, but Wiegand says that he saw the building and it just said "hotel" to him.
"Plus no one could come up with a better use that would also preserve the building," he says, adding that his intention is "definitely to preserve and promote the historic elements in the theme."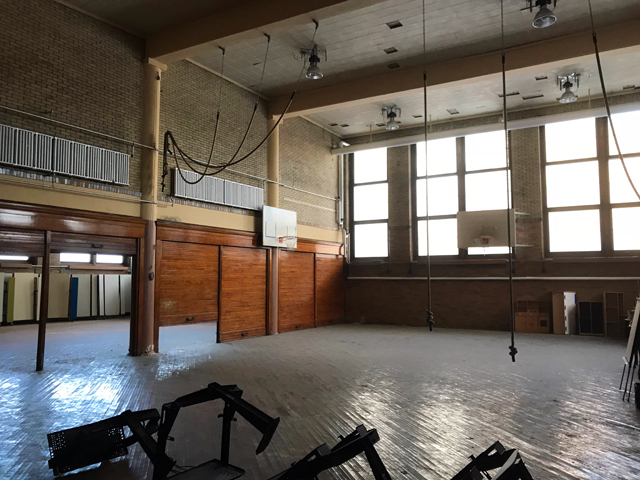 For example, the crew that is emptying the building in preparation for conversion work to begin has been saving items that will form part of a historical display about the school in the new hotel, which Wiegand says will be called Ambassador Suites.
The former kindergarten room, which boasts a gorgeous brick fireplace surround with embedded tiles, will likely be converted into what Wiegand calls the "Principal Suite."
Wiegand has no solid timeline at the moment – the summer of 2019 was reported back in September, which would be the 100th anniversary of the building's construction – and is currently working with architects on plans and interior renderings.
"At this point, there will be 28 suites," he says. "Amenities are still being worked on."
The site plan above and exterior rendering at right were included in the city's land disposition report and were published by Biz Times Milwaukee when it reported on the initial news in September.
The building – designed by Van Ryn & DeGelleke, who did much work for MPS in the first couple decades of the 20th century – is a gorgeous one, with variegated brick outside, and earth-toned tilework and lovely woodwork – including many built-ins –throughout the interior.
There are also a wide variety of grotesques adorning both the interior and exterior of the three-story building.
The design was something of a blueprint for a series of many schoolhouses that followed.
Buildings erected by MPS in the 1920s, like Franklin, Fernwood, Townsend Street, Neeskara and Garden Homes (now Lloyd Barbee Montessori), among others, share Wisconsin Avenue's U-shaped plan with three corridors embracing a central area that houses the gym/cafeteria and auditorium.
Recently, news emerged of a potential renaissance at the nearby former State Theater, and I asked Wiegand if he thinks that a hotel in the Wisconsin Avenue School could help kickstart activity in the currently vacant former Tower Theater next door, which is part of a former County-owned campus on 27th and Wells.
"Not necessarily (just) the theater," he says, "but the entire campus in general."
Stay tuned for more information as it becomes available.
Facebook Comments
Disclaimer: Please note that Facebook comments are posted through Facebook and cannot be approved, edited or declined by OnMilwaukee.com. The opinions expressed in Facebook comments do not necessarily reflect those of OnMilwaukee.com or its staff.