Urban spelunking: Louisville's Joe Ley Antiques / Hiram Roberts School
LOUISVILLE, Kentucky – Some things just seem like they'll be around forever.
Joe Ley Antiques, located in an 1890 schoolhouse at 615 E. Market St., in the burgeoning and hip NuLu section of Louisville, has been one of them.
Ley opened his shop in 1965, moving to the building in 1982 with merchandise he'd collected over the years. And the inventory just kept growing and growing, with everything you can imagine, from books and records to photographs and musical instruments to mirrors and furniture to glassware and neon signs to toys and postcards and on and on and on.
Last July, Ley put the building up for sale and in October it was sold to Louisville native Nick Campisano's New York-based Campisano Capital real estate development and investment business.
Campisano also bought the two adjacent buildings that Ley had acquired – and filled with antiques – over the years.
While he told the Louisville Courier Journal that he plans to tear down those two warehouses – work that could begin by May – Campisano wants to keep the old schoolhouse, which he called a gem.
"I love the structure itself," Campisano told the newspaper.
And how could you do otherwise, with its Victorian take on Romanesque architecture: a broad arched entrance traced in rusticated stone, lovely masonry, a German gable center-stage at the roof line and a small turret on the top floor?
Designed by hometown architect Charles D. Meyer – who also drew plans for the gorgeous hardware company building at 8th and Main that has been called the best example among the city's impressive collection of cast-iron facades – the three-story red brick building was erected in 1890 as a home for the city's Normal School, which educated teachers.
The school in 1923, with tornado slide fire escape on the right side of the building.

When the Normal School moved to a new site at 1128 E. Broadway (built in 1910 and now home to Breckenridge High School), the building became home to an elementary school named for teacher, school administrator and Teachers' Association president Prof. Hiram Roberts.
According to Jefferson County Public Schools, Hiram Roberts Elementary opened in 1923.
Roberts had served as principal of the Normal School from its inception in 1871 until his death in 1897.
"For nearly two years he had been in ill health," wrote public schools superintendent E. H. Mark upon Roberts' death, "and for the two months preceding his death he was scarcely able to attend to his school duties, but so determined was he to be found at his post, that at great personal discomfort he came to the school building each day to direct the affairs of the school and to teach the training class."
BrokenSidewalk.com notes that Jefferson County Public Schools says that Hiram Roberts closed in 1966, though the building remained in use by the district until it was sold to the Koch Glass Company in 1972.
When Ley bought it, its windows were boarded up and it needed love.
"They were using it to store glass in," Ley recalls, "and I think next door, too. I bought this one first, then I bought that one and then I bought the third one and tied them all together.
"I've had a lot of teachers come through here over the years that taught school here."
They might not have found a lot to recognize beyond the exterior and some details, like wainscoting in former classrooms and, in some of those rooms, blackboards that have been painted over.
Ley says pretty much everything from the schoolhouse era was gone by the time he got there.
"They stripped that completely," he says, adding with a laugh, "then we covered it up with stuff."
Some of that "stuff" includes photos of the building collected over the years. Right inside the entrance hang some framed images, including one especially old-looking, but undated, class photo.
Three views of the turret (above and below).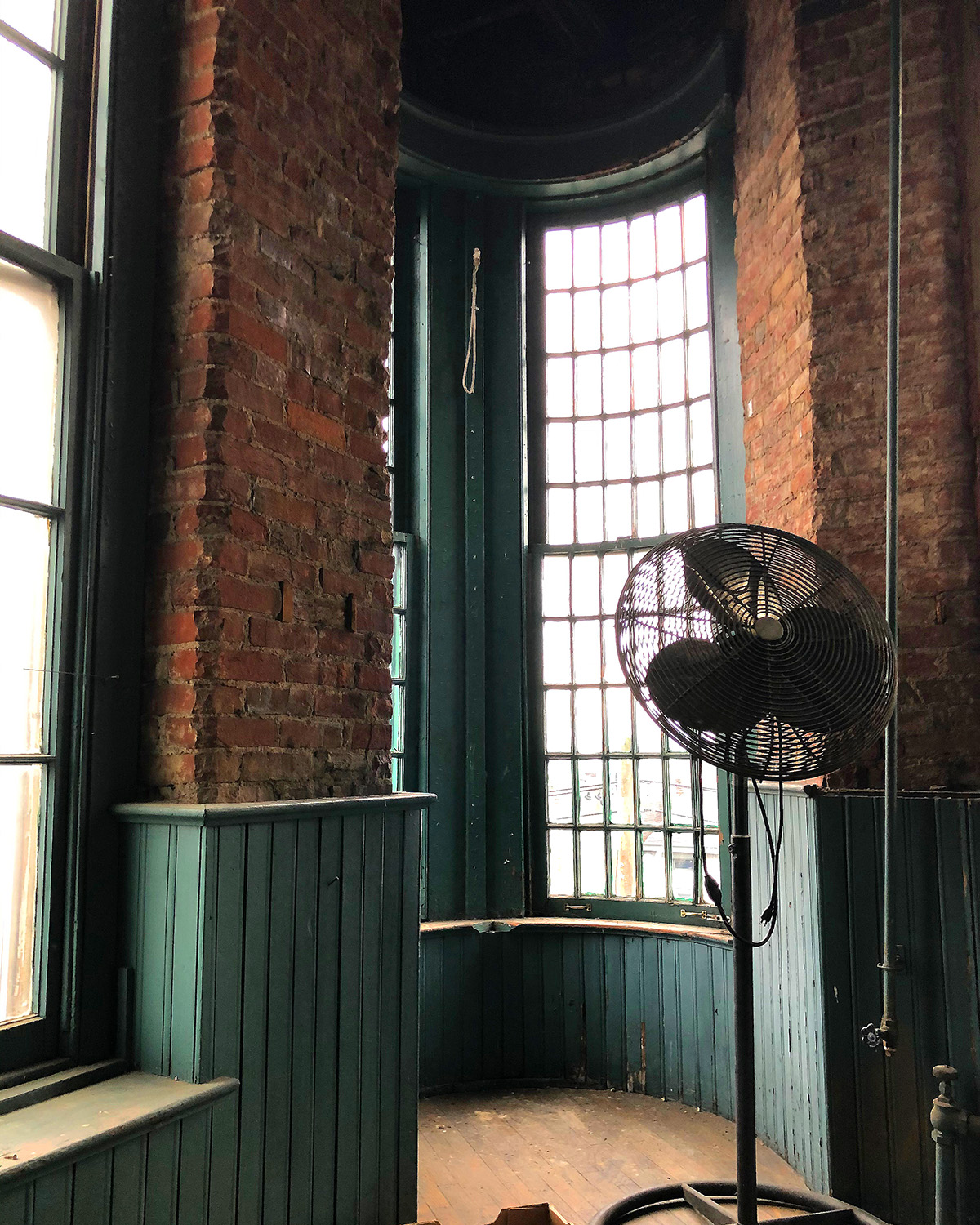 And Ley says there's more, but – looking around – you understand why he'd be hard-pressed to locate them. There's just so much stuff in here.
"I've got pictures somewhere but I couldn't find them if I wanted them," he tells me, while he helps some customers dig through the gems rescued from the former Fontaine Ferry Amusement Park, which closed in 1969 and remains beloved among older folks in town.
"But I've got pictures of a cooking class, with the old kind of stoves where they were cooking. Some interesting stuff."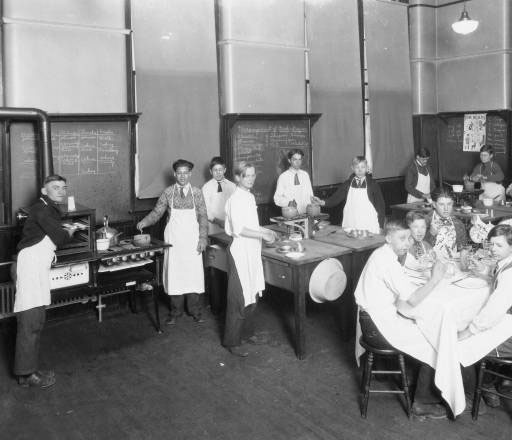 Students at the school in the early 1920s.
(PHOTOS: Courtesy of University of Louisville archives)
Ley, who has been battling health problems recently but still comes into the shop all the time, was collecting before he opened his first store.
"I had a lot in my house," he says with a smile, "and I ended up bringing a lot of it over here and then I just went out and found more stuff in other people's homes."
Now, there are auctioneers sorting through the copious inventory, pricing everything and setting up online auctions. In the meantime the shop is still open for walk-in business, too.
Once the auctions have wrapped up – which is coming soon – the shop will close for good and Campisano will move ahead with his plans.
"We are in conversations with several national and local restaurant groups for the ground floor," Campisano says of the old schoolhouse. "No details can be disclosed at this time. However, the concept will be full-service and incorporate outdoor seating in the courtyard with an outdoor bar.
"An art gallery and boutique retail will be available on the second floor. Exact details are still confidential. The third floor will likely be a private cigar and bourbon lounge, available for meetings, card games, watching golf matches, chilling, etc."
A rendering of how the new development might look. (PHOTO: Campisano Capital)
A new mixed-use building will replace the adjacent warehouses and, says, Campisano, it will include an 80-room boutique hotel, likely operated by Sonder or Mint House, and a ground-floor "anchor tenant that is a boxing gym inspired by the life and training of Muhammad Ali."
He adds that he's also pursuing a couple food and beverage concepts for the street level, and is eyeing, "a pick-up-and-go salad concept similar to Sweetgreen and an Australian coffee concept similar to Bluestone Lane."
While the change may be hard for Joe Ley Antiques customers – especially the ones hoping to keep Louisville weird – it's nothing compared to what this all means to Ley himself.
"Tough's not the word," Ley tells me.
"They say a grown man don't cry ... I do."
Facebook Comments
Disclaimer: Please note that Facebook comments are posted through Facebook and cannot be approved, edited or declined by OnMilwaukee.com. The opinions expressed in Facebook comments do not necessarily reflect those of OnMilwaukee.com or its staff.