6 sometimes shocking activities in new Discovery World energy exhibit
Discovery World, 500 N. Harbor Dr., opened its "Power On" energy exhibit in late October after reconfiguring some of the tech learning center's floor space and adding a new 20,000-square foot wing, too.
A variety of stations in the STEM exhibit – created with the help of a $2 million grant from the WE Energies Foundation – allow visitors of all ages to explore different forms of energy via informational panels, graphics, videos and hands-on experiences.
While it's true that some of the hands-on activities in the "Power On" exhibit will literally shock you, none of them will hurt you (though if you have a pacemaker, it's best to skip these).
Here are six of the most fun interactive activities in the space, including two that prove to be (mildly) shocking:
Van De Graaff Generator
This shocking example of electric power has long been a fixture at Discovery World, but now it's right where it belongs – in the heart of a room full of energy experiences. This electrostatic generator may make your hair stand on end and can give you a light shock when you put your hand on it.
Run the City
Four players step up to run the power grid in a city, toggling between sources like natural gas, solar, coal and wind in the face of changing variables and using their feet to generate energy. One kid described it as a "video game come to life" and kids of all ages love to compete.
Touch Lightning
Stick your hand into the chainmail sock, press the red button and watch as little lightning bolts find their way right to your fingertips.
Follow that Cord/Follow that Pipe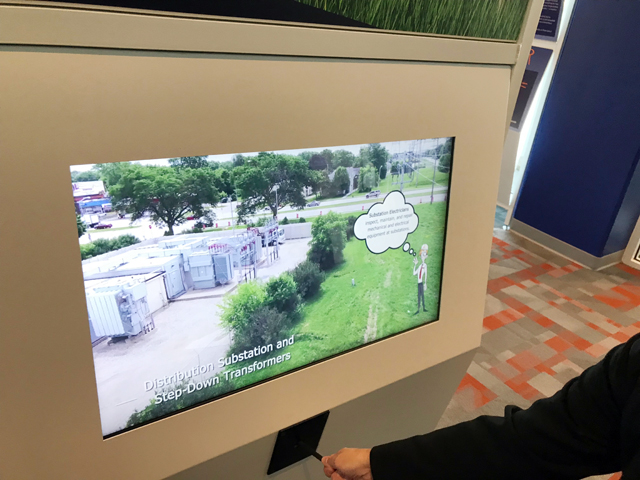 Follow that Pipe is a video game in which users have to use sections of pipe to create a natural gas line to power a building, while in Follow that Cord, users actually tug on a wire that leads them on a video tour through the electric grid, from the socket in your living room wall all the way back to the power plant at whatever speed you choose. Stop along the way to learn about careers in energy.
Cycling to Power
Three pairs of feet work to create enough electricity to power a variety of devices, from a kitchen blender to a drone to the flashing lights from the roof of a police car.
Seeing Heat
Infrared light can be used to literally see heat and that's what happens here. An infrared camera reads the scene in front of it, which includes you, and on the screen you can see which parts of you are colder than others. The Grinch might want to make sure his heart isn't in the picture.
Facebook Comments
Disclaimer: Please note that Facebook comments are posted through Facebook and cannot be approved, edited or declined by OnMilwaukee.com. The opinions expressed in Facebook comments do not necessarily reflect those of OnMilwaukee.com or its staff.