Professional bull riders stampede into Fiserv Forum
The first time Chase Outlaw saw bull riding on TV, growing up on a farm in Arkansas, he knew he wanted to do that someday. His father dabbled in the sport but quickly realized his young son was extremely serious about it.
"I started riding calves when I was 4 years old and then worked my way up from steers to junior bulls to senior bulls," says Outlaw, 26.
Outlaw, a Professional Bull Rider (PBR) for seven years, will compete along with more than 30 other world-renowned riders this weekend in the "25th PBR: Unleash The Beast" at the Fiserv Forum.
The event takes place on Saturday, Oct. 6, and Sunday, Oct. 7. Tickets for the two-day event at Milwaukee's new world-class arena start at $15 and are available here.
"We're thrilled to have one of the toughest and most action-packed sports in the world come to Milwaukee," said Fiserv Forum General Manager Raj Saha.
This weekend will be Outlaw's second time on a bull since his tragic injury in Wyoming in July. During an event, Outlaw broke 30 bones in his face after he was rammed by a bull's horn. He underwent an emergency 12-hour surgery during which he received 63 screws and 12 plates in his face. Although he spent more than two months recovering, his passion for the sport remains strong.
"I'm doing what I love doing and I could not wait to start doing it again," says Outlaw. "You're gonna get hurt in bull riding, but that's what separates the men from the boys and the champs from the chumps."
During the PBR exhibition in Milwaukee, CBS Sports Network will broadcast two rounds on Sunday starting at 7 p.m. Riders will represent the United Sates as well as four other countries and the winner will take home $21,000.
"This is not some average rodeo. This is not a 4-H event. These are the best bull riders in the world matched up with the best animal athletes in the world," says Outlaw.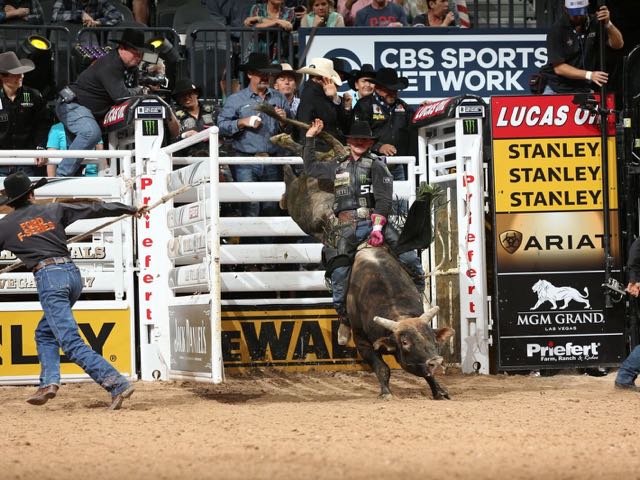 Outlaw will wear a helmet this weekend, something he hasn't done in the past. He admits if he had been wearing one at the time of his accident this summer he wouldn't have been as badly injured nor would he have lost two months of work.
"I know wearing a helmet is the smart thing to do," says Outlaw. "And I have a family."
Outlaw, who lives in Hamburg, Arkansas, is married and has three children ranging in age from infant to 7 years old.
"If my son wants to ride someday, I will let him," says Outlaw. "But I wouldn't ever force him. It's not that kind of sport. You gotta really, really want it."
Although PBRs are in top physical condition, they also must be mentally rock-solid to succeed.
"I think of it as a fist fight. I'm trying to hurt that son of a gun. I have no remorse or no feelings when I'm on that bull because it's a battle. You can die doing this," he says.
However, when he's not competing, Outlaw's actions and feelings toward the bulls are different.
"When I'm not riding the animal, I scratch and pet some of them," he says. "But once that shootgate opens, it's a battle between man and beast."
Facebook Comments
Disclaimer: Please note that Facebook comments are posted through Facebook and cannot be approved, edited or declined by OnMilwaukee.com. The opinions expressed in Facebook comments do not necessarily reflect those of OnMilwaukee.com or its staff.