10 cool snowy images from the Packers' cool snowy win over the Giants
Snow's typically not optimal for sports, but for the Green Bay Packers, the snowy New York weather was a winter wonderland. After taking a flurry of punches last weekend against the San Francisco 49ers, the Pack recovered nicely with a snow-covered 31-13 victory over the scuffling New York Giants.
Nobody's going to give you too much credit for beating a bad team in worse weather – especially when the game was admittedly closer than the final score would reflect – but it was exactly the pick-me-up Green Bay and its fans needed after getting so brutally exposed on Sunday night. Rodgers threw for several touchdowns – two to Davante Adams, as those two seemed to finally get on the same page a bit better – the defense made timely stops and forced key turnovers, and in general, it was snowing, and football always looks cooler in the snow. And here's 10 images from Sunday's game that prove exactly that point.
1. Yes, it is sombrero o'clock
Yep, @Showtyme_33 is ready 😏#GBvsNYG | #GoPackGo pic.twitter.com/lXQoH13ewk

— Green Bay Packers (@packers) December 1, 2019
I ask this question a second time: Do we think sombreros are functional in the snow? Obviously the decoration would take a beating, but the long brim would provide nice face coverage ... though maybe the snow would begin to weigh down the brim and break the hat? Anyways, god bless us, every one – but most of all, Aaron Jones' sombrero.
2. Snow lines
When your dad says "Go outside and shovel the walkway." pic.twitter.com/ktnAcfYFah

— Paul Schwartz (@NYPost_Schwartz) December 1, 2019
The flurries during the game meant the grounds crew got some extra time in the spotlight as they shoveled out the yardage lines for Sunday's game. Unfortunately, that wasn't enough for Fox, as they added some digital markers too that kept shifting during plays and generally muddied up the image. Who needs fancy technology when we've got shovels, that's what I say.
3. All Barkley, no bite
If you told me at the start of the season that the Packers' defense would hold star running back Saquon Barkley to less than 100 yards rushing, I'd probably be pretty happy. But the reality is that Barkley's had a rough sophomore year, between injuries and struggling to make the statistical dent he made season, and the Packers gave up the most running yards to Barkley (83) since week two of this campaign. Add in the fact that the first half wasn't exactly pretty, and that much of the game felt a lot closer than the final score would indicate, and there's still plenty of work for this Packers team to do to prepare for the playoffs – especially with the Vikings still hot on their tail for the division crown. (As dirty as this sentence makes us feel ... go Seahawks tonight.)
4. Hungry?
Some guy literally just took a bite out of my cheesehead... what kind of fans do you have @Giants ?!? pic.twitter.com/STKH8fyFFZ

— cαssιdy ☼ (@cassidymckeen) December 1, 2019
Hard to believe this has to be said ... but cheeseheads are not actually made of cheese. Please don't eat them. You'll be digesting that bite for a decade.
5. Danny Dented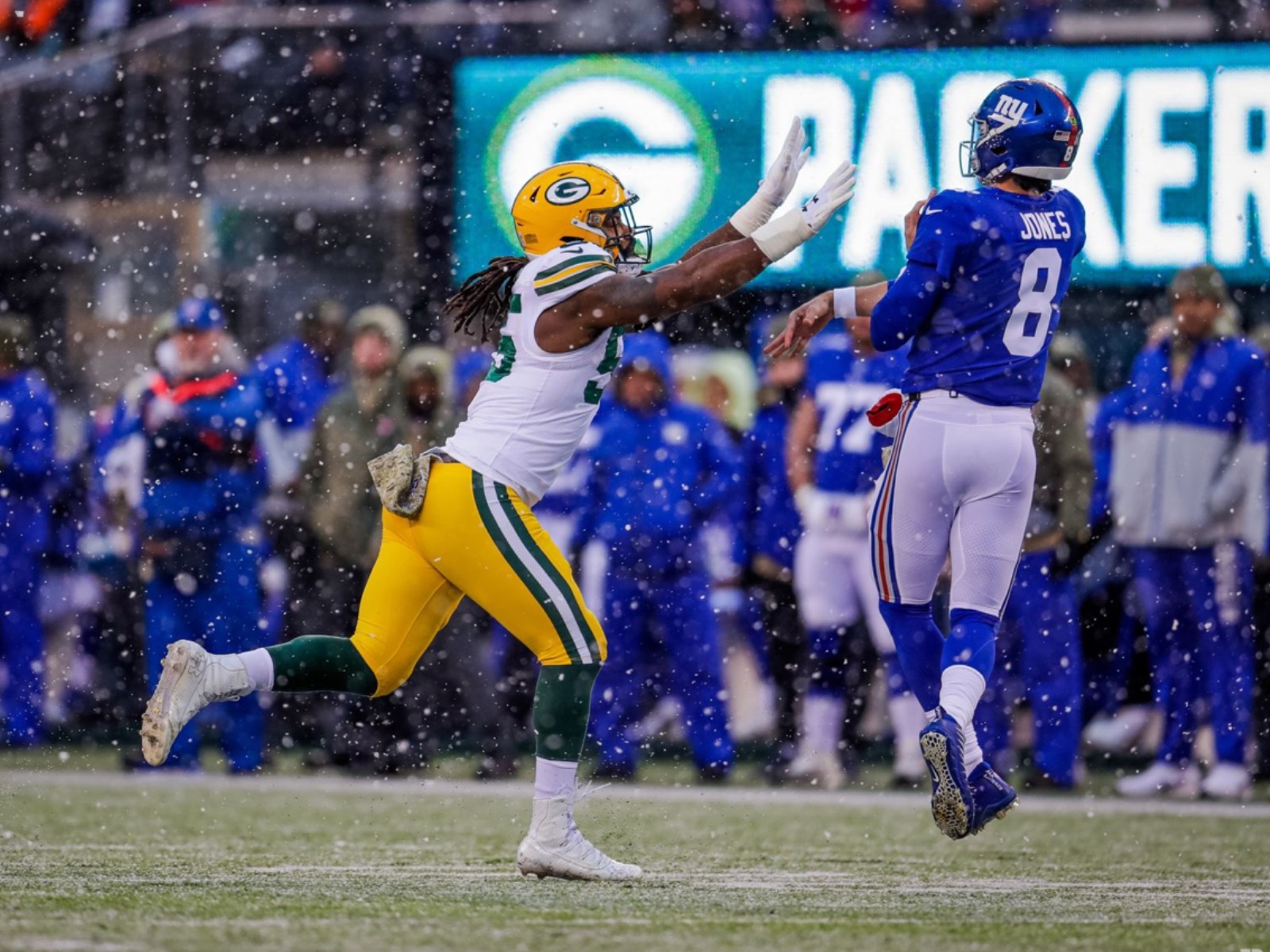 The excitement of Danny Dimes was put brutally on ice on Sunday, as the New York rookie quarterback threw three picks by the end of the game – each one looking more like passes to a Packers cornerback than to his own teammates. In fairness, he still threw for 240 yards and a touchdown, and had the team in striking distance for most of the game. In unfairness, after watching sports media get drunk on "DANNY DIMES!" after he managed to defeat the Tampa Bay Bucs (not that difficult of a task!) at the start of the season, to the point of seeing experts predict the Giants would make the playoffs handily under his leadership, witnessing those analysts now eat large Thanksgiving-sized servings of crow now that he's come back down to the ground has been thoroughly satisfying.
6. Even the logo had enough
Here is the Y being knocked clean off Daniel Jones' helmet in the first half as we mentioned earlier!!#GoPackGo #GBvsNYG

pic.twitter.com/B4EchPjuXo

— UK and Irish Packers (@ukpackers) December 1, 2019
When you're 2-9 and on your way to another loss, even the logos want out. That's what happened to Daniel Jones, who got the Y knocked right off his helmet leaving just the N to suffer through the rest of the game. Barkley's helmet logo took off before the final whistle as well, or at least the bottom part did, turning the NY into "NU."
7. Attack of the Adams
Weird how no one's complaining about Rodgers locking in on Davante Adams too much this week, or talking about how the offense actually looks worse with our star receiver on the field! Huh! Indeed, Adams had a great game, scoring two touchdowns with six catches and 64 yards – but so did frankly the entire receiving corps for Green Bay, even in the snow. Marcedes Lewis caught a touchdown pass, new favorite Allen Lazard led the team in yardage while making big catches including a touchdown, and even Jimmy Graham made a key snag. The weather outside may have been frightful, but the Packers looked pretty delightful.
8. Do you want to build a snowman?
Packers D having too much fun today. 😎❄️ #GoPackGo

pic.twitter.com/r6EES5XWzG

— GBP Daily (@GBPdaily) December 1, 2019
Unfortunately, there wasn't enough snow for Jamaal Williams to make a "Frozen" tribute, but there was more than enough for him to make a snow angel after scorning a touchdown. Sadly that TD didn't count thanks to a penalty – but this whole chorus of snow angels courtesy of the defense did after the team snagged yet another interception off Daniel Jones.
9. Iron foot, iron heart
In case it wasn't tough enough to hit a 47-yard field goal in the swirling snow on a slippery flurry-covered field with the game still close and hanging in the balance, Mason Crosby had to perform Sunday while still coping with the tragic loss of his brother's wife, Brittany, who died on Friday of ovarian cancer at the age of just 30 – this all after having to go through his own wife's fight with cancer earlier this fall. From staying strong through all of those off-the-field emotions, to getting his career back on track after some rough seasons in the past and now hitting regular clutch field goals like few other kickers can in the league (just ask the Bears), there's little doubt that Mason Crosby's one of the toughest guys in the Green Bay, or any, locker room.
10. How teams feel when they see the Giants next on their schedule
How does this win feel? Let @TheRealZSmith tell you: yeahhhhhhh pic.twitter.com/QTkNQEIr5Y

— Lily Zhao (@LilySZhao) December 1, 2019
Or when you see that you get to play 3-9 Washington next. The NFC East: The gift that keeps on giving (up easy wins).
Facebook Comments
Disclaimer: Please note that Facebook comments are posted through Facebook and cannot be approved, edited or declined by OnMilwaukee.com. The opinions expressed in Facebook comments do not necessarily reflect those of OnMilwaukee.com or its staff.