13 awesome images from the Packers' awesome win over the Cowboys
In a game that was never really as close as it felt (maybe it's the PTSD from the Dom Capers years) the Green Bay Packers defeated the rival Dallas Cowboys in The House That Jerry Built, 34-24. The Packers are now 4-1, despite still working out the kinks in a new offense, playing an incredibly tough early schedule – currently without their best receiver – and having yet to put together a complete four quarters of football.
This team handily beat a supposed Super Bowl contender on their turf, made its star running back a non-factor and made its soup-spokesman quarterback look straight-up bad. And yet it still doesn't feel like the Packers have reached their full potential.
So yeah, good luck to the rest of the NFC.
Because it was just so much damn fun – and because it's Monday, so we could all use a pick-me-up – let's take one more look back at Sunday's smackdown in Dallas.
1. Fashion statement
(PHOTO: Duke Bobber/Packers.com)
Considering the monster game he would go on to have, you know what this means: Aaron Jones has to wear that sombrero to every game now.
2. Family reunion
Think Aaron Rodgers misses Randall Cobb? The FOX broadcast just showed their pregame exchange #GBvsDAL pic.twitter.com/Z3idABR6Zv

— Kevin Boilard (@247KevinBoilard) October 6, 2019
Seeing Randall Cobb on the opposite sideline wasn't easy Sunday – though it was easier considering it was the losing sideline as well. Thankfully for our hearts, he wasn't much of a game breaker for the Cowboys – just three catches for 53 yards – plus we got this adorable little interaction before the game with Aaron Rodgers. Yay for friendship!
3. Well, that's certainly an unexpected duo
Incredible duo watching the Cowboys game: W and @TheEllenShow pic.twitter.com/ufFb0NUlrF

— Matt Gorman (@mattsgorman) October 6, 2019
Yay for friendship? Sure, Ellen DeGeneres and former President George W. Bush sitting all chummy at a football game together. That makes a lot of sense. Of course. I look forward to seeing Henry Kissinger and Lil Wayne hanging out at the next Packers game.
4. Seriously, is everybody at this game?
Danica Patrick is at the #Packers game and hanging out with Jordy Nelson. (📸 Danica Patrick's Instagram). #GBvsDAL pic.twitter.com/fam08oV1GJ

— Brian L Jones (@BrianJones_PC) October 6, 2019
You always get the impression this is America's Game of the Week with all the celebs and former Packers in the crowd! Anyways, here's Danica Patrick with retired Green Bay great Jordy Nelson, representing his former receiver teammate with a jersey from his days as a Kentucky Wildcat.
5. Aaron says hello ... no, the other Aaron
October 6, 2019
If somebody told you a guy named Aaron dominated the Dallas Cowboys with four touchdowns, you'd probably assume it was #12. But no, Sunday afternoon belonged to Aaron Jones and (*gasps and finds nearest fainting couch*) the running game, which, after getting ignored in the red zone during last week's loss to the Eagles, racked up more yards than Cowboys star running back Ezekiel Elliott and helped Green Bay control the game from kickoff to final whistle.
Mr. Jones, as a Packers fan, I thank you for your efforts yesterday – and as one who was playing against Aaron Rodgers in fantasy football this weekend, I thank you even more so. Your check is in the mail.
6. Unnecessary roughness
Jason Garrett got flagged for throwing the challenge flag too vigorously 😂 pic.twitter.com/XQFvCxbVp8

— Paid man gets bored (@cjzero) October 6, 2019
Seeing an unsportsmanlike conduct penalty on the coach in football is as rare as seeing Ellen DeGeneres with George W. Bush, but Sunday was apparently full of unusual sights as Cowboys head coach and permanent hot-seat resident Jason Garrett earned a flag for ... spiking a challenge flag too hard into the turf? Meanwhile, over at the Steelers-Ravens game, Earl Thomas was able to knock Pittsburgh quarterback Mason Rudolph in the head so hard that Rudolph was unconscious before he even hit the ground without earning a penalty of any kind. Huh.
Anyways, this was just one of many questionable and just plain odd calls from throughout Sunday's game, coming against both sides. No matter who you were rooting for, we could all agree the refs were having a bad day.
7. Unnoticeable roughness
Roughing the passer? Sign me up for robot refs.pic.twitter.com/UGJ8BYFrTy

— Eli Hershkovich (@EliHershkovich) October 6, 2019
The Packers should consider themselves lucky this was just a 15-yard penalty. If that was Tom Brady taking this brutal, violent and frankly horrific hit, it would've been an automatic ejection, seven points and an NFL investigation into disbanding the team from existence.
Anyways, like I was saying, it was a bad day for the refs.
8. We got more than a defense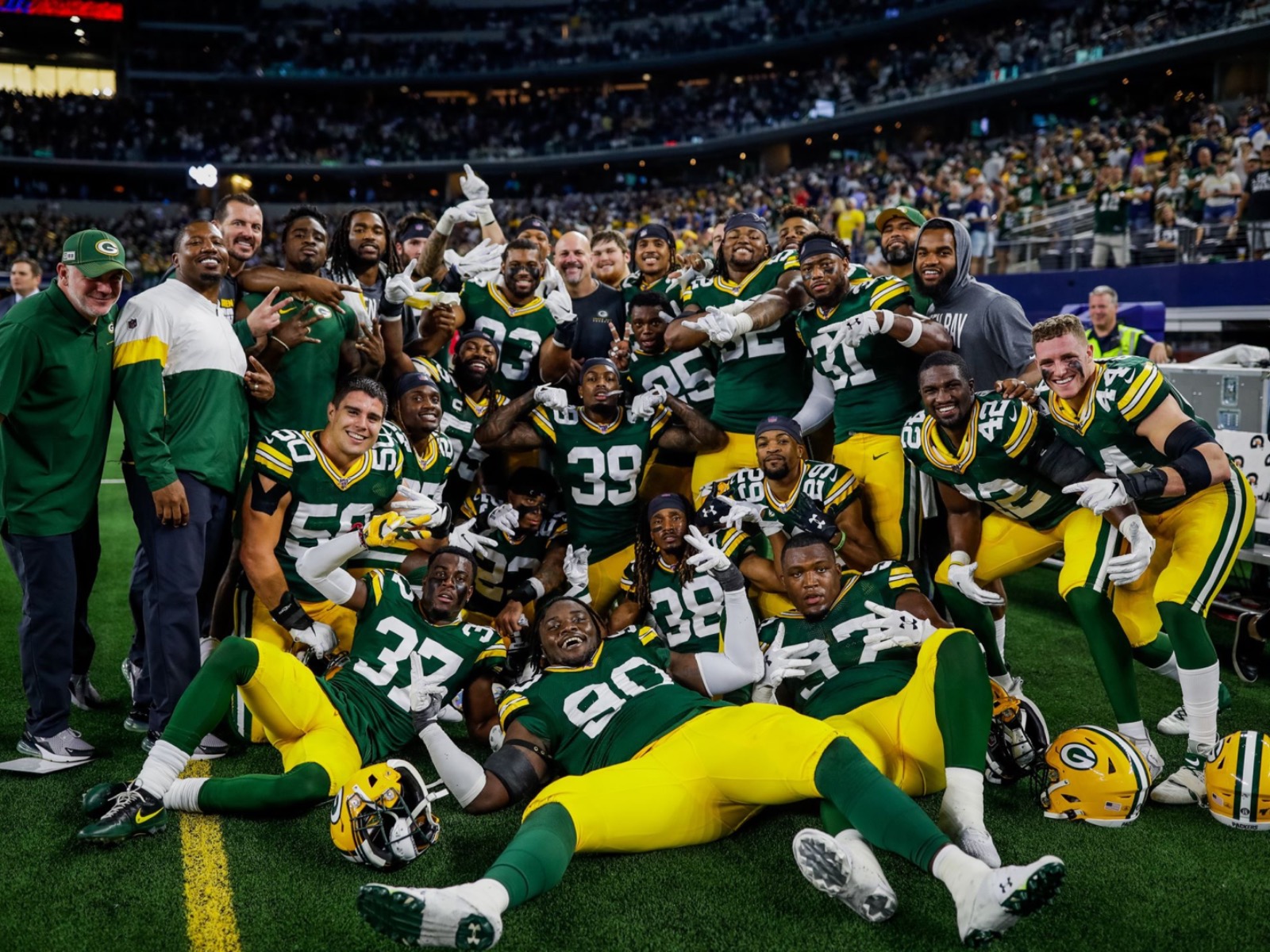 Five games into the season, you don't get any points for noticing that Green Bay finally has a good defense again. But the most noteworthy part now is that it's not just that the Packers' defense is good; it's that they're so much freaking fun to watch while doing it. It's all the exciting playmaking and game-changing turnovers of the Dom Capers "bend don't break" years ... but minus all the heart attacks when they repeatedly bent and broke.
In the final tally, the Packers forced three turnovers – all interceptions from Dak Prescott – and nabbed three sacks. And they seemed to have an absolute ball doing it all. We certainly did watching them.
9. You hate to see it
Jerry Jones channeling all #Cowboys fans.

"C'mon Dak!" pic.twitter.com/hwNEPu4OPd

— Charles Robinson (@CharlesRobinson) October 6, 2019
The only good Jerry Jones is Angry Cartoon Villain Jerry Jones Shaking His Fists. It's very specific – and also very delightful. And he would've gotten away with it too if it wasn't for you pesky kids!
10. My favorite Za'Darius Smith celebration
Ray Lewis: "The Packers have no "dictators" on their front seven."

Za'Darius Smith: BET

Smith with a big third-down sack, just broke out the Ray Lewis dance.

pic.twitter.com/FE8SopxMZT

— Hogg (@HoggNFL) October 6, 2019
Earlier in the week, Ray Lewis criticized the Packers' defense by saying that they didn't have a "dictator" on the team, noting that they no longer had a playmaker or leader like Clay Matthews (now on the Rams) on that side of the ball. Za'Darius Smith disagreed – and I think so would Dak Prescott after he was sacked on this first quarter play, which Smith followed up with Lewis' signature dance from his Baltimore Raven days.
So please, Ray: Talk more trash about the Green Bay defense. It's working out great for us.
11. No, actually, THIS is my favorite Za'Darius Smith celebration
I've said it before...

Za'Darius Smith LOVES being a Green Bay Packer. pic.twitter.com/3YDzxRsTgB

— GBP Daily (@GBPdaily) October 7, 2019
Everyone agrees: New favorite Packer? I mean, there's a lot to choose from this season – but he's the easy leader in the clubhouse, right?
12. Bye (Cow)boys
I was ill-prepared for how much swagger this Packers team was going to have this year. I am not complaining – though one very bad sports hot-taker whose name definitely doesn't rhyme with Drip Sayless certainly is! And no, I will not link to his tweets or his bad sports talk show because that's what he wants and that's why he does this. Just know he's sad – which means America is happy.
13. Some final words
"I have no idea what you're talking about."

Aaron Rodgers was extremely confused by a postgame question. 🤨pic.twitter.com/cJeGbUi3mn

— Sporting News (@sportingnews) October 7, 2019
Is this what it sounds like when you let predictive texting auto-fill write a question for you? Or did we all just have a collective stroke? Either way, I look forward to seeing a lot more Packer City lightning distributed to all of our buttonmen – especially Packers hall of famer (and former congressman!) LaVern Dilweg.
Facebook Comments
Disclaimer: Please note that Facebook comments are posted through Facebook and cannot be approved, edited or declined by OnMilwaukee.com. The opinions expressed in Facebook comments do not necessarily reflect those of OnMilwaukee.com or its staff.