9 great images from the Packers' very not-great game against the 49ers
It was setup to be an NFC championship preview, a battle between two of the giants of the conference, two long-distance rivals. It was a game so good, NBC flexed its muscle and flexed the game into the weekend's primetime television slot. (Take that, Cowboys-Patriots.)
Just one problem: Only one team bothered to show up. And it wasn't the good guys.
Indeed, the Packers got fully pasted for four quarters Sunday night, ending in a 37-8 blowout and, in general, a real bummer way to end the weekend. Aaron Rodgers fumbled on the team's first drive and somehow it only got worse from there for the offense, while the defense struggled to keep the Pack in the game with no support of any kind.
In conclusion, Green Bay needs to stop traveling out to the West Coast to play teams with players named "Bosa" on their defense. And thankfully, their schedule doesn't have any more of those ... until probably the playoffs. Eeech. Well, can only improve, right? RIGHT?!
Anyways, here's nine key images from Sunday night's game to remember and enjoy instead of thinking about the final score.
1. Why yes, it is time for more of Aaron Jones in a sombrero
.@Packers RB Aaron Jones' girlfriend bet him he wouldn't wear a sombrero.

Aaron Jones wore the sombrero.

Legend. pic.twitter.com/1E5otIAx1I

— SNF on NBC (@SNFonNBC) November 25, 2019
You know what it is now: If it's an OnMilwaukee Packers game recap, it starts with an image of Aaron Jones arriving at the game wearing a sombrero. Death, taxes and me enjoying this very silly pregame tradition. But this recap (maybe to put off having to talk about the actual game) comes with something new: an explanation! Talking to NBC host LiamMcHugh before the game, Jones explained that he wears the hat as a tribute to El Paso, where he played high school and college football, but also because his girlfriend bet him that he wouldn't. So at least Aaron Jones got that win.
2. I'm sure she would've preferred a win, but this was nice too
Best play the #packers had in the 1st half. #Packersvs49ers pic.twitter.com/M49Pfu3BIp

— Jones Boy (@jonesbo46140884) November 25, 2019
Za'Darius Smith has had no shortage of unique sack celebrations this season, but Sunday night featured his most notable by far: flashing a written message on his undershirt saying "We heart Eileen." For those wondering, Eileen is the mother of one of the equipment staff members and a huge Packers fan who's fallen ill recently. He talked to reporters before the game about sending the message if he got the chance (and I'm sure he talked to the league because, even though celebrations are allowed now, I still think the NFL frowns about props and literal messages) and in a rare moment of something going right for Green Bay, he actually got that chance in the second quarter. Feel better, Eileen! (Not that watching that overall performance Sunday night probably helped.)
3. Warning: NSFW
They seriously called this unsportsmanlike? SOFT #SNF #GBvsSF #Packers pic.twitter.com/TqzTf6DCMZ

— Slightly Biased (@BiasedSlightly) November 25, 2019
Please shield all childrens' eyes away from the above GALLING display of on-field violence and unsportsmanlike behavior from Davante Adams. Frankly amazed that everyone walked away from this brutal mild nudge unharmed. Football's a dangerous game everyone; be safe out there.
4. Not quite MVP-level
(PHOTO: Evan Siegle/Packers.com)
Remember when Aaron Rodgers threw for five touchdown passes, over 400 yards and a perfect quarterback rating against the Oakland Raiders? I miss that. Instead, against a much tougher 49ers defense, Rodgers threw for just 104 yards, averaging barely over three yards a completion. One can only hope he finds more success (and more time in the pocket) against the New York Giants' miserable defense next week.
5. Trying to find a positive
(PHOTO: Evan Siegle/Packers.com)
The final score certainly doesn't reflect it, but the Green Bay defense actually played a respectable game for the most part and kept the Packers in it for far longer than the team deserved. Sure, there were some bad lapses – the two long touchdown passes to Deebo Samuel and George Kittle, for sure – but given no time to rest and no support from the offense, the defense put decent pressure on 49ers quarterback Jimmy Garoppolo, scoring three sacks in the process, and held San Francisco to mostly field goals in the first half ... until the very end when they allowed a late soul-punching touchdown. So, uh, there was that, I suppose.
6. Look ma; I found a highlight on offense!
.@tae15adams gets into the end zone! #GBvsSF | #GoPackGo pic.twitter.com/F9p35klK0D

— Green Bay Packers (@packers) November 25, 2019
It took about two and a half quarters and a long, tedious drive down the field (just what you need when you're down three possessions late into a game!), but Aaron Rodgers and the Packers' offense eventually managed to put together points, hitting Davante Adams for a two-yard touchdown pass during the third quarter. But by that time – and even with a successful two-point conversion – it sure already felt like too little, too late.
7. And you thought you were having a bad night ...
@CorruptedPOD Sunday night football what if the turkeys are us pic.twitter.com/EpVlkgrJeg

— Brandon Rosas (@Brandon17230730) November 25, 2019
All those turkeys and still not one bigger than the turkey the Packers put on the field Sunday night. But hey, at least Green Bay will have next week. As for these guys ... uh, probably not.
8. The human white flag
(PHOTO: Evan Siegle/Packers.com)
When backup quarterback and human embodiment of surrender Tim Boyle is taking snaps, you know things either went REALLY well for the Packers ... or REALLY bad. Sunday was the latter.
9. Reunited and it feels ... really terrible, actually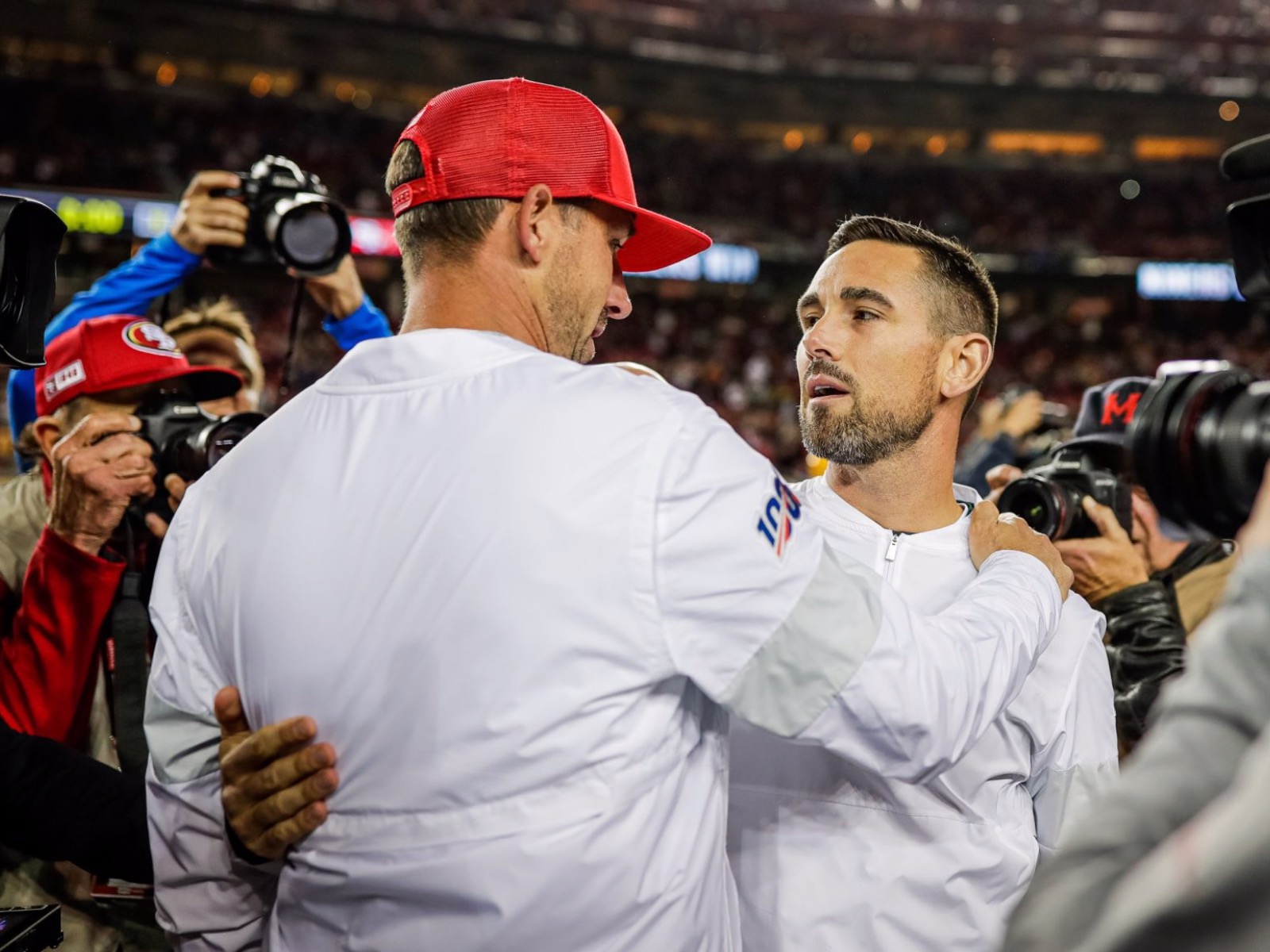 (PHOTO: Evan Siegle/Packers.com)
The 49ers and Packers came into Sunday night's game as franchises with plenty of history together, but so did even some of the newest members to the mild rivalry. Coach Matt LaFleur worked with San Francisco head coach Kyle Shanahan as the quarterbacks coach to his offensive coordinator back in Washington and Atlanta, while LaFleur's younger brother Mike is the current offensive passing game coordinator for Shanahan in the Bay Area. Look at that: The holidays truly are about bringing friends and family together (so that they can humiliate each other on national television).
Hopefully, if they see each other again this season – which would have to happen in the playoffs – it'll be LaFleur getting the best of the reunion.
Facebook Comments
Disclaimer: Please note that Facebook comments are posted through Facebook and cannot be approved, edited or declined by OnMilwaukee.com. The opinions expressed in Facebook comments do not necessarily reflect those of OnMilwaukee.com or its staff.