Was believing in Jesus Aguilar GM David Stearns' best move?
Amid reports that the Brewers have made an offer to the Baltimore Orioles for superstar shortstop Manny Machado and rumors that they're interested in New York Mets ace pitcher Jacob deGrom – the two highest-profile players potentially available on the trade market, who would cost a king's ransom in return but also make Milwaukee a legitimate contender – it's worth remembering that general manager David Stearns' best move, among many very good ones, might have been finding Jesus Aguilar essentially at the dump, taking him home and shining him up into someone who's now being talked about as an MVP candidate.
After spending a few seasons with the Cleveland Indians, bouncing between the minor leagues and majors, slugging in the former but struggling in the latter, Aguilar was thrown away, designated for assignment on Jan. 26, 2017. Seven days later, Stearns scooped him up, claiming Aguilar off waivers and hoping the burly first baseman could provide some right-handed pop off the bench. Aguilar tore up the Cactus League at spring training last year, then ably fulfilled his job description, batting .265 with 16 home runs and 52 RBI in 279 at-bats for Milwaukee.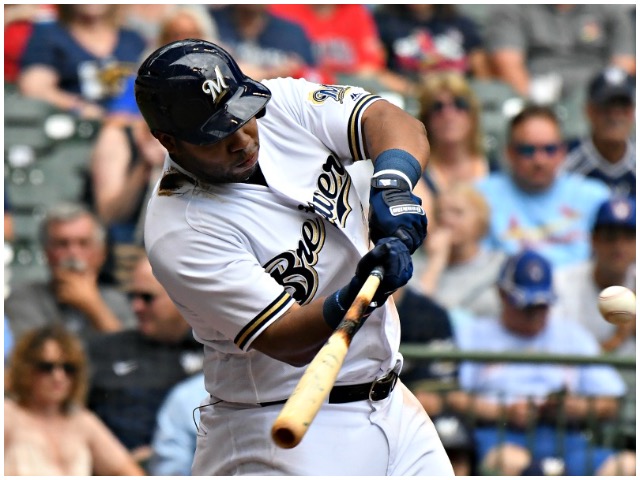 Still, a backup first baseman who doesn't play another position, Aguilar's spot on the club was uncertain. During spring training before this season, with Eric Thames – another sterling Stearns find – and Ryan Braun getting most of the looks at first base, Aguilar said he didn't know what the Brewers were going to do with him and his agent was "really, really worried about it."
Even though the numbers were seemingly against him, with the Brewers planning to keep 13 pitchers and only four bench players, and even though his spring training stats dipped a little bit, Aguilar made the team again in 2018, with a one-year contract for $557,200.
Since then, all he's done is become one of the best hitters in baseball. Aguilar is leading the National League in slugging percentage (.633) and OPS (1.001), tied for first in home runs (22), tied for third in RBI (63) and is ninth in batting average (.306). Despite being a part-time player for the season's first month, Aguilar now has enough plate appearances (280) to be considered for MLB awards. He deserves to be an All-Star, and fans can help make that happen by voting for him early and often as the Final Man.
Clearly, Aguilar has been as good as anyone could expect a waiver-claim player to be, and is arguably Stearns' best move, in terms of productivity vs. cost. His Weighted Runs Created Plus (wRC+) – which measures a player's wRC and compares it with league average after controlling for park effects – of 160 is seventh-best in the major leagues, while his $557,200 salary for 2018 ranks 670th. Aguilar leads the Brewers in almost every single hitting category, and is their 25th-highest-paid player. That sounds like pretty good value.
Furthermore, the 28-year-old Aguilar is under team control for 2019, is not arbitration eligible until 2020 and won't be a free agent until 2023, so Stearns and the Brewers don't have to overpay to keep him after this breakout season. His peripheral numbers suggest his production is relatively sustainable, but even if Aguilar never plays at an MVP caliber again and is only 80 percent as productive as he is this year, that's still a 35-homer, 100-RBI first baseman on a team-friendly bargain contract. Plus, he wears braces, has been better than expected on defense and is absolutely beloved in the Brewers' clubhouse. What a guy.
Stearns has made some terrific personnel decisions since becoming Milwaukee's general manager in Fall 2016 – the Jonathan Lucroy and Jeremy Jeffress trade to Texas, dealing reliever Tyler Thornburg to Boston for third baseman Travis Shaw, signing Thames out of Korea and, this offseason, adding All-Star outfielders Lorenzo Cain and Christian Yelich in a span of a few hours – but, if we're talking value added, dollars and cents, homers and run creation, a guy vastly outperforming a contract and having a ton of fun along the way, then Stearns believing in Jesus has been his best move.
Facebook Comments
Disclaimer: Please note that Facebook comments are posted through Facebook and cannot be approved, edited or declined by OnMilwaukee.com. The opinions expressed in Facebook comments do not necessarily reflect those of OnMilwaukee.com or its staff.