Toy tips: Choosing the right last-minute holiday toy
Don't get caught up in the hype of "Hot Toys," the "smartest" toys, the "must-have" toy or the best toy lists.
All of those ideas are not necessarily the right pick unless you do you own research to make sure the toy matches the intended recipient's age, current skills and interests. Knowing these three things can ease a gift giver's uncertainty that the toy will be played with and enjoyed. Toys that boost imagination and stimulate developmental skills are those that offer the most play value.
Some classic toys have lasted for multiple generations. Lite Brite, Spirograph and Madame Alexander Dolls are still sold today. Board games such as Candyland, Monopoly, Battleship, Chutes and Ladders, and Mastermind can bring back your own childhood memories. Those memories and toys from the past also have a way of making a comeback. Millennial parents probably remember "The Oregon Trail" from their elementary school days. You can now find this as a deck of cards or in a handheld version.
In the 1980s, "Pac-Man" was all the rage as a popular video game. New this year, Basic Fun has created an electronic version, ideal for children to practice concentration skills and patience – and parents and grandparents may also want one. While it may jog their memory of mastering the game, this handheld version is great for fine motor skills and visual tracking even into the senior years. Plus the mini controllers will bring back the arcade game memories of their own middle and high school years.
"My Little Pony" is celebrating its 35th anniversary – though that doesn't mean this brand has been around for 35 consecutive years. This means it is celebrating the year it was introduced. You can find many "anniversary" and "birthday" celebrations of specific toys every year.
STEM toys have been consistently popular for close to a decade. The term has changed from STEM to STEAM to STREAM (Science, technology, robotics, engineering, arts and music). These synonyms are used a marketing tool to define toys that enhance science, math and creative art skills. You can find logos on packaging, teacher suggestions and media interviews talking about the attributes all of these toys offer for growing minds. This is all good, just as long as your child understands how to play and create with these – though it's never a bad idea for mom and dad to participate as well. There are plenty of building sets, coding toys and subscription kits you can find to keep curious minds busy.
If you are looking for STREAM toys with substance, search for simple kits that allow a child to sit, concentrate and create. Whether this happens individually or with a sibling or parent, these kinds of toys are best if the intended child is genuinely interested, and has the skills and patience needed while learning. Some brands to consider are Little Bits, Boolean and Kiwi Subscription Kits.
Then, of course, there are new toys that seem to become popular, trendy or just cool. Some of these can be plain silly and a whole lot of plain fun. These always seem to also fall into the category of wonder and imagination. Use your best judgment, follow the formula of age plus skills plus interest and set out on your journey to pick the right toy that will bring joy to a child.
For shoppers looking for a gift that outlives the latest fad, Edvest makes it easy to give the gift of higher education this holiday season.
Toy Tips 25 last-minute toy ideas
Shopping early or shopping late, it only matters if the toy opened is great! After reading how to choose the RIGHT toy for an intended child, peruse this Toy Tips list of 25 ideas for last-minute gifts. Each one has been tested at the Toy Tips Toy Research Institute and rated strong for a developmental play experience. Whether you are looking to boost tech or imagination skills, shopping for a preschooler or high schooler, encouraging play indoors or out, this list is filled with ideas.
Tech
(Listed from left to right, top to bottom)
Imaginative play
(Listed in clockwise order, starting top left)
Outdoor
(Listed in clockwise order, starting top left)
The classics
Games for teens
(Listed in clockwise order, starting top left)
Stocking stuffers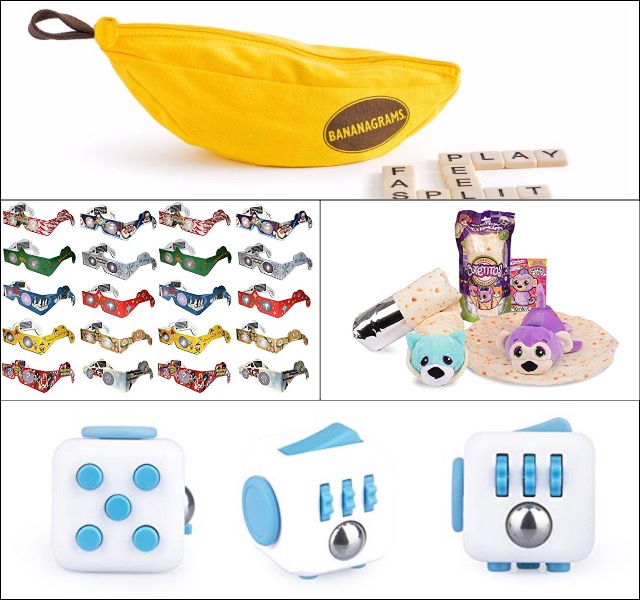 (Listed top to bottom, left to right)
For more information, follow #toytips on Instagram.
Facebook Comments
Disclaimer: Please note that Facebook comments are posted through Facebook and cannot be approved, edited or declined by OnMilwaukee.com. The opinions expressed in Facebook comments do not necessarily reflect those of OnMilwaukee.com or its staff.