9 reasons to hit Harvest Fair
This content is in partnership with Harvest Fair.
Milwaukee is now known for having a "second summer" in September and early October, so naturally our City of Festivals also keeps the festival season rolling.
Harvest Fair, which runs this weekend, is like a mini-State Fair, but with a fall flair. The event also brings the pumpkin farm experience closer to the city where families can pick out their future jack-o-lanterns at the pumpkin patch, grab a locally-famous Elegant Farmer apple pie and spend quality creative time together.
Possibly the most exciting aspect, however, is Harvest Fair will host Pumpkin Bowling. Let that one sink in for a minute: Pumpkin. Bowling. Only in Milwaukee, right?
For the first time this year, Harvest Fair offers a Ride & Activity Card that scans at each ride or activity – similar to Dave & Busters or a Disney Theme Park – to access all the fun.
Here are 9 solid reasons to get to Harvest Fair this weekend, other than the obvious reason: to enjoy Milwaukee's "second summer" before Milwaukee's endless winter.
1. Free stuff – woo!
Everyone gets in free this weekend, even cranky kids and parents who haven't had their coffee yet. Everyone! Parking is $6 for cars and $3 for motorcycles.
Many of the activities at Harvest Fair are free, too, including a Paul Bunyan Lumberjack Show, country bands, The Five Card Studs, a corn hole beanbag toss, Hershey's Heartwarming Tour with free s'mores, the World Beef Expo showing off 1,000 cows, autumn-themed photo ops for social media, a tiny tots area and more.
For a full list of the free fun go here and for the free music go here.
2. Rides galore – from carnival rides to camel rides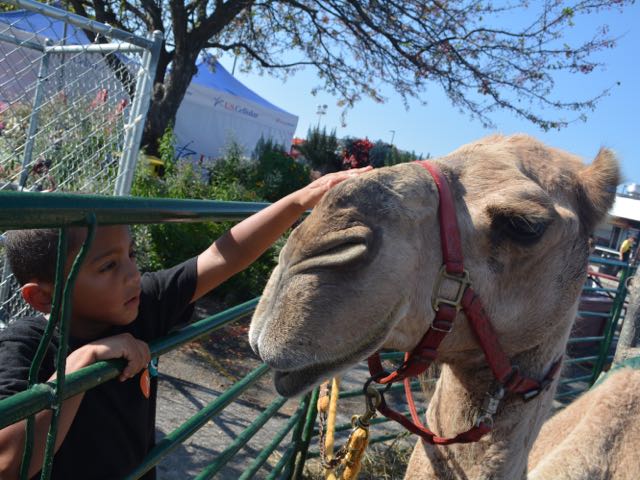 Harvest Fair has 15 kid-friendly amusement rides as well as the opportunity to ride a live camel. Who knew such a bumpy ride could be so much fun? Pony rides and zip lining are also in the mix of thrills this weekend.
3. Last call for the Giant Slide!
Along with bumpy camel rides, Harvest Fair offers the smooth sailing experience of whisking down the Giant Slide. It's a Wisconsin tradition that won't be accessible again until 2020.
4. Pumpkin bedazzling
Move the pumpkin mess out of your kitchen and onto the fairgrounds by decorating a take-home pumpkin at Harvest Fair.
5. Scarecrow makin'
Stuff your very own scarecrow friend – or buy one already made if you prefer. There's even a "Scarecrow Daycare" where highly trained scarecrow caregivers provide a top-notch nursery for your precious creation until you're ready to head back to the ranch.
6. Pie!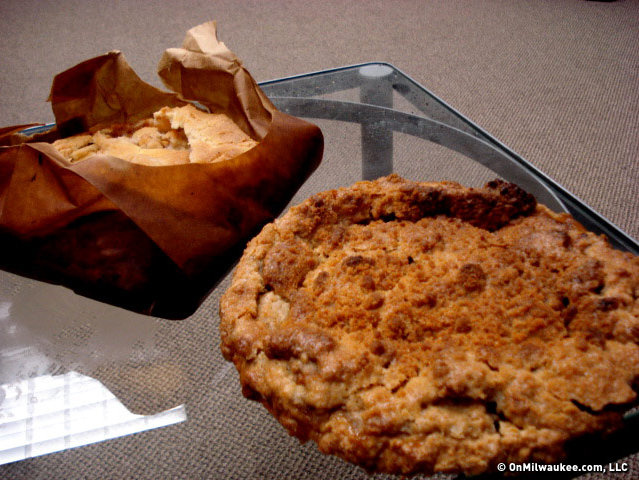 Apparently there will be lots of fall food available at the fair – but some of us are just showing up for the Elegant Farmer's famous pie.
7. Autumn-flavored shopping
There's a Farmers Market, Pumpkin Patch, plenty of fall baubles and absolutely boo-tiful decorations to buy this weekend.
8. Cows, cows and moo-re cows
Old McDonald gets the weekend off, and more than 1,000 beef cattle will be on-site as part of World Beef Expo happening at the same time as Harvest Fair. Admission to both events is free and they are right next to each other, so it's easy for attendees to go between the two of them. E-I-E-I-O!
9. Pumpkin Bowling
We are particularly pumped about this unique "sport" that's become a Harvest Fair classic. Bowlers even get to keep their pumpkin "ball." Pumpkin Bowling is definitely an "Autumn in Wisconsin Thing."
Harvest Fair runs Friday, Sept. 27 from 5 to 11 p.m.; Saturday, Sept. 28 from 9 a.m. to 11 p.m. and Sunday, Sept. 29 from 9 a.m. to 5 p.m.
Facebook Comments
Disclaimer: Please note that Facebook comments are posted through Facebook and cannot be approved, edited or declined by OnMilwaukee.com. The opinions expressed in Facebook comments do not necessarily reflect those of OnMilwaukee.com or its staff.