7 must-try dairyland delicacies in the Wisconsin Products Pavilion at State Fair
Each year when State Fair rolls around, there are a couple sites on the grounds that I have to visit. One of them is Cracovia for potato pancakes and some polka.
Another is the Wisconsin Products Pavilion, which offers a wide range of Sconnie specialties that have become favorites for the entire family. And judging by the crowd that's always in the building, lots of other families, too.
Here are seven must-try dairyland delicacies you don't want to miss in the Wisconsin Products Pavilion.
Ice cream sundaes
At the top of the list, of course, are the ice cream sundaes dished up by the Washington County Future Farmers of America. This big booth is always rocking because the fresh ice cream topped with chocolate sauce, strawberries, cherries or maple syrup are delicious and inexpensive at $4 each.
Grilled cheese
You can get a grilled cheese in a few sites in the Wisconsin State Fair Park, but the ones hot and fresh at the Real Wisconsin Cheese Grill taste just like the ones mama used to make and it's fun to see them all sizzling away on the grill. They're $3 a pop or two for $5.
Cranberry cannoli
The Wisconsin State Cranberry Growers Association always has some tasty items on offer at its booth in the Wisconsin Products Pavilion and the cranberry cannoli are among the best. A cranberry cream filling is piped into a chewy cranberry oatmeal cookie shell and then dipped in dark chocolate. Surely, that's all you need to hear to be convinced.
Hot dog
Call it a frankfurter or a wiener or whatever you want but the ones in the natural casings made and sold by Milwaukee's own Usinger's Sausage in the pavilion are delectable and a Brew City tradition, and these quarter-pound sausages come with sauerkraut, of course, for $4. For the same price you can also choose a 1/4-pound brat, Italian sausage (with peppers and onions instead of kraut) or a smoked cheddar jalapeno brat. Pop around to the other side of the booth to find some sinful looking reubens.
Goat milk cheese curds
There's almost nothing more Badger than cheese curds and these, on sale at the Wisconsin Dairy Goat Products booth in the Wisconsin Products Pavilion are delicious and a nice different twist on a familiar favorite. An 8-ounce bag of curds made by La Clare Family Creamery in Malone is $5.
Pasties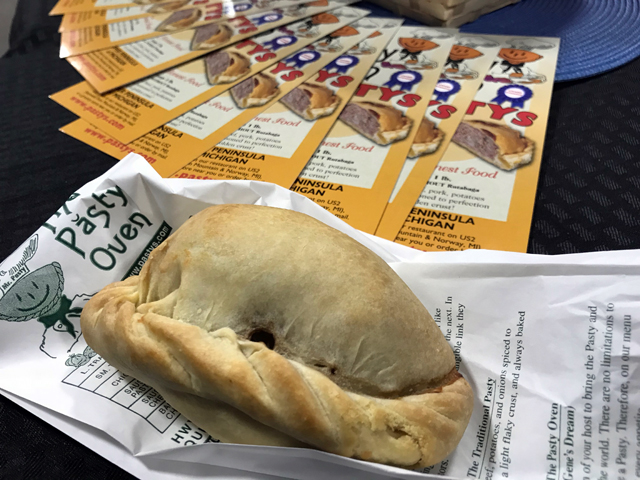 You thought I was going to send you for a potato, didn't you? I figured you're already on to those fair classics, so instead, how about a pasty, homemade by The Pasty Oven in Florence. For $5 you can choose between chicken and potato, veggie or the traditional beef and pork. As the Cornish miners who brought them over when they came to Wisconsin knew, these babies are filling, so one will do the job for lunch.
Chocomalt Nog
I've arguably saved the best for last. Egg nog plus chocolate? And months away from Christmas? It feels so wrong that it's just so right. Buy two – you can work it off at the gym tomorrow. They're 75 cents a cup.
Facebook Comments
Disclaimer: Please note that Facebook comments are posted through Facebook and cannot be approved, edited or declined by OnMilwaukee.com. The opinions expressed in Facebook comments do not necessarily reflect those of OnMilwaukee.com or its staff.