If you've ever wished you could look back in time at old Milwaukee, well now you can thanks to Viewaukee, a partnership of the Milwaukee County Historical Society and CG Schmidt.
Thanks to 10 viewers scattered around town, you can quite literally peer back into the past.
Each set of binocular viewers, mounted on a five-foot post, shows a historic photo of the same site taken decades earlier. The photographs are drawn from the extensive collections of the Milwaukee County Historical Society.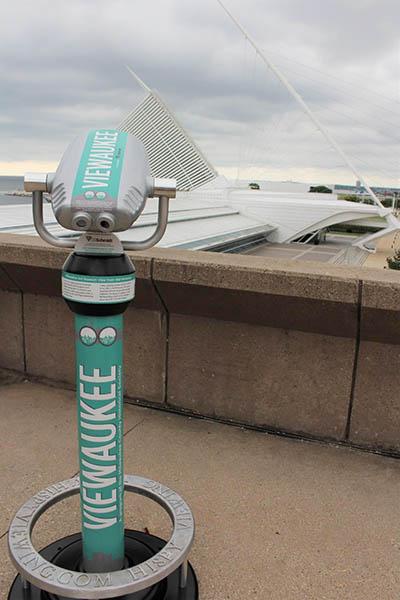 Use of the viewers is free.
The first 10 viewers, which will be installed this year, will be at:
Milwaukee War Memorial, 750 N. Lincoln Memorial Dr.
Summerfest North End, E. Clybourn St.
Milwaukee Public Market Pocket Park, 407 N. Water St.
Milwaukee Riverwalk at the Marcus Center, 929 N. Water St.
North Point Water Tower, 2288 N. Lake Dr.
Miller Valley at the Historic Caves, 4251 W. State St.
The Milwaukee River, Wisconsin Avene Bridge & Riverwalk
16th Street Viaduct, 16th and Clybourn Streets
Milwaukee City Hall, south of City Hall on Water Street
·Brady Street, 1240 N. Brady St.
The first viewer was installed and unveiled on Friday and the others will be added in coming days.
The viewaukee.com includes additional resources, including locations histories, additional photographs, corresponding curricula for use by parents and educators, and more.
MCHS plans to add more viewers along with themed routes in the future.