Post Malone cements his status as hip-hop's "Rockstar" in Chicago
Post Malone is perhaps the biggest artist in music today that has yet to hit the stage in Milwaukee. However, that didn't stop his fans in the 414 area code from catching his brand new tour, in support of his recording breaking sophomore album "Beerbongs & Bentleys."
Helping kickoff the summer lineup at Chicago's Huntington Bank Pavilion at Northerly Island, Post Malone and his "Rockstar" collaborator, 21 Savage, performed for a sold-out crowd on cold Tuesday night, in what has been one of the hottest tickets of the year.
If you're not familiar with Post Malone, you probably have been taking a break from music since 2015. Although Post Malone was a relatively unknown artist just a few years ago, since the release of his "White Iverson" single, Malone has released hit after hit, almost immediately shedding his early and unwarranted reputation of a future one-hit wonder.
Turn on the radio today and you may hear songs like "Psycho," "Rockstar" and "Ball For Me" all on your short commute home – just three of eight Post Malone songs that currently sit on Billboard's Hot 100 chart.
With his huge commercial success, it's no wonder why Post Malone sold out last night's show weeks in advance, with demand driving re-sale prices on StubHub to over $200 for the cheapest ticket in the house. Even with Post Malone set to return to the Windy City in just a couple months for Lollapalooza, fans couldn't wait for their first chance to hear cuts from Malone's new LP, which broke several streaming records and was certified platinum just four days after its release.
The Texas native got things started last night with his 2016 track, "Too Young," from his debut album "Stoney." Performing with only his DJ, all eyes were on Post, making him rap's rockstar but with no rock band.
Overall the tour was noticeably scaled down and low budget, which is surprising for an artist of his magnitude. Little filled the stage behind him, he was dressed head to toe in sweats (mind you it was nearly 50 degrees) and the production was mostly Post and his lighting crew. Production wise, the tour wasn't that different from when Post Malone opened for Fetty Wap in Madison a couple years ago. Malone's fame and fortune has increased exponentially since 2015, but his live show has stayed the same in many ways.
Normally faults in production can foreshadow an underwhelming performance, but Post Malone made up for it with his stage presence and massive singles. The energy of the crowd was not at all phased by the lack of a live band and backup dancers. If he can keep the crowd entertained with just a microphone and a MacBook, then who cares if he pockets a few extra bucks by saving on tour expenses?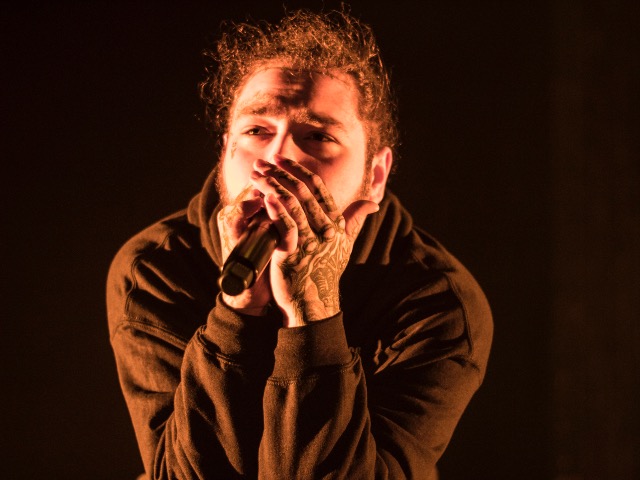 Despite the memes, critics and echoes of cultural appropriation, Post Malone has always been able to satisfy his fans by leaning on the quality of the music itself, and Tuesday night was no different.
Post Malone turned an hour and 15 minutes into 17 songs that ate up almost the entirety of his growing catalog. No hits were left off the setlist and Post kept the crowd entertained with his banter between tracks. While the content of his melodic trap songs are relatively shallow subjects, Post's sense of humor, personality and love of Bud Light were all on display between songs.
"Can I get a brewski?" Post asked the crowd. "Who is f*cked up right now?" Which would have cost you more than your price of admission if you went with the venue's $10 Jello Shots.
And while Post's tipsy performance was enjoyable throughout, the highlight of the night came at the end of the night as Post Malone performed "Rockstar," "White Iverson" and "Congratulations" to close the set. The latter, an ode to his haters, was a closing reminder that Post Malone and his music aren't going anywhere.
So if you're not a fan of his music yet, you better get used to hearing his voice everywhere you go.
Set list
"Too Young"
"Better Now"
"Takin' Shots"
"No Option"
"Deja Vu"
"Psycho"
"Candy Paint"
"Paranoid"
"I Fall Apart"
"Up There"
"Feeling Whitney"
"Stay"
"Jonestown"
"Go Flex"
"Rockstar"
"White Iverson"
"Congratulations"
Facebook Comments
Disclaimer: Please note that Facebook comments are posted through Facebook and cannot be approved, edited or declined by OnMilwaukee.com. The opinions expressed in Facebook comments do not necessarily reflect those of OnMilwaukee.com or its staff.