P!nk lifted off the ground - and took the Fiserv Forum crowd with her
P!nk didn't just hit the Fiserv Forum stage Thursday night, the first female headliner to do so in the new arena's young history. The pop star hit the entire airspace around the arena, routinely lifting off into the atmosphere – whether to make Sia proud and swing from a chandelier, to spin like a top for an acrobatic silks routine or to zip around the entire arena like a glamorous X-Men, not coming down until she waved at or acknowledged every single person in the sold-out crowd.
She arguably spent more time in the clouds than on the ground – a thrilling feeling shared by those watching her wildly entertaining, endlessly unpredictable, almost two-hour return to Milwaukee. Tethered to a harness or not, everyone felt lifted Thursday night.
The only predictable part of the evening was which song would serve as the opener to P!nk's "Beautiful Trauma Tour." When you create a hit song called "Get the Party Started," you're legally required to begin your concerts with it – but that's where the expected started and stopped Thursday night.
Introduced by a goofily clumsy band leader playing a faux pas-filled fanfare on the recorder, the pop star performed most of the 2001 hit while dangling from a hotel chandelier, singing upside down, sideways, mid-backflip and every which way but out of tune as dancers spun on hotel dollies below.
That would just be the first of a non-stop barrage of eye-popping, mesmerizing and wholly unexpected set-pieces that made full use of the Fiserv Forum's enhanced concert capabilities. The second selection, "Beautiful Trauma," would land back on terra firma but in reality, a theatrical number featuring bent pink streetlights pulled from a production of "Singin' in the Rain" as directed by Dr. Seuss.
The hip-hop-tinged "Revenge" opened with a pitch-perfect video introduction, a macabre claymation infomercial all too reminiscent of MTV's "Celebrity Deathmatch" – then managed to top that in terms of craziness by closing the number dropping some "Matrix" fight moves on a giant inflatable Eminem.
There was no end of details big and small, funny and thoughtful, to catch one's eye – from contemporary dancers to even just a conveyor belt in the middle of her heart-shaped stage, perfect for drive-by high fives with the fans in the pit – while their ears got caught on the pop star's setlist of hits, moving effortlessly from top 40 hits like "Just Like a Pill" to "Who Knew" and a rendition of "Funhouse" complete with a quick dip into No Doubt's "Just a Girl." And that was merely the first act of a 105-minute nearly non-stop marathon of entertainment; there would eventually be a whole on-stage forest to explore, too.
All the while, P!nk herself refused to be outshone by her colorful, maximalist show. Each number was performed pitch-perfect, the sound mix ideally calibrated to clearly reach every corner of the arena, and her personality, embedded into each song and each unabashedly oddball visual, radiating even further.
The singer puts in the work with every song. Leading into the jazzy new hit "Hustle," she confessed to the audience she was stalling to catch her breathe, and no one would blame her. Up until that moment, she'd already fought a giant rapper, danced a few routines, slid down a ramp on the stage and turned a chandelier into playground equipment – all while singing on point.
Moments like that, or reading individual signs held out in the crowd, or even just brief grace notes in the choreography where the rock star would allow herself a dizzy moment or an amusingly off-kilter walk, made sure the concert wasn't some soulless, factory-made experience.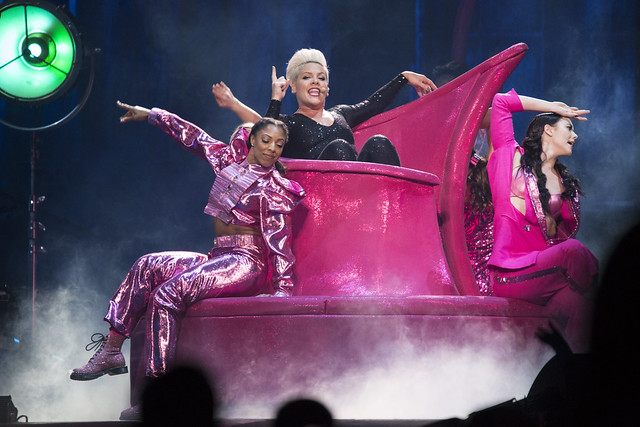 It's an impressively polished show but pleasantly performed with no interest in perfection – an ideal match for a pop star who's impressively added to her fan base over the years by refusing to sand down the emotions in her lyrics, by bringing her messiness, wounds and humanity into her music. From particular vantage points, the heart stage served as all too apt a metaphor for P!nk's music and persona: bent and crooked in places (thanks to its assorted stairways), but still together, bright and filled with irrepressible energy.
After "Secrets" – transformed into a sexy, impressively splits-filled acrobatic duo above the stage that would've felt right in place in a peak Madonna concert – the bright "Funhouse" visuals ventured seamlessly into an eerie forest for "Try." Part "Into the Woods," part "True Detective" (the good season) and all unexpected, the theatrical number kept the audience on its toes and, again, provided plenty of eye candy to go with the sweet soulful sounds – mainly the thoughtful story told through the choreography and dancers.
And speaking of unexpected, a levitating bed would make an appearance next for "Just Give Me a Reason," with Nate Ruess accompanying via a pre-recorded video. (OK, so the show couldn't deliver EVERYTHING.)
Following the country-fried stomper "Walk Me Home" and the suitable fiery "Just Like Fire," the show entered the closest segment resembling a breather. But while the songs and pace perhaps slowed down, the star's personality was still running high. P!nk previewed "What About Us" with a video addressing the political and social issues she's long and loudly aligned herself with, both in and out of the recording studio, and after the rocking ballad "For Now," she took an extended break to interact with the crowd, wishing happy birthday to a 9-year-old, marveling a drawing of her and getting (playfully) defensive about a newly gifted frog before the low-key "Barbies." It says a lot for the power of her personality, as well as the emotional potency of her music, that a slower section an hour deep into an otherwise amped-up act didn't resemble anything like a drag or a bathroom break.
After the gospel-fueled anthem "I Am Here" – plus a tale of doll drama and fetching a gift from the crowd: a Jameson shirt – P!nk geared up for the night's final stretch, an inspirational and empowering set starting with "F*cking Perfect" before leading into "Raise Your Glass" and "Blow Me (One Last Kiss)," telling off bullies of all ages – including one that inspired her to make a PowerPoint for her daughter.
The modest and dressed-down "Glitter in the Air" technically capped off the night, a relaxed glorified encore thankfully delivered without any of the needless pretense of the artist holding the final song hostage unless they receive adequate cheering. (We all know you're going to come back out, so let's just skip the tiring theatrics.) But the real show-stopping finale came the song before: "So What," already a rousing pop rock anthem made even more memorable by P!nk flying and levitating around the arena, defying gravity on a harness.
She eventually came back down to Earth, but after that final display – and the 100 uncommonly exuberant, thrilling and emotional minutes prior – there's no way the crowd could Thursday night.
P!nk wasn't the only one to make it into the Fiserv Forum record books Thursday night. In addition to hosting the arena's first female headliner, the night saw opener Julia Michaels become the first person to perform twice in the new space. (She opened for Maroon 5 last September.)
Unfortunately, much of the late, slowly arriving crowd wasn't there to witness her low-key landmark, but the pop star and her set of originals (including her top 40 hit, "Issues") plus a run of covers from Selena Gomez to Bieber and Hailee Steinfeld dutifully scored some enthusiasm from the early arrivals. And as far as issues go, a lack of personality isn't amongst them for Michaels, who was bouncily chipper and earnestly personable throughout her opening bit. No one would be upset if she returned to break her own Fiserv Forum record.
Setlist
"Get the Party Started"
"Beautiful Trauma"
"Just Like a Pill"
"Who Knew"
"Revenge"
"Funhouse"/"Just a Girl" (No Doubt cover)
"Hustle"
"Secrets"
"Try"
"Just Give Me a Reason"
"Walk Me Home"
"Just Like Fire"
"What About Us"
"For Now"
"Barbies"
"I Am Here"
"F*ckin' Perfect"
"Raise Your Glass"
"Blow Me (One Last Kiss)"
"So What"
Encore
"Glitter in the Air"
Facebook Comments
Disclaimer: Please note that Facebook comments are posted through Facebook and cannot be approved, edited or declined by OnMilwaukee.com. The opinions expressed in Facebook comments do not necessarily reflect those of OnMilwaukee.com or its staff.