6 best moments from New Kids on the Block's throwback visit to Fiserv Forum
New Kids on the Block had a bunch of hits, and Milwaukee's one wish was to hear their favorite tracks from the game-changing '80s boy band on Wednesday night.
As part of their nostalgic "Mixtape Tour," Donnie, Jordan, Joey, Jonathan and Danny brought their decades of tracks and some of your favorite artists from the '80s and '90s to turn back the clock at Fiserv Forum.
Here are our six favorite moments from NKOTB's Milwaukee visit:
1. Starting on a high note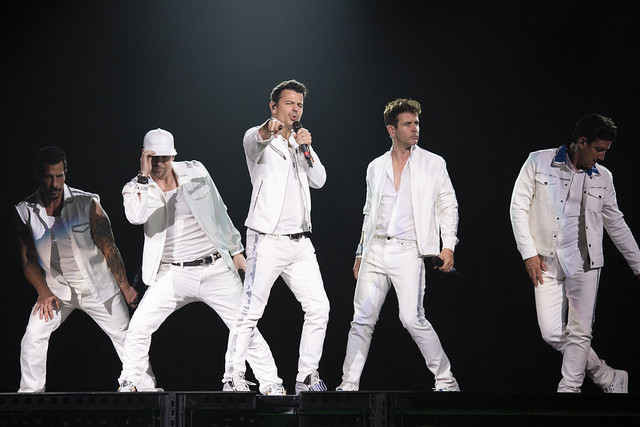 Flipping the script on a traditional concert format, New Kids on the Block decided to forgo opening acts for the Mixtape Tour and got the party started themselves. Kicking off the night with their track "The Way," from their classic 1988 album "Hangin' Tough," NKOTB opened the show with an eight-song set that consisted of hits like "Summertime" and their mega-single "You Got It (The Right Stuff)."
NKOTB couldn't do it alone though, so various '80s and '90s performers like Naughty By Nature, Salt-N-Pepa, Tiffany and more hit the stage on a rotating basis with no breaks or intermissions. Both NKOTB and Salt-N-Pepa delivered a number of different sets throughout the entire show, which lasted over two hours.
The format wasn't typical, but made for an especially unique experience with no low points.
2. Throwback vibes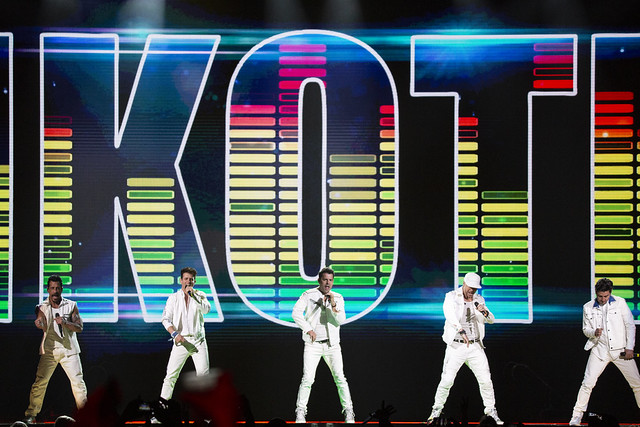 Wednesday night's energy was fun from top to bottom. From Fiserv Forum's staff getting decked out in neon and retro attire to the tour's stages, which were shaped and designed like a giant cassette tape and mixtape, many pieces came together to turn back the clock.
The crowd's energy was unmatched as well, as fans were dressed in their old clothes from high school and their NKOTB merch while they screamed as loud as they did when they saw the band nearly three decades ago. Through screams alone, Wednesday night's show may have been the loudest yet at Fiserv Forum. Your move, Shawn Mendes fans.
3. Salt-N-Pepa
Salt-N-Pepa blessed the stage a number of times on Wednesday, delivering three energetic sets and reminding Milwaukee that they have a few big hits of their own.
The New York City duo rapped their hit tracks like "Push It," "Shoop," "Whatta Man" and "Let's Talk About Sex," something the crowd was definitely willing to do after Donnie, Jordan and Joey cut the air with their suggestive thrusts during the set before. While they might not be able to sell out arenas on their own like NKOTB, Salt-N-Pepa have had as much influence on decades past as any artist who hit the stage last night.
4. Dance break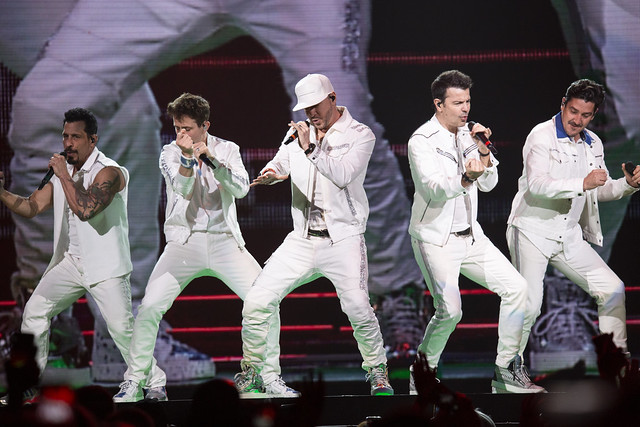 Sticking with the retro theme, New Kids on the Block gave their voices as rest midway through their third set and got in their cardio for the evening. Putting on a dance party set to some tracks that would make the cut for their '80s and '90s mixtapes, the guys showed off their moves to hits like "Girls Just Wanna Have Fun," "Livin' on a Prayer," "Poison" and "Pour Some Sugar on Me," to name a few.
5. Naughty By Nature
If you know anything about me, then you know I'm down with O.P.P.
Admittedly, I don't technically know what O.P.P. stands for – and a quick internet search didn't exactly yield the most safe-for-work answers – but I was psyched to hear the song performed live when Naughty By Nature hit the stage.
The New Jersey rappers put on a short-but-sweet three-song set, which also consisted of their equally big single "Hip Hop Hooray," from their 1993 album "19 Naughty III"
6. "80s Baby"
To finish the night, all of Wednesday's artists came together for a group performance of the New Kids' song "80s Baby." From the 30th anniversary edition of "Hangin' Tough," the original recording features the same artists that shared the stage with the Boston boy band last night, which made for a great finale to the night.
Although the record doesn't have the notoriety of some of their hits, by its title alone, the track is especially fitting for the "Mixtape Tour."
Fans left Fiserv Forum with smiles but without their voices or hearing, dreading their return to 2019 come the following day.
Facebook Comments
Disclaimer: Please note that Facebook comments are posted through Facebook and cannot be approved, edited or declined by OnMilwaukee.com. The opinions expressed in Facebook comments do not necessarily reflect those of OnMilwaukee.com or its staff.