Editors launch "Milwaukee Rock and Roll" history book at Boswell event
A new book from Milwaukee-based Marquette University Press aims to tell the story of rock and roll in the city via essays from a number of local experts.
"Milwaukee Rock and Roll, 1950-2000: A Reflective History," edited by Bruce Cole, David Luhrssen and Phillip Naylor, will be officially launched Thursday, Dec. 19 in an 8 p.m. event at Boswell Book Co., 2559 N. Downer Ave.
The three editors are all affiliated with rock and roll history courses offered at Marquette, where Naylor is a history professor and where Cole is the curator of the university's Jean Cuje Milwaukee Music Collection. Luhrssen is a longtime editor at the Shepherd Express and a widely published author.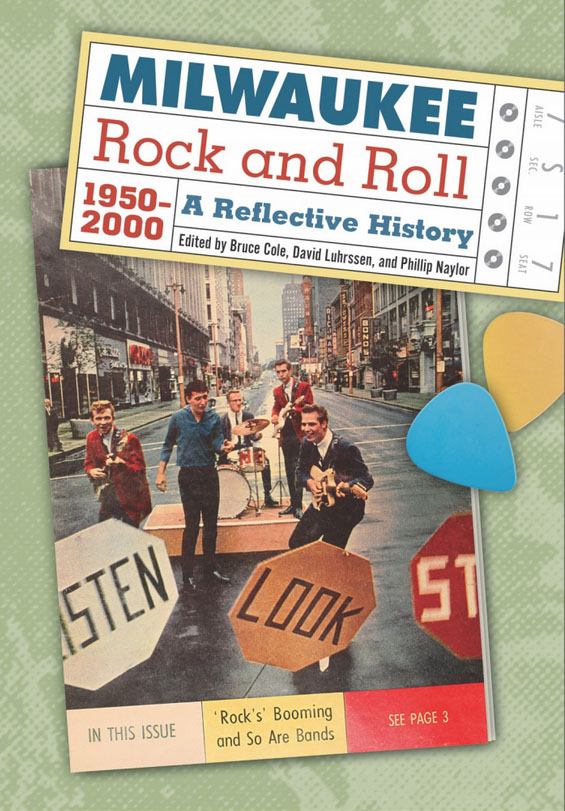 "The idea began when Bruce and I had lunch, as we often do," Luhrssen recalls. "He mentioned a book he was reading on Austin's music scene. We stated talking about how great Milwaukee's music scene has been over the years and the project got rolling from there.
"The idea for the book evolved considerably over time, especially after Phil became involved. Phil eventually became the project manager, assembling the manuscript in the form it will take as the book."
The more than 200-page book is broken up into chapters like "Rock's Beginnings in Milwaukee," "The British Invade Milwaukee," "The Blues in Milwaukee," "Punk and Post-Punk" and others.
While much of the book was written by the editors, not all of it was. The list of contributors includes Stephen K. Hauer, Diana Belscamper, Rose Trupiano, Kevin Lynch, musician Lil Rev and others.
"Some of the content consists of republished articles from the past," says Luhrssen. "Some were newly commissioned essays. One piece (by me) was an essay I wrote in 1988 on punk and post-punk for a Milwaukee music book that never surfaced.
"We cast the net widely – folk, blues, R&B, hip-hop, jazz fusion and Les Paul are all included. For the original essays, we sought out local experts in the field."
Cole, a veteran drummer whose career reaches back to the 1960s, had a lot of connections that could be mined for the book.
"I had written a lot of stuff about my 50-plus years playing, and I picked out what I thought were interesting bits and pieces and ran them by David and Phil and took it from there," he says. "David did some interviews and wrote the 'punk' chapter; Phil wrote about what he knew and interviews he had done over the years. We added a lot of great photos from the Cuje Collection here at Marquette.
"I also asked friends, local musicians and co-workers what they thought about the idea, and a lot of them offered contributions."
Cole says that June Skinner Sawyers' "Read the Beatles: Classic and New Writings on the Beatles" – a book he uses in his courses at Marquette – served as an inspiration.
"I've been wanting to write about Miltown music for years. The 'required' book I use in the Beatles and the British Invasion seminar I teach is (Sawyers'). It's around 50 essays, reviews, poems, articles and book excerpts covering the decades from the beginning of the Beatles until the end – and why they still matter. I wanted a book like that; I thought a lot of different voices would make an interesting Milwaukee music story."
Despite the wide net cast by the authors, Cole says that there's always more and the temptation to do more.
"There were tons of things – tons of people and places -- I would have liked to have in this book," he says. "But it probably would have needed a few thousand more pages more, at least."
Luhrssen adds that he was firm on one point in terms of content...
"One of my editorial contributions was to insist on 2000 as the cut-off. The 20th century is complicated enough to document, without trying to tackle the 21st century within the same book," he says.
"I'll leave the 21st century to the young music critics of the future."
The authors will discuss the book and answer questions at the event, at which they will also sign copies of "Milwaukee Rock and Roll." Musicians Lil' Rev and Jim Eannelli will perform, too. Admission is free.
Facebook Comments
Disclaimer: Please note that Facebook comments are posted through Facebook and cannot be approved, edited or declined by OnMilwaukee.com. The opinions expressed in Facebook comments do not necessarily reflect those of OnMilwaukee.com or its staff.