Metallica shows no rust at its Fiserv Forum concert
I wasn't sure what to expect from Metallica and its faithful fan base visiting the new Fiserv Forum Tuesday night.
The current WorldWired tour started two years ago, and the band's played over a hundred shows in countless countries in support of 2016's "Hardwired ... to Self-Destruct," its 10th studio album. But the hardened crowd definitely got its money's worth as the rockers showed no rust in their metal. With fantastic stage presence and tight musical collaboration, the L.A. based quartet earned their take Tuesday night.
The show began with an odd and often uncomfortable "opener" from comedian Jim Breuer, who is a big fan but brought nothing to the lead up. At one point, he moved a couple that looked perfectly content in their seats and "upgraded" them to the General Admission floor. He then went backstage and found Dave Grohl from the Foo Fighters, who are playing the venue on Wednesday, instead of finding the band he was actually supporting. The crowd was non-responsive during his sing-along of other metal hits.
But as Metallica took the stage, strutting out to "The Ecstasy of Gold" and its catchy western riff, the band was clearly ready for action. A near sellout crowd was instantly engaged with "Hardwired," the lead cut from their latest release.
The staging was fantastic. At first glance, it appeared to be a minimal approach with a theater in the round (even though the stage itself was square) and a few monitors hanging around. However, during the course of the evening, the show was enhanced by energized blasts of fire, elaborate lighting and surprises.
As they rolled into "Seek and Destroy," the crowd erupted and kept that going through "Unforgiven." During "Now That We're Dead," each member had a monitor with live video running on all sides drop down to be used as drum sets. Extremely creative and catchy, the monitors – about a dozen on each of the four corners – danced around and shape shifted thought the night. It was a nice bonus to see them using local imagery during the show; a concert promotional announcement for the band's 1991 Bradley Center show and a Wisconsin state flag were integrated into the visuals. Later, during "Moth Into Flame," the stage opened up to let out about 25 light-up moth drones which flew in formations around the stage.
Vocalist and guitarist James Hetfield and drummer Lars Ulrich are credited as Metallica original members, but with Kirk Hammett on lead guitar – who joined shortly after the group's first album – and bassist Rob Trujillio added in 2003, it is a really special trust and sound that's produced in concert. This was evident on "For Whom the Bell Tolls" and "Fade to Black," where the band's gel was especially strong.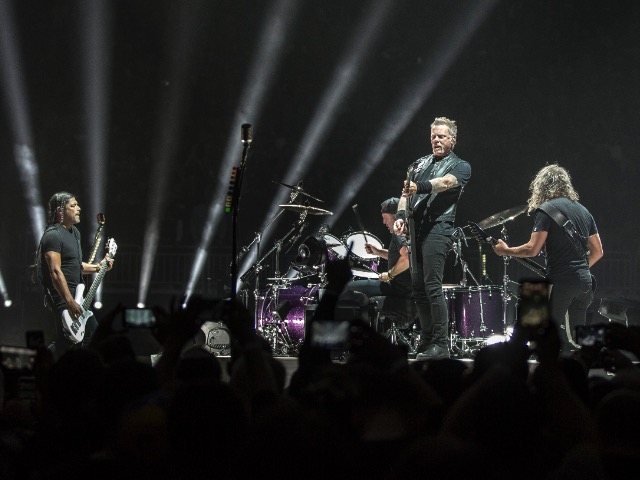 Hetfield took many chances during the show to thank and admire the Metallica family, as he put it, "for the ability to play music we like and to be able to play it for people that like it as much as we do." It appeared that about 20 percent of the crowd was wearing Metallica merch, so it wasn't surprising to find that the t-shirt lines were longer than the beer or bathrooms. He also made the not-so-astute observation, "I see old people," and literally pointed out a few in the audience. He went on to explain the diversity of age in the crowd and located a 12-year-old girl with her dad in the front row.
The two-and-a-half-hour show was rounded out nicely with an encore of "Spit Out the Bone," "Nothing Else Matters" and "Enter Sandman" – a great way to wrap up a well-played performance to an appreciative and receptive audience.
Facebook Comments
Disclaimer: Please note that Facebook comments are posted through Facebook and cannot be approved, edited or declined by OnMilwaukee.com. The opinions expressed in Facebook comments do not necessarily reflect those of OnMilwaukee.com or its staff.