Our favorite things about John Mayer's concert at Fiserv Forum
Love him or hate him, John Mayer oozes talent from head to toe. The Grammy-winning artist isn't only a great singer-songwriter, but he's one of the best to ever pick up a guitar – and if it came down to it, he could have a great fallback career in stand-up comedy as well.
With a lot of one-trick ponies in music today, Mayer will always fill seats by being one of the most diversely talented names in music, and fans enjoyed everything that makes Mayer so great on Tuesday night as he brought his "Evening with John Mayer Tour" to Fiserv Forum.
Here are seven reasons why you shouldn't have missed Mayer's show.
1. He performed two entire sets
Opting to forgo an opening act, Mayer warms the crowd up himself on his current tour. In doing so, the "Gravity" singer-songwriter delivers two different sets throughout the night with a short intermission in between so fans can grab another beer, use the bathroom and not risk missing one of his amazing guitar solos.
While Mayer's time touring with the surviving members of the Grateful Dead (as part of Dead & Company) has clearly influenced him as an artist, the two-set model is definitely something that his fans can get behind. Both sets were great and each one would have made for a memorable night on their own, with the first set containing tracks like "I Don't Trust Myself" and "Heartbreak Warfare" (which kicked off the night) and the second set beginning with several acoustic renditions of "Wonderland," "3 x 5" and "In Your Atmosphere" before picking the electric guitar back up for the remainder of the second set.
2. Mayer wipes the board clean for every show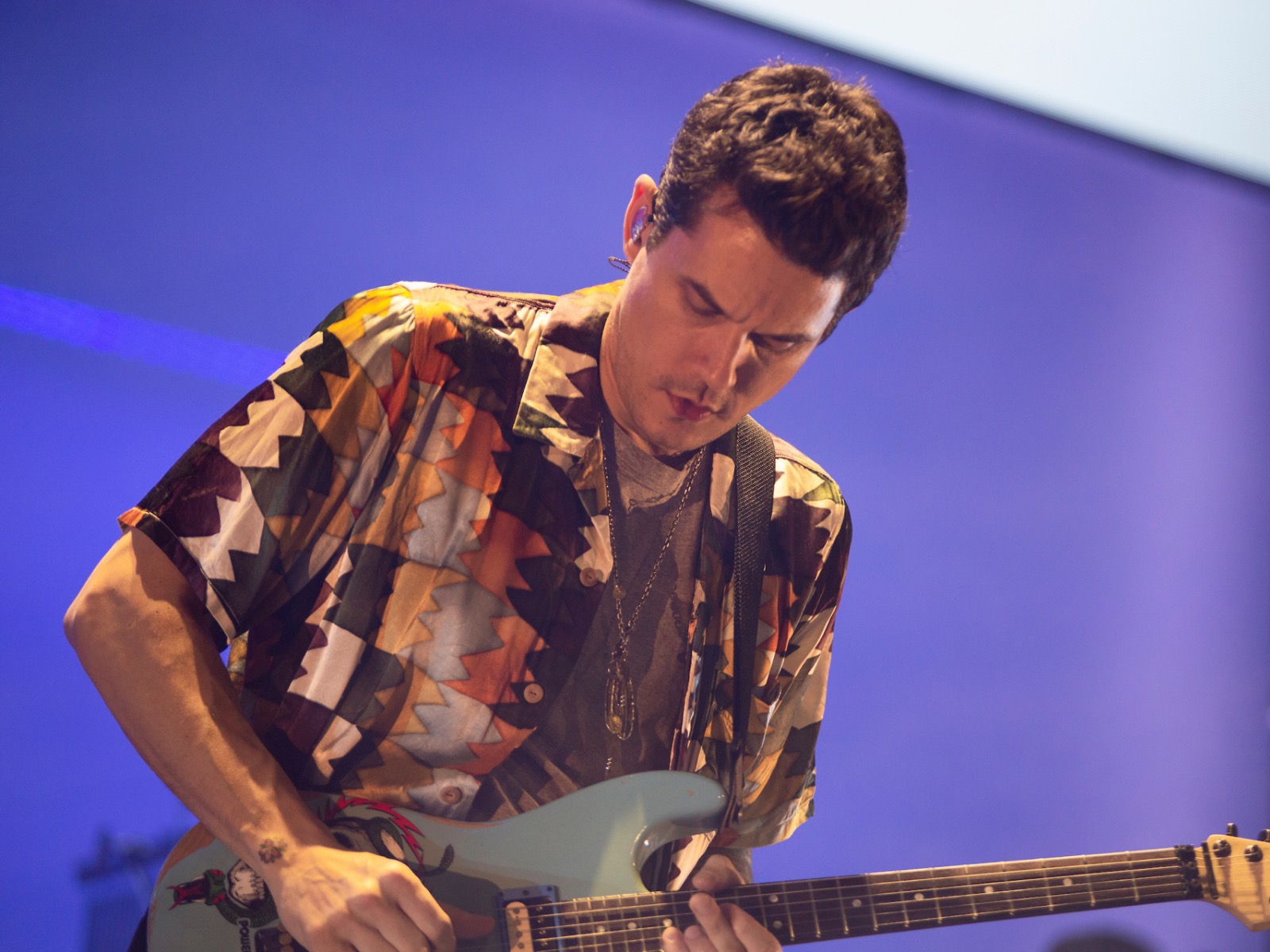 Not only did Mayer perform two sets for his Wisconsin fans, but each of those performances were specially curated for the Milwaukee date of the tour. While many of his biggest hits find their way on most of the tour's setlists, Tuesday night's set was almost entirely different than the previous tour dates. While this certainly gives fans a reason to catch multiple dates of the tour, it's nice for the audience to know that the singer is wiping the slate clean for each tour date and giving each packed arena a truly unique performance.
3. His show spanned across his 19-year career
Mayer's summer tour is also unlike your typical concert tour because it doesn't follow the normal model of an artist performing the majority of their latest album with a few hits from their back catalogue sprinkled into the set. Rather Mayer's 24-track setlist on Tuesday spanned through his entire discography.
While five songs from Mayer's latest album, "The Search for Everything," made the cut for Tuesday night's show, no one album received preferential treatment. Everything – from 2001's "Room for Squares" to his latest single – received at least some attention during the night. Yesterday's performance was a great reminder of the lengthy and great career that Mayer has had in music and how his sound has evolved throughout the years.
4. He has the best "guitar face" in the biz
In great company with artists like Prince, Slash, Eric Clapton, Santana and more, John Mayer wears the crown for the performer with the best guitar face. Although he has gone on record by saying that he does not control the face he makes when he is shredding, or even knows he's doing it, the face John Mayer makes when playing guitar is almost as famous as some of his biggest records. If you haven't seen his iconic guitar face in person, you are truly missing out.
5. He brought his funny bone
Maybe it's all the time he spends with Dave Chappelle or maybe the man is just naturally gifted in areas outside of music, but Mayer could be a stand-up comedian if the music thing doesn't work out for him. All night between songs Mayer found ways to keep the crowd laughing.
While taking time to read fans' signs throughout the audience, Mayer had a little fun with one woman in the audience, "I see that your (sign) is upside down, and I find that adorable." The jokes even began before the man hit the stage, as a parody of a DVD screensaver with a "JCM Audio" logo bounced diagonally on the tour's giant screen, before hitting the corner perfectly which segued into the start of the first set.
Despite being a seven-time Grammy award winner and an exceptionally talented artist, John Mayer never takes himself too seriously for it – which makes him easy to love.
6. He's one of the best guitarists of his generation
He may never get the full credit that he truly deserves, but Mayer is perhaps the greatest guitarist of his generation. Although publically you think of Mayer's dating resume before you may think of his raw talents on guitar, his skills are unmatched by most guitarists in music today. It's no accident that he was chosen to fill the shoes of the legendary Jerry Garcia and why Mayer has received co-signs from master guitarists like Eric Clapton on his talents on guitar alone. Mayer gave fans evidence to the above on Tuesday night with his many amazing guitar solos throughout both sets.
7. The encore was a perfect ending
While the random patterns of his two sets made for a great listening experience, the night's encore was a perfect two-song selection to complete the already great evening. Up first, Mayer returned to the stage to perform "Gravity," one of the singer's biggest singles from his 2006 LP "Continuum." The track was instantly met with cheers when the hit song started to begin the encore.
Next up, Mayer wrapped up his career-spanning set list with his most recent single, 2018's "New Light," an especially fun record to end a very fun night. While fans were certainly spoiled with BOGO performances from John Mayer, his Milwaukee fans can't wait for his return.
Setlist
Set 1
"Heartbreak Warfare"
"Moving On and Getting Over"
"Who Says"
"I Don't Trust Myself"
"No Such Thing"
"Whiskey Whiskey"
"Helpless"
"Edge of Desire"
"Paper Doll"
"I Guess I Just Feel Like"
Set 2
"3 x 5" (Acoustic)
"Wonderland" (Acoustic)
"In Your Atmosphere" (Acoustic)
"Love On The Weekend"
"Changing"
"Heart Of Life"
"Belief"
"Waiting On The Day"
"Slow Dancing In a Burning Room"
"Waiting On The World To Change"
"In The Blood"
"Dear Marie"
Encore
"Gravity"
"New Light"
Facebook Comments
Disclaimer: Please note that Facebook comments are posted through Facebook and cannot be approved, edited or declined by OnMilwaukee.com. The opinions expressed in Facebook comments do not necessarily reflect those of OnMilwaukee.com or its staff.