7 reasons why you shouldn't have missed Hootie & the Blowfish at Alpine Valley
Alpine Valley partied to the sounds of the '90s on Friday night as Hootie & the Blowfish brought its Group Therapy Tour with the Barenaked Ladies to the historic amphitheater, in celebration of 25 years since the release of their massively successful debut album, "Cracked Rear View."

After a decade-long hiatus, where lead singer Darius Rucker built a successful career as a country star, the entire band reunited for their new tour and a brand new record deal with UMG Nashville, which all paves the way for the band's forthcoming sixth studio album, "Imperfect Circle," which is currently scheduled for a November release and will be the South Carolina natives' first LP in 13 years.
With so much going on, fans had plenty of reasons to fill the seats and pack the lawn at Alpine to enjoy Hootie & the Blowfish's anticipated return to Wisconsin.
Here are our seven reasons why you shouldn't have missed Hootie & the Blowfish's show at Alpine Valley:
1. It's their first tour in over a decade
Cars stretched for over a mile in East Troy on Friday, as fans from across the state came out to Alpine to catch Hootie & the Blowfish perform in the area for the first time in many years. The band's current Group Therapy Tour is their first in over a decade, and while fans have had plenty of chances to see Darius Rucker perform throughout the years, many caught the band live for the first time on Friday, if not the first time in a long time.
While you shouldn't expect the soulful pop rockers to wait another 10 years to tour in the future, thousands jumped at the opportunity to enjoy Hootie & the Blowfish live while they had the chance.
2. "Cracked Rear View"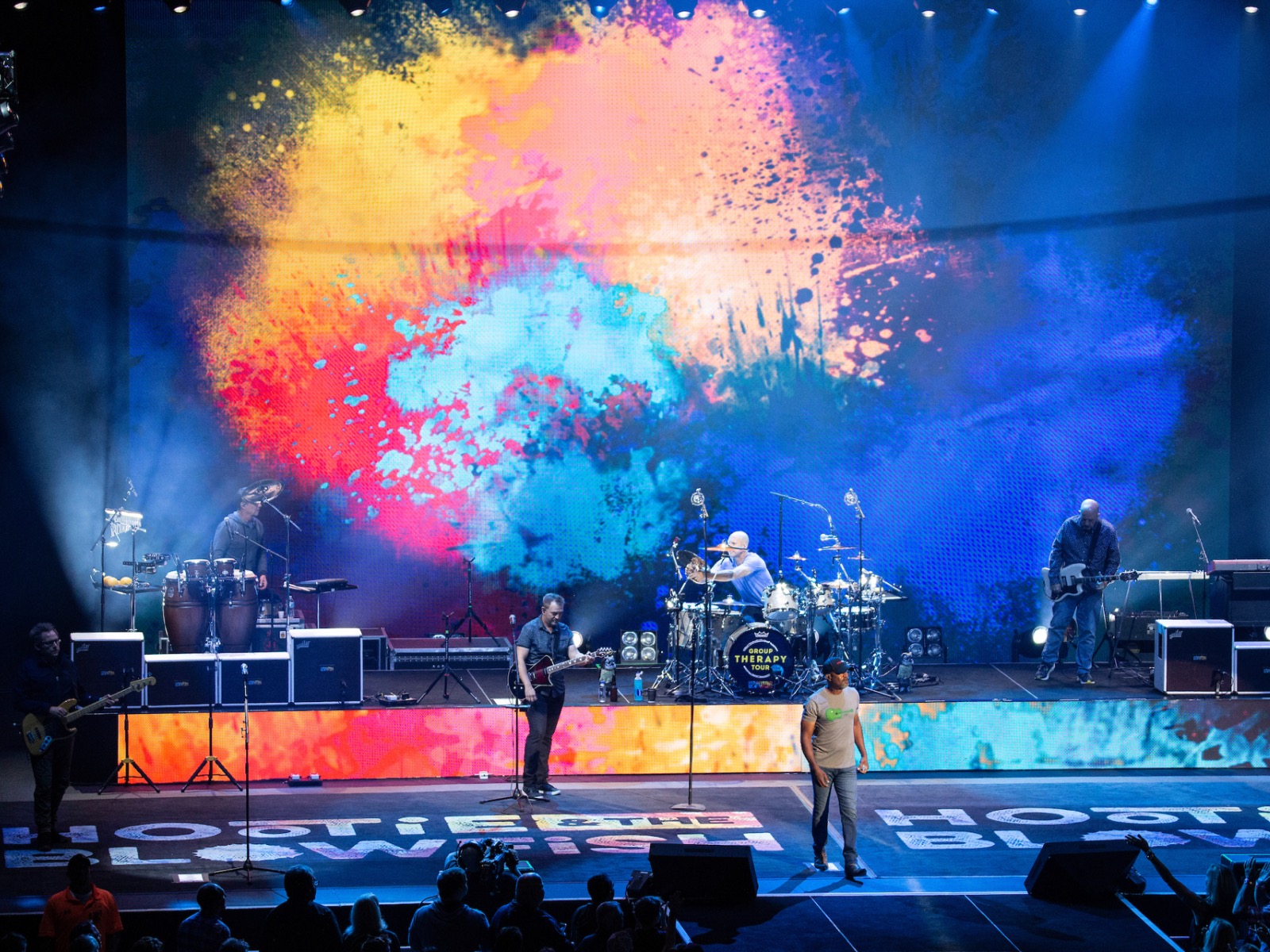 Hootie's new tour not only serves as a reunion tour but also a celebration of the band's mega-successful debut, "Cracked Rear View." Originally released in 1994, the debut album is the 19th best selling album of all time in the U.S. and has been certified platinum over 20 times.
The classic LP gave birth to hits like "Only Want To Be With You," "Hold My Hand" and "Let Her Cry" (to name a view), and is more than deserving of a 25th anniversary tour. "Cracked Rear View" shaped the pop rock sound of the '90s but still sounds as good today as it did a couple decades ago – as the Alpine Valley crowd can attest.
3. Darius Rucker performed "Wagon Wheel" and "Alright"
Fans were treated to a two-for-one special on Friday as the Hootie concert included a free Rucker country show as well. Performing his 2008 single "Alright" and his beloved rendition of Old Crow Medicine Show's "Wagon Wheel," a cover which Rucker took to the number one spot on the country charts, fans were as excited to sing along to Rucker's solo work as they were for some of Hootie & the Blowfish's biggest hits.
While last night's concert was very different than a show you'd catch at Country Thunder, it's clear that country music has had a big influence on Rucker, who certainly has a swagger and stage presence of a country star as he struts across the stage during performances in a T-shirt, jeans and a ball cap.
4. The whole band is back
Rare and almost unheard of for a reunion tour, the whole gang got back together for Hootie & the Blowfish's modern day resurgence. Bringing back Rucker, Mark Bryan, Dean Felber and Jim Sonefeld, all of whom made up Hootie & the Blowfish for their debut album and beyond, fans got a true reunion for the Group Therapy Tour. There must be something in the South Carolina water that makes the band get along through all the years.
5. Barenaked Ladies
Hootie & the Blowfish wasn't the only popular band from the '90s on Friday night's bill as the Barenaked Ladies also blessed the stage. Keeping fans laughing with Ed Robertson's banter between songs, the "One Week" artists performed their biggest hits, a freestyle rap dedicated to Wisconsin and even a 2019 mashup of current hits like "Old Town Road," "High Hopes" and "Shallow."
Fans were later treated to a second dose of the Canadian alternative rockers, as the Barenaked Ladies joined Hootie & the Blowfish during the end of their set for a cover of The Beatles' "With a Little Help From My Friends."
6. They brought all the hits
With five albums and decades of experience under their belt, not to mention one of the highest selling albums of all time, there was no shortage of hits performed during Friday's performance. From Rucker's solo hits to classic Hootie & the Blowfish records like "Let Her Cry," "Hold My Hand" and "Only Wanna Be With You," fans were able to enjoy all of the band's biggest tracks on Friday from the night's 20-plus song set list.
7. It was one of your last chances to make it out to Alpine this year
If you wanted to make it out to a show at Alpine Valley this summer and you completely missed out last night, you don't have many chances left. Friday marked the third to last show at Alpine Valley this season, as only Willie Nelson's Farm Aid and a performance from The Who remain on the venue's calendar.
So be sure to get out to Alpine before the season is over!
Facebook Comments
Disclaimer: Please note that Facebook comments are posted through Facebook and cannot be approved, edited or declined by OnMilwaukee.com. The opinions expressed in Facebook comments do not necessarily reflect those of OnMilwaukee.com or its staff.