Ariana Grande ruled the universe Friday night at Fiserv Forum
Arriving better late than never – her Milwaukee "Sweetener" tour stop was originally scheduled for April before getting pushed back – pop star Ariana Grande brought her entire universe with her to Fiserv Forum on Friday night. There were bright solar eclipses, a galaxy of stars and even a massive replica moon descending above the roaring, packed arena crowd. And for a tight, energetic and relentless 90 minutes of pop, Grande was the sun at the center of it all, the gravitational pull pulling the entire show, and all the eyes gathered to see it, together.
Or, better yet, she was the deity at the controls of it all – as confirmed by her opening song, the monster hit "God Is A Woman," complete with the pop star emerging theatrically on stage at the center of a Last Supper recreation and a massive solar eclipse brightly roaring behind Grande and her squadron of impressive dancers. It was a proper pop diva arrival – complete with a strong sound mix, precisely picking up all of Grande's slick signature mini-Mariah vocal runs, and a massive stage making for an eye-catching backdrop: a rounded and cupped white background with a big orb in the middle perfect for the galactic imagery scattered throughout the show.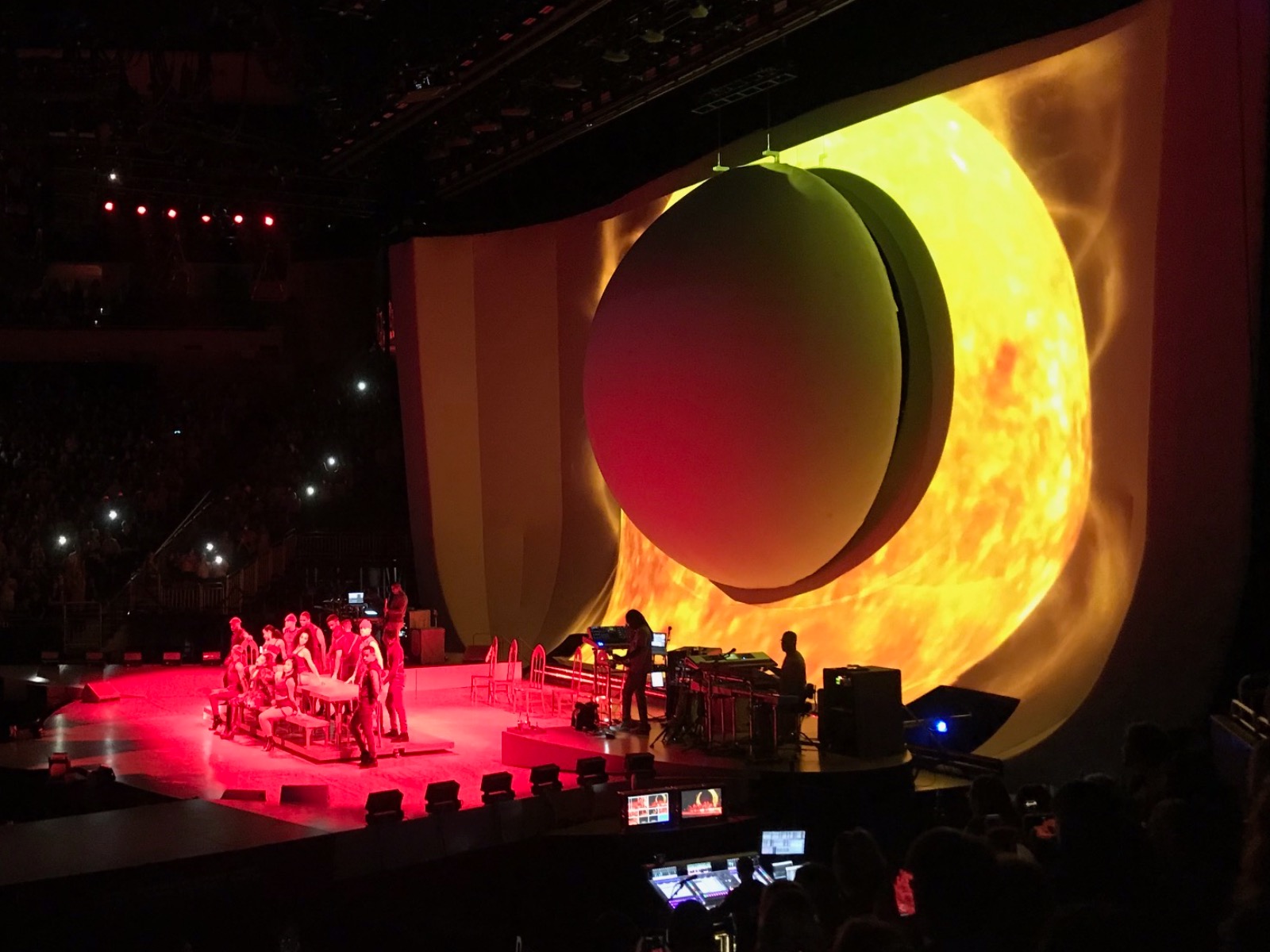 That orb would turn into a fishbowl camera painted sultry red for "Bad Idea" and "Break Up With Your Girlfriend, I'm Bored" – the latter including more table choreography ably danced by Grande and company. Five years ago, watching clips of the then-ascending pop star performing "Problem" live, there could be a bit of a cold blank where her on-stage personality was supposed to be – especially during dance breaks, as if she was thinking of the steps first and performing second.
A lot has changed, as Friday night showed; Grande seems like a much more confident and commanding performer. One could even say that she's stronger than she was before.
Grande kept up her relentless pace during the Fiserv Forum show, only occasionally stopping between songs for a video clip – from a home video including young Ariana's tight five minutes on "Titanic" to a movie clip and some perfume commercial-approved imagery – to hide a costume change. Also relentless: the color pink, most notably during the concert's second act, including "R.E.M.," "Sweetener," the jazzy "Successful" and two more mega-hits, the flirty "Side to Side" and the hip-hop-infused boast "7 Rings." The Fiserv Forum was bathed in the hue during this run of the show – pink lighting, pink jackets, a pink car – as if someone had injected melted pink Starbursts into everyone's eyes.
I forgot what other colors looked like – and frankly I didn't mind. You don't go to a tour called "Sweetener" without expecting some sugary bubble gum confection.
The eye-popping visuals didn't stop there. After a quick combination of the hits "Love Me Harder" and "Breathin," Grande sat down for a deeper cut, "Needy," complete with her dancers seated in chairs behind her, smoke oozing from their poses. It was a fantastic and mesmerizing visual – and a perfect way to engage casual fans in attendance on a song they've likely not heard on the radio, rather than letting them mentally check out for a number.
And if that wasn't enough, well, then she brought down the moon – quite literally, as a large dome above the floor seats descended down from the ceiling to become a giant globe, lit first as a starry intergalactic orb for the space-requesting "NASA" and then becoming a moon for "Get Well Soon." It was quite the image – but unfortunately, with no spotlights on save for the massive lunar light and Grande performing on a small platform in the midst of the floor seats, it was easy to lose sight of the star. (That would be the only time Friday night.)
Grande wrapped up the night with a four-song run of hits: "Into You," the dramatic "Dangerous Woman" – the best Bond theme song not written for a Bond movie – the rainbow-soaked "Break Free" and, after a final thanks and a shoutout to her band, "No Tears Left to Cry." Though, of course, that wasn't the actual end, as the crowd pleaded for an encore. Some clapped. Some chanted "Ari." Some screamed and cheered. Some pounded on their seats. And some waited in silence because they knew she'd have to come back out considering "Thank U, Next" hadn't happened yet. A petition to ban pre-planned encores, please – they simply delay the inevitable and needlessly exhaust the audience.
However, at least Grande delivered on the empowering break-up ode and official show finale, ending on a positive, bright, colorful and energizing last note – co-starring a joyful parade of Gay Pride flags on stage.
That final image – plus a pre-show video calling on those in the crowd to use their voices in the world for change, whether voting or other methods – was about the closest thing to the pop star saying anything during the night. Grande rarely talked to the crowd, only the occasional appreciative shoutout to Milwaukee and beckoning for noise or singing. On one hand, it left the night feeling a little efficient, a job well done rather than something particularly personal. However, that meant more time for music – which Grande certainly filled with song after song.
The only filler came with the necessary evil of videos to cover Grande's handful of costume changes. They're better than silence, but the early home video, while charming, was hard to understand save for the young future star's thoughts on Rose in "Titanic," and a short film clip seemed without context – and again hard to parse out from my seat with the big round backdrop button warping the image. (I believe it was maybe "The First Wives Club," a film favorite from the pop star?) And while Grande sounded great on a suitably smoldering bombshell cover of "My Heart Belongs to Daddy," it would've been great to have heard it live rather than via a pre-recorded black-and-white video.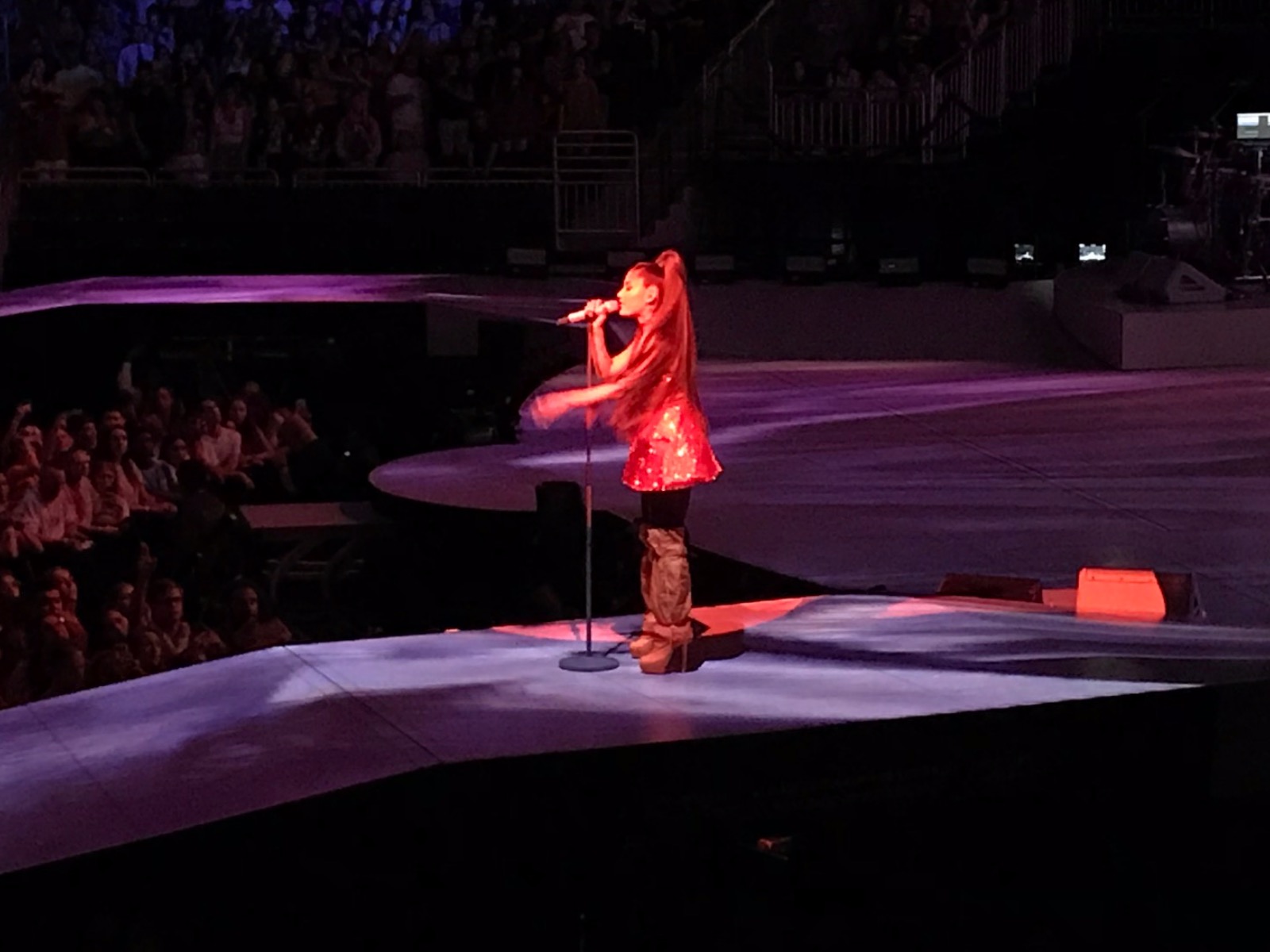 These, however, are all minor gripes – and Grande's now well shown her ability to improve and evolve. Five years ago, she was just another pop star; now she's the queen of her own universe, complete with her own planets and moons in tow, turning personal tragedies small and large into musical triumphs and universal rallying cries. If that was one phase and one step forward, it's hard to fathom what the next giant leap for Ari-kind could bring.
As for simply Friday night, though, Grande turned in a big, fun, colorful night that could convince anyone of her worthy place amongst the stars of pop diva-dom.
Setlist
"Raindrops (An Angel Cried)"
"God Is a Woman"
"Bad Idea"
"Break Up With Your Girlfriend, I'm Bored"
"R.E.M."
"Be Alright"
"Sweetener"
"Successful"
"Side to Side"
"7 Rings"
"Love Me Harder"
"Breathin"
"Needy"
"Fake Smile"
"Make Up"
"Right There"
"You'll Never Know"
"Break Your Heart Right Back"
"NASA"
"Get Well Soon"
"Everytime"
"The Light is Coming"
"Into You"
"My Heart Belongs to Daddy" (via video screen)
"Dangerous Woman"
"Break Free"
"No Tears Left to Cry"
Encore
"Thank U Next"
Facebook Comments
Disclaimer: Please note that Facebook comments are posted through Facebook and cannot be approved, edited or declined by OnMilwaukee.com. The opinions expressed in Facebook comments do not necessarily reflect those of OnMilwaukee.com or its staff.