On its 25th anniversary, Alligator Gun's MKE punk classic is reissued
SongPreserve.com, a music download site that brings out-of-print music back out into the open, is adding a Milwaukee classic to its lineup.
The site, which is a sister to mkepunk.com, already added Alligator Gun's groundbreaking 1993 full-length, "Shirk," but now the remastered record is available for streaming on a variety of services (Apple Music, Spotify, etc.) for the first time in celebration of the 25th anniversary of its release, according to Jeremy Ampe.
There will also be nine bonus tracks, Ampe says, recorded after "Shirk."
"I'm not always a good at knowing what's popular," says Ampe, "but Alligator Gun has always been the most downloaded band on MKEPunk.com."
The band included bassist Scott Schoenbeck – who went on to wider fame with Dashboard Confessional – who remembers "Shirk" fondly.
Singer/guitarists Bill Couture and John Kucera and drummer Craig Johansen were the band's other members.
"In 1992 no one was doing pop punk power pop in Milwaukee," he says. (It was) grunge city everywhere. I'm glad we did it; glad people dig it. We learned a lot along the way."
Two years after "Shirk" came out, the band released an LP for Sony's Relativity Records, but soon after, the band – which got started in a Brookfield basement eight years earlier – split up, releasing a final record a few years later and reuniting briefly in 2006 and 2014.
According to Ampe, sales of the remastered "Shirk" could have a long-lasting impact.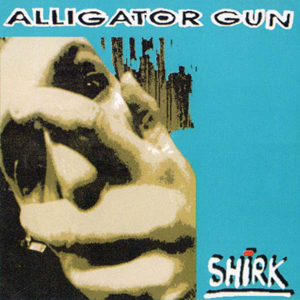 "Song Preserve works with bands to digitally reissue out of print releases with all proceeds going to the charity of the band's choice," he says. "Proceeds from this release will go to Planned Parenthood."
The funds will come from streaming revenue, Ampe says.
"(Streaming) is how most people will be exposed to it and listen to it," he says. "There isn't a lot of money in digital for each individual release and splitting that shrinks even more as you split it across band members. But if we pool all the money raised by multiple releases and give them to charity it could add up to a respectable sum. Every bit helps and most importantly it keeps the music accessible."
Schoenbeck applauds Ampe's initiative in getting the music back out.
"I'm psyched that Jeremy took the reins on this," he says. "I'm glad he cares or none of it would be available again."
Facebook Comments
Disclaimer: Please note that Facebook comments are posted through Facebook and cannot be approved, edited or declined by OnMilwaukee.com. The opinions expressed in Facebook comments do not necessarily reflect those of OnMilwaukee.com or its staff.