Milwaukee Talks: WISN-12 sports anchor Stephanie Sutton
The last time we profiled Stephanie Sutton on OnMilwaukee was in 2009, and as much as things have changed in the last eight years, a lot has remained the same (although she now has three kids, instead of two).
While Sutton has branched out into some high-profile entertainment reporting, the Brookfield native is still mostly seen on TV as the weekend sports anchor at WISN-12, where she just celebrated her 15th anniversary with the station.
Just like we did last time, we caught up over sushi lunch at Wasabi in Brookfield, where Sutton, 46, is such a regular that the chefs wave when she comes in. Enjoy this latest, updated Milwaukee Talks.
OnMilwaukee: It seems like spending 15 years at one station, especially for someone your age, is unique. Is it?
Stephanie Sutton: I'm not that young anymore. But yeah, in this day and age, in my profession, to be in one spot for 15 years is pretty unusual.
Was that the plan when you came back from California?
Yeah, that absolutely was the plan. I mean, people don't normally do what I did. I was in market number five in San Francisco, at the NBC affiliate. It was great, I did love it. But I did miss being at home.
Also it's pretty expensive out in San Francisco, so I wanted to be closer to home. I knew I wanted to get married, I knew I wanted to have kids. And I also knew that my mom and dad, my two sisters their families, everyone lives here, that they could help me in this process.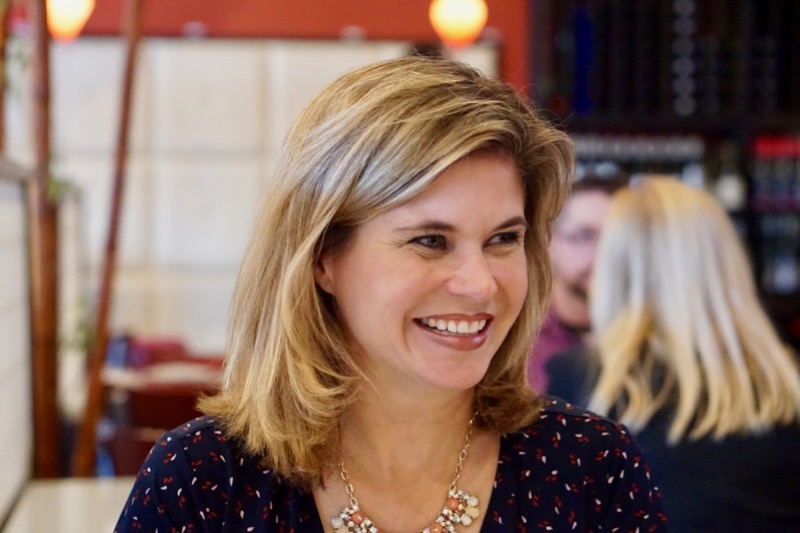 And that's one of the questions I get from a lot of the younger gals that I meet now: How do you do it? And I was like, I could not do this without the help of my husband and my mom.
Last time we talked, you mentioned that Donald Driver used to give you a hug at Lambeau field. After he retired, you became the "Dancing with the Stars" correspondent for Channel 12. How did that happen?
Hands down, that was the best assignment I will ever have because it was a mix of two of my favorites, sports and entertainment. And so, the odds of having a popular Packers player at a popular ABC show, and I'm an ABC affiliate, are very slim. But that happened, all the worlds collided.
I got to go out to L.A., and the cool part about it is he kept winning. We went off to L.A. at least four times, minimum five days a week, and we got to cover Donald and Peta in this whole magical run for the Mirror Ball Trophy.
And you already had this working relationship with him?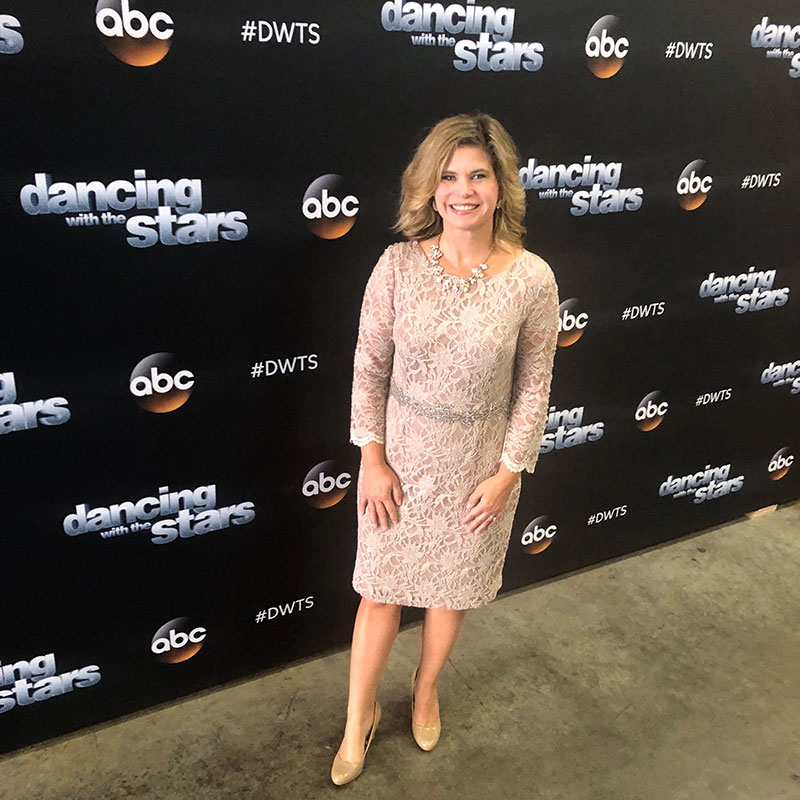 I think that helped in selecting who would go and cover this. I already knew Donald and he knew who I was. So sending me out to L.A., I'd be a familiar face and then that would obviously make this whole thing work a lot better.
You continued doing stuff with him after, right?
I did. I host his Driven To Achieve Award special every year. I also get to interview some of the people along the way that are being honored in the Milwaukee and Wisconsin, these charitable people that do great things, that he honors every year. So I get to be a part of that process.
So is Donald like your text buddy?
Every now and then. I do have Donald Driver's number in my phone, one of the few athletes that I do. But I only every so often will text him if I want to ask a question or wondering when he's coming back to town, because he lives down in Texas.
You continued the "Dancing With The Stars" reporting after Driver, too, right?
I made another trip for Arike Ogunbowale, who just took Notre Dame to the national championships and is a Milwaukee native and a Divine Savior star. Along with Kareem Abdul-Jabbar.
So that was a chance for you to do some non-sports stuff. Is that an opportunity that could exist in the future at Channel 12?
Do we have an entertainment reporter? No. There are a lot of anchors and reporters that do entertaining stories, but that would be an avenue I would love. If that was ever something that they would have as its own specific entity, I would love to venture that way.
How has the business of TV sports changed?
Last time we talked, I don't even know if I had a cell phone on me.
You didn't have a Twitter account, I don't think.
Social media has completely made it different. I'm more of a Facebook-type person than a Twitter person, though. And yes I do post pictures of my kids, 'cause I'm so proud of them and what they do. What's cool about Twitter, it is more in that moment, very timely.
Does the immediacy of social media make your job easier or harder?
A little of both. Easier in the sense that I think you almost have more things to report on. Harder because you're trying to keep up.
What's the same in your job?
I still get asked the same two questions. Number one, "Are you Tom Sutton's daughter?" and number two is, "Do you go in the locker room?" Yes, I do. You try to be professional, you've got to do your job.
People really still ask you if you're Tom Sutton's daughter?
Yes, they do. That has not changed, which is crazy after all these years.
He retired like 20 years ago!
I came in, and because I had the same last name, everyone assumes I'm his daughter … or his wife.
You are only doing one radio gig now, on Bob and Brian, right? Is that still fun?
That is beyond fun, but I'm not a morning person. I do not like getting up early, except when I know I have to do Bob and Brian. I will bound out of bed at 5 a.m., get ready and go to the radio station.
That's pretty early.
Yeah, that is for me. Even with kids, that's early. Usually I have my kids sleep in until at least 7, 7:30 a.m. But it's such a fun job, it's fun working with Bob and Bryan. They've been around for 30 years. Their knowledge in sports, entertainment and politics is second to none. They're so brilliant in what they do, they're total pros.
Is there room for advancement at Channel 12? The guy who is in front of you, Dan Needles, is also not very old. Where does you career go from here?
I like where I am right now, but I would love to see myself spread my wings a little more.
Do you still play tennis? You were a good player as a kid, right?
I was at Central, but I do not play anymore. That's like my only sports claim to fame: My sister Heidi and I won a state doubles championship at Central. I have, like, zero time to pick up a racket. Maybe when the little one gets into kindergarten ...
Maybe?
Because she's still not in school yet, per se. So maybe that might change a little bit. But it's non-stop craziness. And honestly, like, I'd love to play tennis more, or work out, or whatever …
Do … something?
Do something maybe more for me. But for the most part, if I'm not working, I'm a mom. I want to be with the kids. I get sheer enjoyment out of watching my oldest daughter, who's 13 and 6-1, play volleyball and basketball.
When we talked last time, there was a big chunk of our interview devoted to being a woman in this industry. Is this a bigger deal now, or was it a bigger deal then?
I think it was a bigger deal then. There are a lot more women doing sports, sports reporting and sports anchoring. Which is great, I try to encourage that. I'm pretty friendly with any female that's doing sports because I think it's cool that they want to do what I wanted to do 20 years ago and that I'm still doing.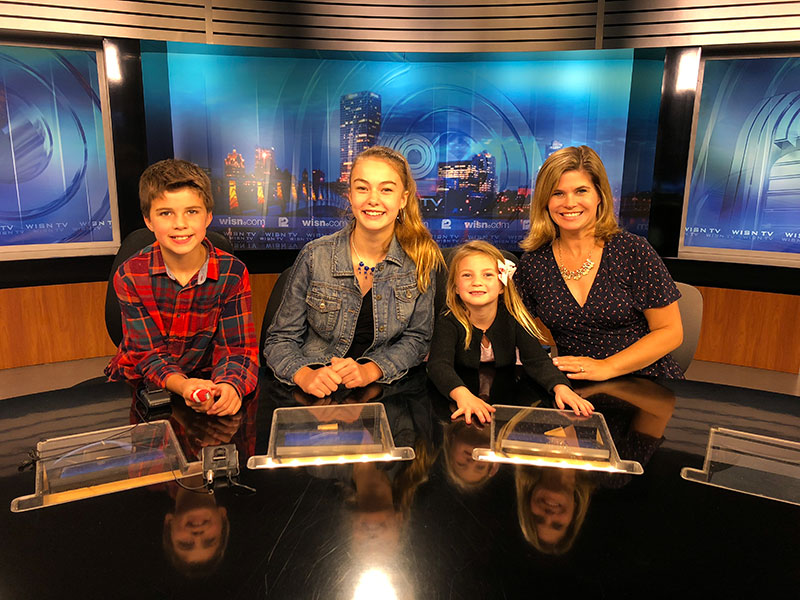 Facebook Comments
Disclaimer: Please note that Facebook comments are posted through Facebook and cannot be approved, edited or declined by OnMilwaukee.com. The opinions expressed in Facebook comments do not necessarily reflect those of OnMilwaukee.com or its staff.