Urban spelunking: Be Spectacled & former Drews Variety & Gridley Dairy
Depending on your age, or when Tosa Village became part of your reality, you may call the buildings at 7505-13 Harwood Avenue by different names.
These days, the one-story northeasternmost part is best known as the home of Yo Mama! Frozen yogurt, The Party Room and, around the back, Ruby Tap wine bar.
The two-story red brick building, erected in 1909 and currently undergoing renovations to become the new home of Be Spectacled, is packed full of Wauwatosa history.
For a start, the building sits on the site of the log cabin of Tosa pioneer Charles Hart, who arrived here with a small group of settlers from New York in 1835 and erected a sawmill and a grist mill, to ensure both lumber for homes and grain for food.
By then the property of Sam Riddle, the land was sold to Leander Gridley, who had come to Wauwatosa, from Bristol, Connecticut, four years after Hart. In 1912, the lot was sold to Caroline Schultz, who sold it on to Emerson D. Hoyt the following year and he built a two-story brick building on it.
That's the building you see today.
Harwood Avenue as seen in 1968. (PHOTO: Courtesy of Wauwatosa Historical Society.)
It's first tenant was Abraham Van Uren's Wauwatosa Dairy Company, which moved into the first floor and the basement in 1915.
Hoyt, who was among the petitioners for the incorporation of Wauwatosa as a village in 1892, was elected village president after voters approved the incorporation. When in 1897 Tosa became a city, Hoyt – who had also been four times elected to the state assembly – was elected its first mayor, with offices above the fire station on Underwood Avenue (it's now home to cheesemonger).
But according to the September 1990 Historic Wauwatosa newsletter of the Wauwatosa Historical Society, "The population of Wauwatosa was beginning to increase at a notable rate. Consequently, the number of bureaucrats multiplied and a larger City Hall was needed. Mr. E. D. Hoyt offered to rent the second floor of his new building at 218 N. Main St. (now 7511 Harwood Ave.) for use as council chambers and city offices. This space was leased on an annual basis for 19 years, beginning on Jan. 1, 1917. The old quarters were turned over to the fire department."
Meanwhile, downstairs, the Tosa Dairy Company sold out Gridley, who had grown a successful dairy business with locations around the Milwaukee area, and so from 1919, Gridley occupied the basement and first floor, until 1925 when it acquired land on what is now Wauwatosa Avenue and Wright Street.
The plant it built there has long since been converted into Pius X church and school.
Like Gridley, Tosa was growing quickly – those two facts are intertwined, of course – and so was its administration. Therefore change was underway on the second floor of the building, too.
"Again City Hall, located on the second floor of the Hoyt Building, was becoming crowded," noted the newsletter. "It was also being leased on a yearly basis. Altough some people thought the city should build a new City Hall, Mayor (Alfred) Loose thought it was unwise and too great a burden on taxpayers in such trying times. Therefore he felt it best to lease the second floor of the Lefeber Bros. store, located on the corner of Harwood and State (7616 Harwood, now demolished). On Jan. 1, 1936, they moved into the new quarters."
Circa 1940s-early'50s. (PHOTO: Courtesy of Wauwatosa Historical Society)
While the upper floor at this point was converted into seven small studio apartments, city directories show that the first floor became home to Tosa Food Shop and Badger Paint for a few years before giving way to A&P and, for a time, a butcher shop run first by Walter Korotko and then by Fred Oliver.
The A&P grocery lasted here until about 1969-70 and, as such, it remains fresh in the memories of many living Tosans.
Considering how many long-lived and important tenants the building had, it seemed to only make the papers on one fleeting occasion, when in 1930, the body of a newborn baby was discovered in a car that had been stored in the basement.
The baby appeared to have been strangled just after birth and police were seeking the car's owner, a woman – with warrants for passing bad checks – that had since gone missing.
For some reason, she'd left the car in front of the home of Samuel Hoyt and he stored it in the basement of the building, which he'd owned since his father Emerson had died two years previous.
When the car was repossessed by the Motors Acceptance Company, an employee found the baby in a suitcase in the vehicle.
According to the Sentinel, "Though the machine was supposedly under lock and key since it was stored in the basement of the North Main Street building, an effort was being made to determine whether the suit case might have been place stealthily in the car in the last month. Mr. Hoyt did not notice the suit case when he stored the machine."
Further searching turned up no follow-ups to this tragic and mysterious story, and the Harwood Avenue property went back to its day to day business.
In 1939, a one-story addition (pictured below as it was being converted into Yo Mama) was built.
Around 1941, the Ben Franklin variety store chain moved in, replacing the butcher shop and remained until about 1957, when it became M. H. Hermes' 5¢ to $1 Store.
Nearly a dozen years later, that store gave way to Drews V&S Variety Store, a local chain founded in the 1940s by Hilbert and June Drews and later taken over by their son Paul, who also ran Drews True Value hardware store on Port Washington Road.
Two photos taken during the Drews era. (PHOTOS: Facebook)
Hilbert's father Ernst, a harness and leather business on Milwaukee's south side, decided to boost the family income by opening a Ben Franklin on Forest Home Avenue in 1938, and after Hilbert returned from a stint in the Marines during World War II, he came home to the variety game, opening a total of 14 stores around the area.
He sold 10 of the stores and closed two more in 1980 and over time, Tosa was the last one standing. By the time it closed in 2008, few could remember a time when it wasn't part of the Tosa Village landscape, selling everything from sewing notions to arts and crafts supplies to penny candies and more.
Now, the building has been purchased by Dr. Mark Veth, who owns Be Spectacled, an optometry office and eyeglass retail shop, located next door at 7605 Harwood Ave. (in a building with a cool 1960s facade fashioned from petrified wood!)
He's torn out the walls that divided the upstairs into tiny apartments that he said were, for many years, rented to students at the nearby Medical College of Wisconsin, but that in more recent years saw many vacancies.
He also brought the main floor down to the studs, too, so that he could move Be Spectacled here by Nov. 1. In fact, the new location opened today and a grand opening party is slated for Dec. 6.
On a visit, he took me through each of the floors, showing me interesting things, like the heavy timber supports, the still visible floor plan of the apartments upstairs (pictured above) and the basement, where windows now closed up on the outside are still in place inside, offering an interesting view of the old sidewalk.
Up in the old city hall, I couldn't help wondering where the mayor's office was.
Veth loves the building and is fascinated by its history.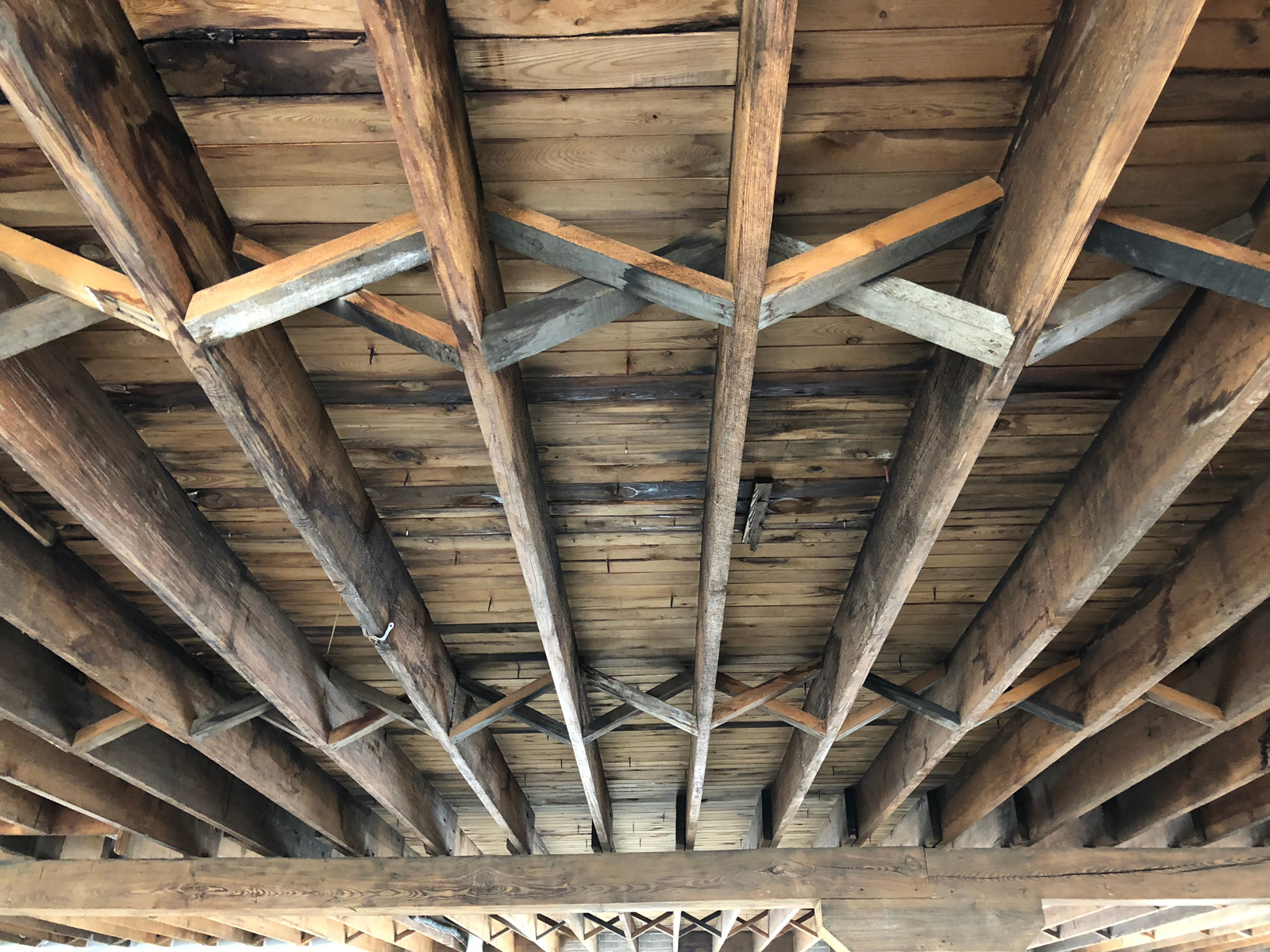 "I feel the history gives it character and almost a soul," he says. "Seeing the way a building can function for different people in so many ways, can really show the adaptability of humans.
"I am extremely excited to become part of the history. Being able to bring back a very old building to add to the vibrancy of our community is a way I can give back to an area that has really provided an amazing life for my family."
Facebook Comments
Disclaimer: Please note that Facebook comments are posted through Facebook and cannot be approved, edited or declined by OnMilwaukee.com. The opinions expressed in Facebook comments do not necessarily reflect those of OnMilwaukee.com or its staff.