Master Lock's landmark laminated padlock turns 100
This year, the Milwaukee-made Master Lock laminated padlock turns 100. I bet nearly every one of you has owned one. There's one right now securing my lawnmower. And another is on the chain I used for my bike.
It's the lock that launched the Master Lock Co., and these locks are still made here in Milwaukee at the Master Lock factory on Center Street.
"Our Laminated Padlocks continue to be a core and prominent offering from Master Lock, with around 13 million lock bodies being manufactured every year," says Master Lock's Senior Product Manager, Sherri Hanson.
Russian immigrant Harry Soref, who founded Master Lock here, invented the hard-working, low-priced laminated steel lock in 1919. He and his partners patented it when they founded the company two years later.
Though the basic look and design of the lock doesn't appear, to the naked eye, to have changed much, they have, in fact, been upgraded over time.
"The padlock may be turning 100 years old this year, but we continue to push the envelope of innovation to meet the security needs of today's consumers and businesses," says Hanson.
They now have enhanced internal locking components, says the company's sell sheet, "provide improved protection against rapping, prying and shocking attacks.
"Durable shackle materials offer increased levels of cut resistance against bolt cutter attacks, 4-pin and 5-pin cylinder options provide superior protection against picking attacks, and (the) hourglass-shaped keyhole protect against drilling."
The design is so fundamental to Master Lock's history that an oversized model of it sits atop the company's Milwaukee factory, and two others flank the entrance.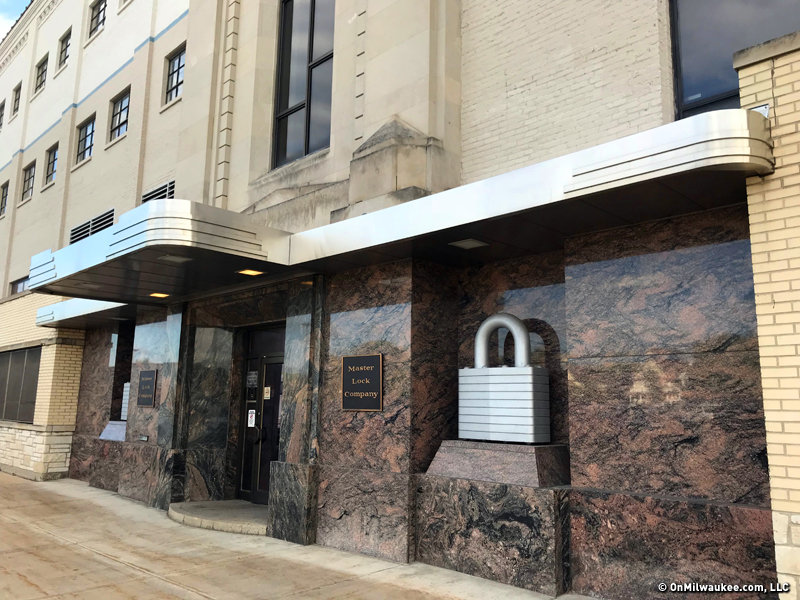 "While Master Lock continues to position itself as a global leader in electro-mechanical and digital innovation, such as with our Bluetooth Padlocks and Lock Boxes, we remain committed to our core mechanical padlock business as a key driver of growth and revenue," says Hanson.
"The Laminated Padlock upgrade signifies our continued commitment to our core padlock."
Here's a video tour through the Milwaukee factory, in which you can see components of these locks being manufactured:
To read more about Master Lock's history and manufacturing here, check out this story I wrote in 2017 after a visit to the factory.
Facebook Comments
Disclaimer: Please note that Facebook comments are posted through Facebook and cannot be approved, edited or declined by OnMilwaukee.com. The opinions expressed in Facebook comments do not necessarily reflect those of OnMilwaukee.com or its staff.