Urban Spelunking: Harley-Davidson Museum
One of the best things about the Harley-Davidson Museum, 400 W. Canal St. in the Menomonee Valley, is that visitors get to see just about everything.
The expansive galleries – which opened a decade ago now – are packed with bikes, what the museum calls "costumes," memorabilia, historical documents, photographs, curiosities and more.
Guests can even head across the skywalk for a peek into the archives and the restoration and conservation shop through a metal grate.
Plus, the museum, built on marshy land along the Menomonee River, doesn't have a basement. This makes the idea of "spelunking" a little challenging ... or does it?
On the occasion of the publication of "The Harley-Davidson Story: Tales from the Archives," a lavish new hardcover book by Aaron Frank, I got what my dad might call the nickel tour of the museum with Frank and his uncredited collaborator, Jim Fricke, the museum's curatorial director.

Aaron Frank and Jim Fricke in the archives.
First, we walked the museum's galleries and talked about the 45 objects featured in the book, which is almost like a must-see guide to the museum and the perfect keepsake for visitors to carry back home in their luggage (did you know only about 5 percent of H-D Museum visitors are from Milwaukee and only 9 percent from Wisconsin?).
"The story of Harley-Davidson has been written hundreds of times; thousands of times," says Frank, who works in marketing these days but is a motorcycle enthusiast who spent 15 years as editor of a motorcycle magazine.
"Everyone knows the shed and the first bike and the buy-back and all of that stuff, so the idea of being able to tell that really familiar story in a new and novel way, looking at it through the lens of the specific artifacts rather than the story is what makes it pretty interesting.
"I think even when you just thumb through the book, (you'll see) the incorporation story is told through the actual documentation. ... It puts a new and a little bit more authentic twist on what is a really familiar story."
Fricke says the goal of the book – like the goal of the museum – was to ensure that the stories were as much about flesh and bone as iron and leather.
"It's a story about people," he says, as we stand in front of a vetrine admiring the most unexpected hand-knit Harley sweaters you've likely ever seen, donated by the Milwaukee-area family that made and wore them.
"If we had one ground rule we talked about early on, we said it's not going to be another book full of motorcycles. There's lots of motorcycles in it, but that's typically the way the story's been told."
"I think 13 of the 45 chapters are about bikes and even those are the story of making the bike, not about the bike itself," Frank says.
There are all sorts of cool objects in the book, beginning with a 1901 bicycle motor drawing by William Harley and ending with a Serengeti prototype in 2015, along the way encompassing things like Vivian Bales' amazing scrapbook, Arthur Davidson's passports, the service notebooks of employee Joe Ryan, some pretty amazing "costumes" and much more.
"This 1901 drawing," says Fricke, "is great because it's literally the beginnings of the company."
"That's the first artifact in there and that's what I think makes it rich," adds Frank. "It's not, 'they got together in 1901 and started talking about motorcycles.' Here's this drawing. Here's what's shown in this drawing. Here's what they're planning to do with this drawing. Here's how this drawing influences the next three or four years. It gives you a really specifically grounded and weighted story through an object that you would only see if you came to the museum."
Despite the seemingly countless objects on display, there's much much more tucked away in the archives.
Only a fraction of the hundreds of bikes are on display, for example. The rest are housed in three-tiered, mobile compact shelving like you'd see on the upper floors of a university library.
These can be seen from the public viewing area in the archives, but Fricke invited me to climb inside with him and explore the impressive array hogs packed into this tight space.
Off in a corner up here are racks full of engines of all types – including a motor that was made expressly for tinkers, like my grandpa, to use in their basement workshops – and a variety of gas tanks in a variety of shapes and colors.
On the opposite side is Bill Rodencal's workshop, where he restores and maintains the bikes and other vehicles in the museum's collection. When I stopped by, Rodencal wasn't in but we saw a three-wheeler he was working on and the museum's latest acquisition, Jax's bike from "Sons of Anarchy."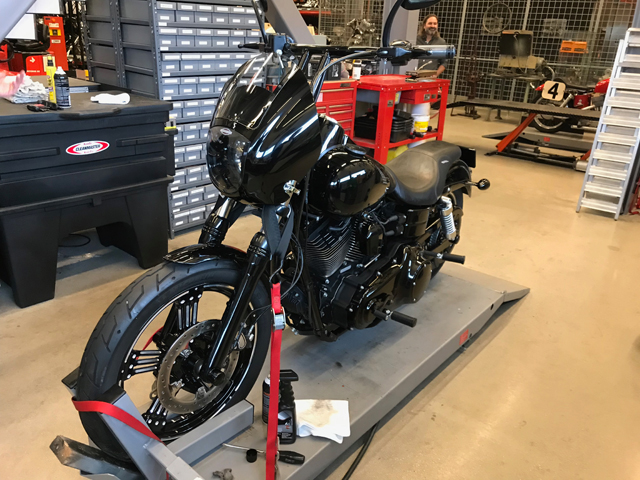 Next we checked out another space – this one out of the public eye – that makes use of compact shelving. But here, the shelves are full of boxes of memorabilia of all kinds and photographs. On the wall is a series of astonishing and gruesome x-rays of the late Evel Knievel.
Countless testaments to Harley's amazing record-keeping – or "hoarding urge" as Fricke jokingly calls it – over the years.
More proof of that urge can be found in the room where conservators work on those costumes: leather jackets, quirky sweaters and other textiles. There are also flat files that contain years of ephemera like advertisements, posters and those original Arthur Davidson passports.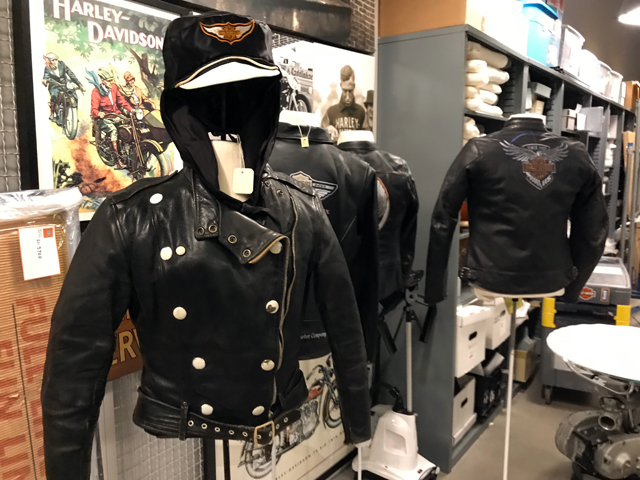 A couple recent arrivals are a flat file and a vertical file packed full of rolls of paper. These came over from the Juneau Avenue Harley plant and the first drawer we pulled out had Alexander Eschweiler blueprints for an expansion at Juneau.
Of course, I saw my chance and asked when we're going spelunking there. "We'll get you in whenever you want," Fricke promised. So, Harley (and Milwaukee history) enthusiasts, stay tuned.
"The Harley-Davidson Story: Tales from the Archives," is published in hardcover this week by Motorbooks. Cover price is $40. Find it at the Harley-Davidson Museum shop or wherever books are sold.
Facebook Comments
Disclaimer: Please note that Facebook comments are posted through Facebook and cannot be approved, edited or declined by OnMilwaukee.com. The opinions expressed in Facebook comments do not necessarily reflect those of OnMilwaukee.com or its staff.