Dollar General's proposed DGX market draws opposition in the Third Ward
News that Tennessee-based Dollar General may be opening one of its DGX market stores in a space on Commission Row on North Broadway in Milwaukee's Historic Third Ward has drawn opposition in the neighborhood.
Some online commenters have suggested that the DGX store – which would be the fifth in the U.S. after locations in Nashville, Raleigh, Philadelphia and Cleveland opened between February 2017 and June 2019 – is similar to a small urban Target or a Kwik Trip, but with a twist.
According to a company press release, "DGX is expected to offer customers more items geared toward immediate consumption, including, for example, a soda fountain, coffee station and grab-and-go sandwiches. Additional items are expected to include a limited assortment of grocery offerings, pet supplies, candies and snacks, paper products, home cleaning supplies and an expanded health and beauty section.
"The store also is expected to feature items not typically found in quick-trip stores including a carefully-edited assortment of home, electronics and seasonal offerings. Finally, the store will include a checkout lane geared toward a high-volume, smaller basket size store with the goal of providing a quick and easy check out for customers."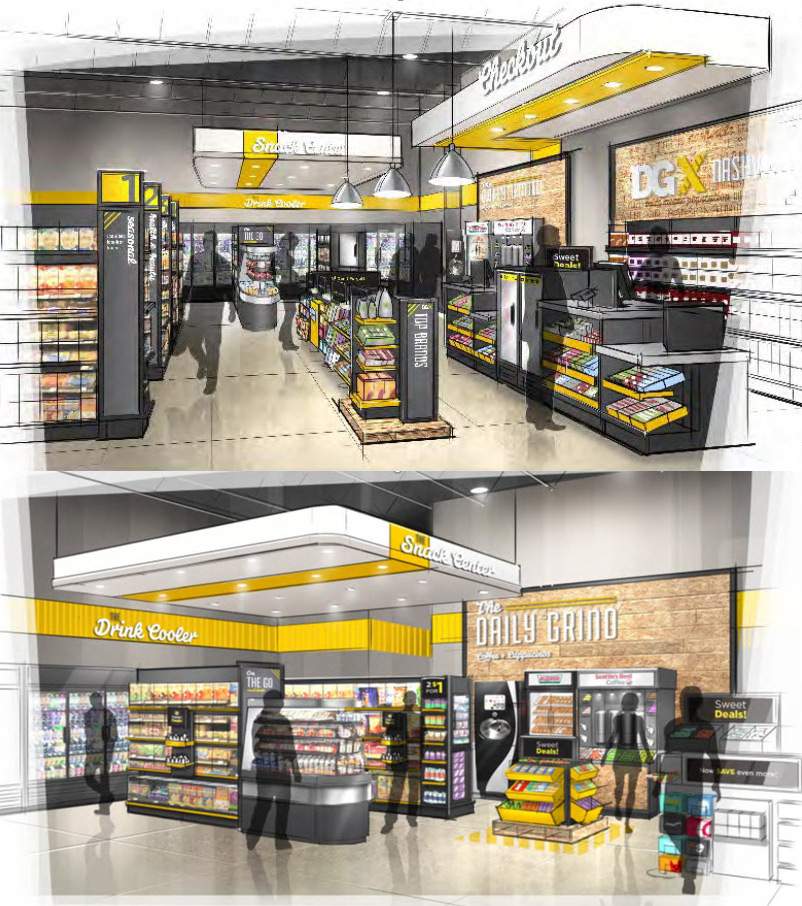 Renderings of a DGX store. (PHOTOS: Dollar General)
Typically much smaller than a Dollar General store's roughly 9,000 square feet, DGX locations have measured between about 3,400 and 4,800 square feet.
Some in the Third Ward don't feel that the market is a good fit for Broadway, and signs and flyers opposing the proposed opening have been popping up in the neighborhood.
At midday Monday, there were about 1,250 signatures on a petition that has been launched at change.org.
In a Facebook post, Carrie Arrouet, owner of Lela Boutique, located at 321 N. Broadway, the same block where the DGX store is proposed, wrote, "Lela is NOT opposed to a convenience store for our residents, but is this the right location in the neighborhood? We don't think so."
Arrouet told OnMilwaukee, "The uses for this district were considered and accepted in a City plan in 2005 to include artists, creatives and small/local business. The business model for Dollar General DGX is one that expects and plans to put the small business out of business. This business model is not a good fit for any neighborhood, including the Third Ward."
There are some chain stores on the block, including Anthropologie and Warby Parker, and others nearby, including West Elm and Shake Shack.
"As a small business that has been on the street in this neighborhood for 16 years, it's a slap in the face to see such disregard for maintaining the specialty feel of Broadway, specifically, and of the neighborhood in general," said Arrouet, who also notes that the tightly packed block isn't suited to a shop like DGX.
Commission Row on Broadway, between Buffalo Street and St. Paul Avenue.
"The infrastructure for sustaining a marketplace is not in place at the proposed location. (There are) no loading zones, no loading docks in the alley, and two streetcar tracks (on St. Paul Avenue) and a main entrance point for tourists into the neighborhood make for a dangerous and inconvenient for both the proposed tenant and the visitors and pedestrian traffic."
When the Nashville store opened in early 2017, Dollar General CEO Todd Vasos told media, "The DGX format is geared to meet the needs of the millennial shopper, which is an emerging and important part of our customer base and will help us broaden our appeal to attract a new segment of urban customers who put a high premium on value and convenience."
One commenter quoted in a WISN-TV article supported the new store.
"I work in that neighborhood and for years, I've complained about the need for an actual convenience store that isn't Circle K," one person wrote, referring to an existing convenience store on Water Street.
"Bring in the Dollar General. I'll be there every day."
But, according to District 4 Ald. Robert Bauman, many other urban residents and workers aren't looking for that kind of experience in the Third Ward.
"I am seeking input from residents and businesses," said Bauman, "but so far the sentiment is overwhelmingly opposed."
Bauman will hold a meeting seeking public comment on Thursday, Sept. 26 at 5:30 p.m. at the Milwaukee Public Market, 400 N. Water St.
"It's not about the store," said Stephanie Sherman, who was, but is no longer, a co-owner of Lela with Arrouet, and a former board member and acting executive director at the Third Ward Association. "It's about a neighborhood defining for itself who it wants to be and fiercely protecting its vision for the future. Trailblazing entrepreneurs built the Third Ward and helped recruit nationals. Design guidelines and retail mix matter, so I hope the focus on vision comes in ahead of short term gain."
Facebook Comments
Disclaimer: Please note that Facebook comments are posted through Facebook and cannot be approved, edited or declined by OnMilwaukee.com. The opinions expressed in Facebook comments do not necessarily reflect those of OnMilwaukee.com or its staff.