Convention center addition designs revealed & they're exciting
At its board meeting on Friday morning, The Wisconsin Center District (WCD) unveiled the first renderings of its proposed expansion to the north of the existing Wisconsin Center convention facility, and, if and when it's completed, it will be beautiful.
Designed by Milwaukee's Eppstein Uhen Architects (EUA) and Atlanta-based tvsdesign, the new building – which would stand between Kilbourn Avenue and Wells Street, 6th Street and Vel R. Phillips Avenue on land that is currently a surface parking lot – is soaring and vibrant, bright and glassy, with a landscaped rooftop deck.
Unlike its predecessor, which aimed to pull 19th century Milwaukee into the 21st century – as a reminder that we have a past – this new building is a bold, forward-looking statement that says Milwaukee has a future.
What's most interesting is that while the Wisconsin Center followed tradition by focusing its entrance, which never felt especially grand to these eyes, on Wisconsin Avenue, the new structure unfolds onto Kilbourn and Phillips Avenues, re-adjusting the action north, toward the Fiserv Forum and its Deer District, the High Life Theater and UWM Panther Arena, and Old World 3rd Street.
One of the project mandates was to connect with the surrounding neighborhood and this reorientation accomplishes that.
A view of the Vel R. Phillips Avenue side.
One especially striking feature is a water wall.
Other mandates included upgrading ADA accessibility and maximizing sustainability, including solar panels and a green roof, and LEED certification.
Building the addition would bring the square footage of the convention center to 300,000 square feet (from its current 188,000) and is projected to generate $12.6 billion in convention spending across three decades.
The projected final cost – not to exceed $425 million – and timeline of project are expected to be announced soon.
The current Wisconsin Center opened in 1998, with an eye toward expansion, which explains the Wells Street tunnel from 6th Street to Vel R. Phillips Avenue.
The landscaped rooftop deck (above and below)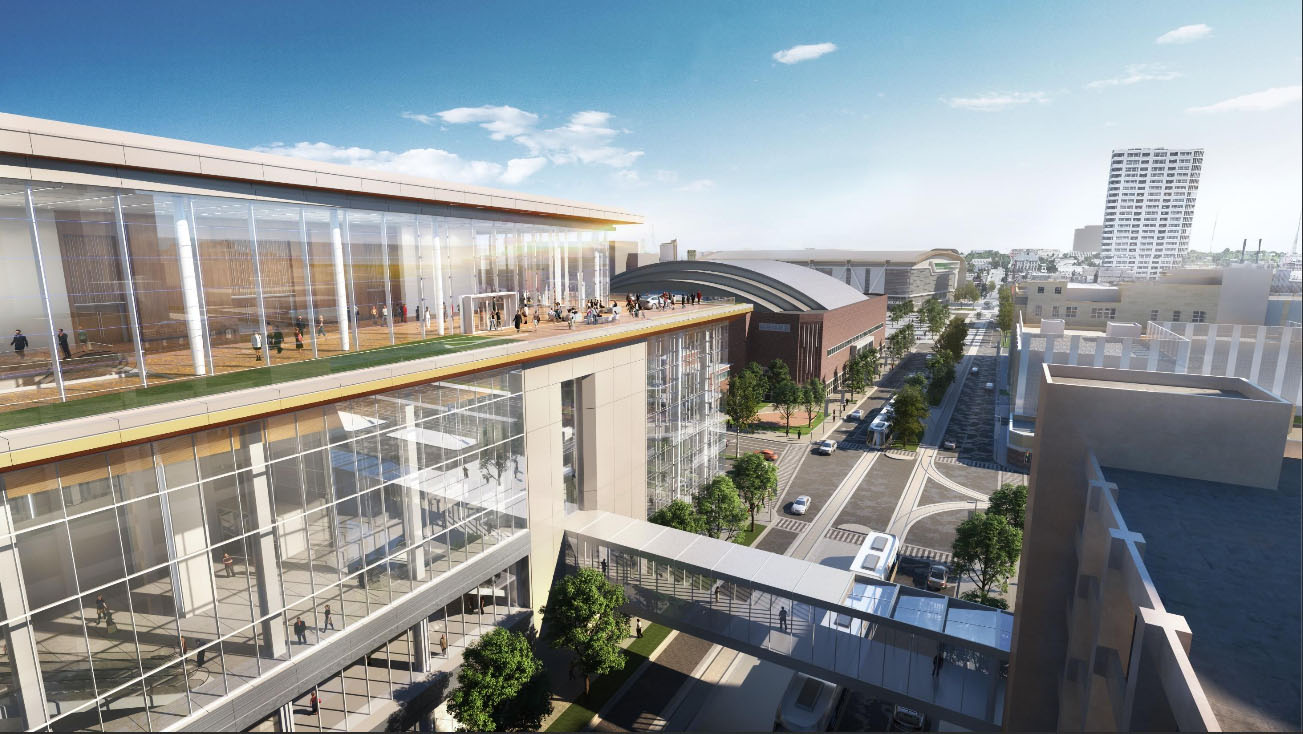 According to a statement issued by the WCD, if Milwaukee and the Wisconsin Center are to be competitive in the convention marketplace among similar-sized cities, the expansion will have to:
Increase the exposition hall square footage by 112,000 square feet, totaling 300,000 contiguous square feet
Integrate six loading docks to support the added square footage
Add a ballroom with a minimum of 30,000 square feet and minimum seating capacity of 2,000
Add no fewer than 24 new meeting rooms
Include no fewer than 400 parking spaces
The architects also sought to, "include modernizing the existing facility's interior, creat(e) a cohesive feeling between the current and new facility; build(e) new employee locker rooms, break, training, and briefing rooms; add gender-neutral bathrooms, quiet rooms and nursing mother's rooms; and creat(e) outdoor patio spaces."
The expansion would also include a centralized Visit Milwaukee visitors center.
Two interior views.
"Revealing our vision for the Wisconsin Center expansion with the board and to our community represents a major step forward," said Marty Brooks, president and CEO of the WCD.
"It is essential that this design seamlessly integrates into our city's landscape and is a place people are proud to show off. We want this space to build inclusivity, experiences, memories and momentum and drive economic impact for our great city."
At its meeting on Thursday, April 2, the WCD board is expected to vote on the expansion project, including resolutions to authorize bonds up to $425 million for the project.
"This is an exciting day, to see the final renderings for a building that I personally have been waiting for since the first phase of the Wisconsin Center was completed 20 years ago," said Visit Milwaukee President and CEO Peggy Williams-Smith. "This is going to be yet another piece in the puzzle for the continued growth and development for the City of Milwaukee. Expanding the convention center means more jobs for city residents – plain and simple.
"I have full confidence in either financing plan scenario that the Wisconsin Center District has set forth. It is based on low interest rates and sound yet conservative future projections and simply put, we can get more bang for our buck now. The time to do this is now."
Facebook Comments
Disclaimer: Please note that Facebook comments are posted through Facebook and cannot be approved, edited or declined by OnMilwaukee.com. The opinions expressed in Facebook comments do not necessarily reflect those of OnMilwaukee.com or its staff.