5 great Alice's Garden products to help heal winter skin
Wisconsin winters have done a number on all of our skin and minds with bitter cold and lack of sunlight. Dryness and flaking are common skin annoyances as we transition to the spring season.
While working in the beauty industry for over 10 years, the most recurring question I receive is how to repair skin and hair after a long winter. Essential oils and herbs have a long history of healing the mind and body – and no one in Milwaukee is doing oils and herbs better than Venice Williams, executive director and owner of Alice's Garden and products. The first product I purchased was a hair moisturizer from an indoor market next to the original Juice Kitchen on North Avenue, years ago. I haven't looked back since.
As the product line from Alice's Garden has grown, so has my love of her products. These are my current top five:
1. Thick Thigh Cream! ($11)
Thick thigh cream has become a local classic treasure for the #nothighgap crew. Thou shall not haveth thigh chafing.
I first saw testimony of this product on Instagram when following another local maker and entrepreneur, Tiffany Miller. The story goes that she actually named the cream that contains coconut oil, beeswax, lavender and frankincense. Her quotable is even housed on the label, exclaiming, "Y'all this is saving thighs and will have you moonwalking in your skirts!" I HAD to have it.
With Alice's Garden products expanding, I was able to find it at Honeybee Sage Wellness and Apothecary, located inside of Sherman Phoenix. (For a list of where to find Alice's Garden items in Milwaukee, see below.) The chafing struggle is now over, and I couldn't be more thrilled about it.
2. Cedarwood, clove and sage body oil ($7)
Cedarwood essential oil is antiseptic and anti-inflammatory, which can help fight body acne and dry, flaky skin. Clove oil is also a natural remedy for acne and considered a highly effective protectant. While the oil does not specify this claim on the bottle, clove oil is high in antioxidant content which reverses skin damage caused by free radicals.
3. Brown Sugar Body Scrub ($9)
The word "amazing" is frequently overused so I am going to go with more dramatic adjectives such as "extraordinary" or "prodigious." The Brown Sugar Body Scrub is a moisturizing, exfoliating jar of extraordinary goodness. The scrub contains clove essential oil (can you tell it's a favorite scent of mine?) orange peel, thyme and more. It's the perfect product to relieve all of your winter skin woes. Use this scrub before shaving to slough off dead skin and get a cleaner shave. Exfoliating is an important step in reducing the chance of getting ingrown hairs.
4. Cinnamon-clove spritzer ($4)
This free radical-fighting mist can be used in any space you would like, but I purchased this one specifically for my car. The cinnamon and clove scents smell inviting and energizing, but best of all, it's "antiseptic and antimicrobial." Some car air fresheners can have an overwhelming scent, but both my daughter and I enjoy this little $4 gem.
5. Facial cleanser and skin toner ($12)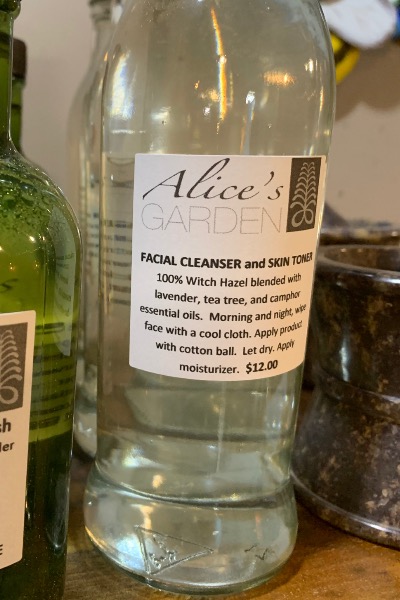 This dual-purpose cleanser/toner leaves your skin feeling cleansed and refreshed but not dehydrated. The witch hazel blend with a mix of essential oils is calming and soothing upon application. Be sure to apply your favorite moisturizer after using this product to restore hydration to the skin.
Where to find Alice's Garden products
Honeybee Sage Wellness and Apothecary, Sherman Phoenix, 3536 W. Fond du Lac Ave.
Bronzeville Collective, 339 W. North Ave.
Just Goods, 4451 N. Oakland Ave., Shorewood
Susan Schmidt Skin Care Savant, 2445 S. Kinnickinnic Ave.
Local farmers markets

Tuesdays at Alice's Garden Artisan Market
Wednesdays at Westown Farmers Market
Saturdays at Fondy Farmers Market
Sunday at Shorewood Farmers Market
Facebook Comments
Disclaimer: Please note that Facebook comments are posted through Facebook and cannot be approved, edited or declined by OnMilwaukee.com. The opinions expressed in Facebook comments do not necessarily reflect those of OnMilwaukee.com or its staff.