National ranking fetes Milwaukee's Complete Streets policy
In a ranking of the best Complete Streets Policies of 2018, the non-profit, non-partisan National Complete Streets Coalition and Smart Growth America placed Milwaukee third, noting that:
"Milwaukee's policy earned 60 points – it's a solid policy with all of the basics ... notable for emphasizing streets that reflect their surrounding context and creating a strong committee responsible for implementation that is made up of both city staff and people from outside organizations."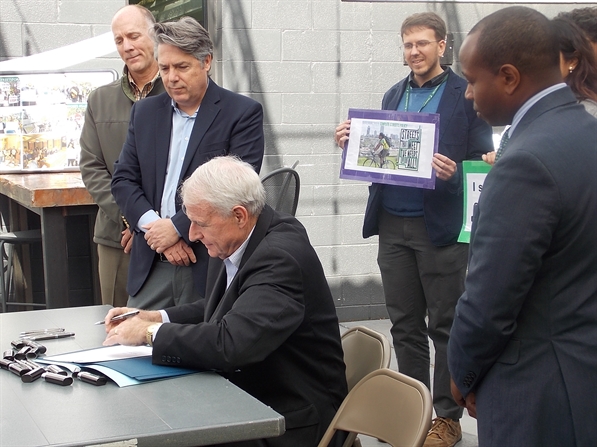 The top 5 #CompleteStreets policies passed last year were in:
1. @ClvHtsGov
2. @DesMoinesGov
3. @cityofmilwaukee
4. @BaltCityHall
5. @MadisonCT06443
See the new @completestreets
report: https://t.co/7q9C4bdsL1 pic.twitter.com/AOyAdpYMno

— Smart Growth America (@SmartGrowthUSA) May 8, 2019
According to the City of Milwaukee website, "Complete Streets integrate people and place by making it safe, enjoyable, and convenient to walk, bike, take transit or simply experience our streets and public spaces – no matter one's age or ability.
"There is no singular design for a Complete Street; a quiet residential street may already function well for all people, whereas a busy commercial corridor may require wider sidewalks, curb extensions, and protected bike lanes. A Complete Streets approach integrates people and place into all phases of a project, from planning and design through construction."
The ranking celebrates Milwaukee's – and the other cities' – dedication and work toward designing and building streets that not only accommodate motor vehicles, but also encourage cycling, walking and mass transit and encouraging safe use of the streets, especially for the most vulnerable users of the streets.
"The collaboration with stakeholders, city agencies, the Common Council and Mayor made this policy a reality," said Milwaukee Public Works Commissioner Jeff Polenske, who as a former city engineer, knows the streets here better than anyone.
"This award recognizes our commitment to involving the community in the work we do as we continue to create a more inclusive, holistic environment for people of all ages and abilities, no matter how they travel around our city."
The report celebrates Milwaukee's embrace of Complete Streets and its use of a collaborative, flexible approach.
"Before Milwaukee adopted a formal Complete Streets policy, the city was already building infrastructure projects that incorporated Complete Streets elements. ... DPW began by evaluating existing processes for street design at the city and researching successful Complete Streets policies and practices that are known for being tailored to local needs.
"In Milwaukee, both DPW and local advocates played a role in advancing the Complete Streets policy. While they shared the same ultimate goal, there remained an inherent tension of advocacy: how do elected officials, city staff, and advocates respect one another's work and continue to push for their desired outcomes?"
Also in the top five were Cleveland Heights, Ohio; Des Moines; Baltimore and Madison, Connecticut.
You can read the full report here.
Facebook Comments
Disclaimer: Please note that Facebook comments are posted through Facebook and cannot be approved, edited or declined by OnMilwaukee.com. The opinions expressed in Facebook comments do not necessarily reflect those of OnMilwaukee.com or its staff.