Animal trainer sees human-pet interaction as a partnership
When animal trainer Ellen Schneiderman looks at a dog, cat or bird – any pet you bring into your life – she sees a partnership.
"This is a creature you're going to have in your house that you're going to live with for hopefully a pretty long time," says Schneiderman, who has trained more than 1,000 dogs during her career. "It should be a mutually respectful and beneficial relationship."
But that's not how people have always approached obedience training. When Schneiderman began working with animals in the early '90s, punishment-based training was very much the name of the game.
"At that time, the field of applied animal behavior was very, very new – so new that nobody really, aside from a few people, knew about it," she admits. "I didn't know about it."
Schneiderman's career path has taken her from non-animal occupations like corporate real estate to volunteering at the Wisconsin Humane Society to working with birds of prey at the Schlitz Audubon Society. Now, she's focusing on one-on-one animal training, and the process works.
While her business is almost entirely word of mouth, it usually falls under one of two scenarios, says Schneiderman: either a family is getting a dog, for example, and needs help, or it's had a dog for years and a problem has become unmanageable.
Her typical package is four, one-hour home visits for $250, and that's usually enough to teach a dog (or cat) the basics. Most of the time, of course, she's training dogs.
Says Schneiderman, "Sometimes people just want to keep going and do more or reinforce, and that's great, but by and large, in four one-hour sessions with a small group concentrating on specific behaviors, we can accomplish as much as most people accomplish in a 6-8 week group training class."
Schneiderman flight-training Tallulah the turkey vulture at the Schlitz Audubon.
And, while Cesar Millan may be who most people think of when they consider pet training, Schneiderman bristles at his approach. Punishment-based training, she says, defeats the purpose of building an animal's trust.
Rather, she subscribes to "force-free" training methods taught by experts like Karen Pryor and Sue Sternberg.
"I don't use punishment," says Schneiderman. "My goal is always for whatever animal I'm working with to want to learn. To learn how to learn, first of all, and then to want to learn, because it should be fun, and you should be partners."
This approach is less stressful for pets and owners alike.
"You yank up on the leash and crank up on a leash, and you push down for a sit, and it's just so counterproductive, and it can be very damaging to the relationship and to the animals."
For more information about Schneiderman's animal training, email her at ejks73@gmail.com.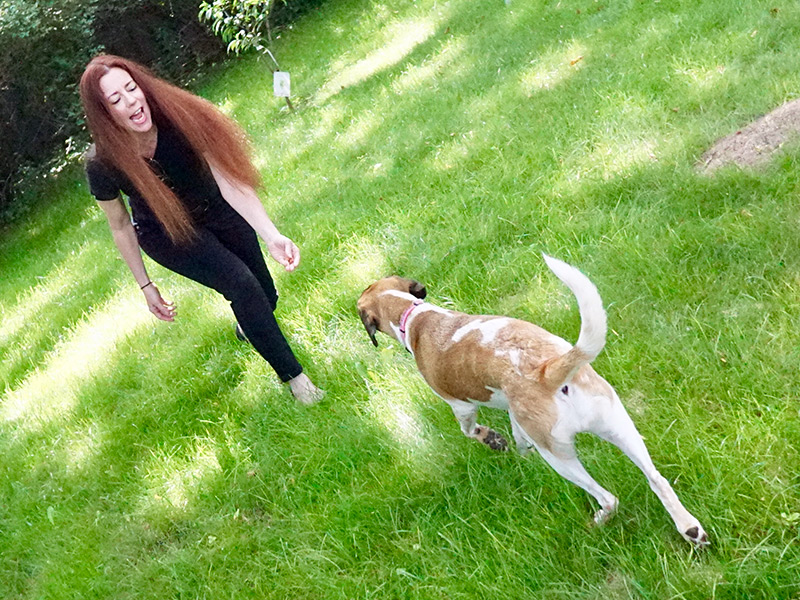 Facebook Comments
Disclaimer: Please note that Facebook comments are posted through Facebook and cannot be approved, edited or declined by OnMilwaukee.com. The opinions expressed in Facebook comments do not necessarily reflect those of OnMilwaukee.com or its staff.