"Pensive" installation spurs dig into W.E.B. Du Bois' 1922 Milwaukee visit
As I stood outside on a cold spring day watching the installation of a statue of towering American Civil Rights activist, author, sociologist, orator and historian W.E.B. Du Bois, I had only recently learned that I was but a couple blocks from where Du Bois once spoke in Milwaukee.
While I had heard he'd been here in 1922 – perhaps there were other visits, too, though I found no evidence of them – I hadn't yet dug into Du Bois' Cream City stop.
Though coverage of his speech – made nearly 20 years after the publication of Du Bois' landmark book, "The Souls of Black Folk" – wasn't especially in-depth, there were a couple newspaper reports.

W.E.B Du Bois in a 1918 portrait by Cornelius Marion Battey. (PHOTO: Library of Congress)
Du Bois came to Milwaukee on Jan. 17, 1922 to speak at Conservatory Hall, a building that still stands on the northeast corner of Milwaukee and Mason Streets as an office building and art gallery.
Called the Association of Commerce Building now, back then the 1904 structure – designed by City Hall architect Henry C. Koch for Isaac Stephenson and dubbed the Stephenson Building – was home to the Wisconsin Conservatory of Music and, thus, there was a large performance space – Conservatory Hall – inside at the time.

The Stephenson Building. (PHOTO: Wisconsin Historical Society)
Du Bois, who had traveled to Europe the previous year to attend the Pan-African Congress, was then 53 years old and well-known for his writings, his activism and his role as one of the founders of the NAACP.
He was tapped to speak as part of the long-lived Milwaukee Open Forum speakers series, which was organized in 1914 by Helen H. Raab, who was an interesting character.
After running the series for 10 years, bringing the likes of Jane Addams, Clarence Darrow, Margaret Sanger, Samuel Gompers, poet Edgar Lee Masters, Bertrand Russell and Eugene Debs, among others, to speak at the Open Forum, she traded that role to become the only woman official of the National Association of (speedboat) Racing.
That interest grew out of her son Kirby's passion for racing.
Did I mention that Raab – who grew up on the East Side, skiing as a girl on the slopes of Lake Park, according to the Sentinel's Jaunts With Jamie column – was also reportedly, "the first woman to fly in a plane over Milwaukee"?
"It was one of those box kite affairs with an engine," she told columnist H.E. Jamison. "You sat on one of the wings with nothing between you and space but the front landing wheel."
Speaking of Jane Addams, who ran Chicago's Hull House settlement house, it appears that Du Bois' appearance here was also due at least in part to the influence of Hilda Satt Polacheck, who had worked alongside Addams at Hull House.
The Polish-born Polacheck, who had married chandelier salesman William Polacheck in 1912, and moved to Frederick Avenue in Shorewood, spent her life as a writer and activist, too, penning her autobiography, "I Came a Stranger: The Story of a Hull-House Girl," working with the Illinois Writers Project of the WPA and supporting Civil Rights, the women's suffrage movement and the Women's International League for Peace and Freedom.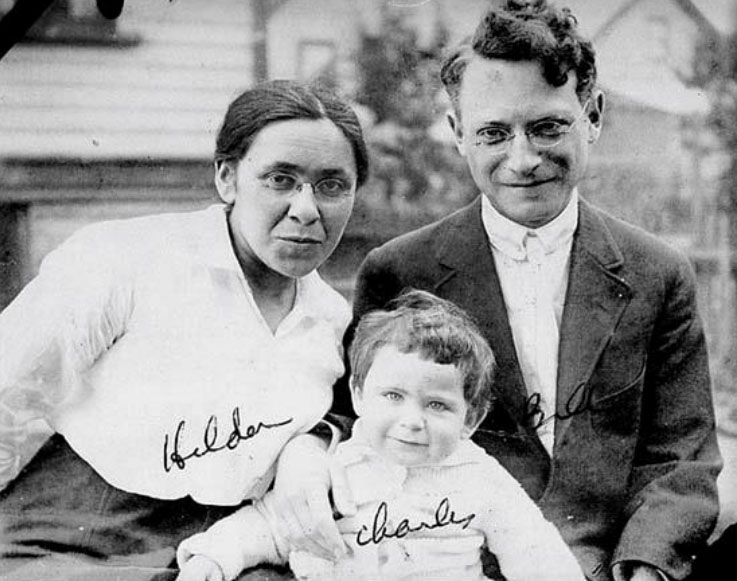 Hilda, Charles and Bill Polacheck. (PHOTO: UIC Library)
The visit can been seen through the lens of socialist history, as well as in an African-American history context.
"DuBois' visit to Milwaukee is only understandable in the context of city's socialist history," says author and Occidental College Distinguished Professor of Politics Peter Dreier.
"Beginning in 1910, Milwaukee was run by socialists, initially led by Victor Berger," Dreier points out. "In 1922, Dan Hoan – a socialist – was Milwaukee's mayor. DuBois was a socialist. Hilda Satt Polacheck was also a socialist as was her husband William. Among the people ... who also spoke in the same building and speakers' series, Clarence Darrow, Margaret Sanger, Bertrand Russell and Eugene Debs were also socialists."
It appears that when Du Bois arrived in Milwaukee for his speech, Polacheck was there to greet him. In fact, her some evidence suggests that she may have helped bring him here.
According to an interview with their son Charles, both Hilda and Bill Polacheck were involved in the Open Forum organization, and it sounds like Hilda was a real go-getter.
Two years after the Du Bois visit, the younger Polacheck recalled in 2008, his mother organized a performance at his school by the Chicago Symphony Orchestra.
"Charles recalled that one morning he came downstairs to find Carl Sandburg sleeping on the family's couch," noted Bridget K. O'Rourke and Zachary R. Bishop in their article, "Now is the proper time for a foreigner to say a word: The Rhetorical Agency of Hilda Satt Polacheck," which appeared in the Journal of American Ethnic History in 2019.
"W. E. B. Du Bois was also said to have stayed with the family."
That sleepover – which might've been kept under wraps at the time – was likely in January 1922.
During the same visit, it was news that Du Bois dined at the Polacheck house, according to a brief Milwaukee Sentinel notice at the time.
The one-line notice read, "Mrs. William Polacheck, Shorewood, will entertain at dinner Tuesday night for Dr. W.E.B. Du Bois. Covers will be laid for 12."
Whether that was before or after the talk at Orchestra Hall is unclear, but thanks to the Milwaukee Sentinel of the following morning (Jan. 18) we do have some record of the public event.
Here is the entirety of the report, which ran beneath the headline, "Tells of Progress of Colored Races."
"As early as 1840, the discontent of the darker races was shown in India when natives began to disagree with the English rule and a spirit of revolt was noticeable, stated W.E.B. Du Bois, editor of the Crisis, at a meeting of the Open Forum in Conservatory Hall Tuesday night.
"'At the end of the 19th century a revolt of the colored races was seen,' stated Mr. Du Bois. 'The Japanese-Russian clash was followed by a revival of the colored races and 1909 marked the beginning of a number of negro organizations in United States.
"Mr. Du Bois outlined the history of the dark races and told of the various events in Europe and the United States which led to a new civilization of the negro. He spoke on the slavery market and conditions which surrounded the negroes who were kept in ignorance of the world events and told of the progress of the race to the present day."
Hopefully, the new statue of Du Bois – artist Radcliffe Bailey's "Pensive," which sits in front of City Hall in a public plaza that's part of the BMO Tower, 790 N. Water St. – will serve as a reminder of this visit to Milwaukee and to Du Bois' enduring contributions to American history and culture.
Facebook Comments
Disclaimer: Please note that Facebook comments are posted through Facebook and cannot be approved, edited or declined by OnMilwaukee.com. The opinions expressed in Facebook comments do not necessarily reflect those of OnMilwaukee.com or its staff.