What used to be there? Going way back
If I can humbly assume that I'm "that dude from OnMilwaukee.com" – and likely I am if we're to judge by the eager potential freelancer that opened our initial conversation years ago by saying, "Hey, duder" – how could I resist saying something about a Reddit Milwaukee thread that started with a post titled, "It used to be a ________ and now its a ___________!??"
Not only do I spend a large portion of my days researching what used to be where other stuff is now, at least two users said we'd post something about the list. So, how could we disappoint?
Up front, I'd like to apologize to the wonderful user watchoutfordeer, who wrote this ...
"I'm just gonna keep adding to the list above. Then hopefully that dude from onmilwaukee.com will write an EPIC article on it. :)"
... because this post is probably not EPIC. Surely not as epic as watchoutfordeer's own exhaustive list of changes on the East Side over the recent decades.
It used to be a ________ and now its a ___________!?? from r/milwaukee
I also have say sorry to user illestMFKAalive, who wrote this ...
"You will see an article on OnMilwaukee and Milwaukee Record on this tomorrow, I guarantee it."
... because I didn't have time to collaborate with Milwaukee Record.
Instead, I'm going to go through the thread, which you can find here, and make some comments, some of which you might like and others about which you'll argue. And that's cool, because that's what we do, right?
Starting with watchoutfordeer's impressive East Side list...
Yes, there was a car dealership where Whole Foods is now and for many years it was Heiser Ford, where I bought my first car, a used 1985 Mazda RX7. Pretty rad, right? Beautiful car ... until the engine seized. Having one's first car be a manual transmission with a choke (!) was really a baptism by fire.
The McDonald's on Oakland, now a Noodles, as watchoutfordeer points out, was where I first tried the ill-fated McDLT. #fail
While watchoutfordeer notes that the Goodwill used to be a Walgreens and Walgreens used to be the site of a Sentry, it's also notable that the Miramar Theater opened as a cinema and was later home to the Milwaukee Rep in its early days ... way before my time.
And how can we forget Atomic Records on Locust near Oakland, which was Ludwig Van Ear, when I first went there?
Constant Reader was indeed in the Bullseye Records space on Irving, as well as the adjacent space to the west. Did you know that Comet's corner spot was formerly a Journal newspaper distribution point for delivery and before that home to Jack Covert's by-now legendary Dirty Jack's Record Rack?
As watchoutfordeer added, part of the space was also a laundromat and Thirty_Helens_Agree reminded us of the Chinese restaurant that was between the two.
Let's not forget that the bike shop on Murray Avenue was East Side CDs and a Mainstream before that. It was also an early location of Beans and Barley.
DavidPx commented about the Downtown MetroMarket, pointing out that it was a Kohl's and sagrising67 remembered the Sentry there before that. I'll add that part of it was also a separate pharmacy and that the Big Boy, which came up in the discussion, was in a separate building closer to Van Buren Street.
One of my favorite comments came from spauldeagle, who wrote, "Ian's pizza on Juneau used to be my great great great grandparent's millinery in the late 1800s." I'm only old enough to remember when What's Fresh deli opened there around 1990 (it closed in 2012).
One correction I must make is that ForEden says, "Simple Cafe on Farwell used to be Pepe's Pink Taco/Pepe's Rockin' Taco/Sol Fire/a florist." The florist (the grammatically incorrect Belle Fiori) is actually still in the space that housed Sol Fire, La Casita, etc. Simple Cafe is a block north.
Since much of the thread revolves around the East Side, I'll add a few things.

Home of the Avant Garde Coffeehouse on Prospect Avenue.
Part of the space above Strange Town, which used to be Allium and Cafe Brucke and, before that, Hartter's Bakery, was the Avant Garde Coffeehouse, arguably one of the birthplaces of Milwaukee counterculture in the 1960s.
A remnant of Thai Joe's, photographed during the renovation of the mall into apartments.
The Prospect Mall used to be packed with interesting places, including Star Spin Records, a Chocolate Factory location and Video Visions, plus Thai Joe's and, of course, the Prospect Mall Cinemas I and II.
Judy's On North Mexican Restaurant was Jalisco for three decades, but before that it was a Big Boy.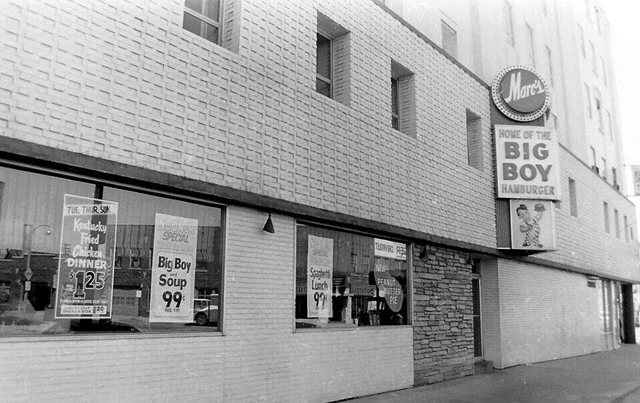 Now home to Jalisco. (PHOTO: Courtesy of Adam Levin/Old Milwaukee Facebook)
And remember when across the street there was a day care in a series of small buildings in a wooded area? Sounds ancient but that was the '80s and into the '90s, I think.
Thirty_Helens_Agree touched on some of this but on Downer, there was briefly a Radio Doctors where Breadsmith is now. Cafe Hollander, before it was Gil's was a laundromat. CVS was long the Downer Sentry and the north part of Sendik's was the Lake Park Pharmacy. And remember Lixx on the corner where Pizza Man is now?
I used to wash dishes at Cafe DiSalvo where Henri's is now located, Henri's having been attached to the Coffee Trader, where BelAir and the Original Pancake House are now located.
The Stone Creek Coffee across the street was a bank (the entire upstairs of that side of the street was built as parking, which is why there's a ramp on Park Place).
I won't get you started on the popcorn cart where the parking structure was built.
Folks in bands will remember the Sausage Factory on Humboldt, which had a lot of creepy rehearsal spaces, now demolished and replaced with a residential building. And folks who went to gigs will remember The Landing in that empty bar across from BelAir on Humboldt, and Zak's and The Spruce Goose on the corner of Humboldt and North. And Shooter's, later Esoteria, below the former Beans and Barley and JRs Record Shop building that burned and was replaced by the current Beans and Barley.
The former BBC was home to Monreal's El Matador and Kiko's Lounge. Earlier the East Side Library was there before a new one was built a block west in the '60s and was replaced with a new one more recently.
Remember Morry's On Prospect and the Celebrity Club, where Vox and Vintage followed, on the corner of Prospect and Kenilworth?

Century Hall (PHOTO: Mark Spieth)
Of course, there was Century Hall on Farwell, which also was lost to fire. And Cadillac Ranch was on Farwell south of Brady. Shank Hall was the Funny Bone and Teddy's before that.
Remember when it opened in the 1980s, Earwaves was in a small building torn down to build Pizza Shuttle, so it moved directly across the street and then up to one of the storefronts next to the Oriental? Later, that last space became Farwell Music, which was renamed Bullseye Records when it moved to Irving Place.
And Second Hand Tunes on Murray and Thomas, where Cobalt Glassworks is located? And Sweet Doomed Angel vintage clothes shop across from the Oriental, which burned down and was replaced with the Blick Art Supplies building?
OK, I'll stop now. Thanks for starting the thread RadioRiggs. It was a nice walk down memory lane.
If you want to go even further back in time Downtown, check out these photos of Milwaukee in the 1940s, 1950s, 1960s, 1970s and 1980s. And there is more on some old record stores here, plus more on old rock and roll clubs here, here and here, and some memories of 1980s Downtown here.
Talkbacks
hereToday | Feb. 12, 2019 at 11:16 a.m. (report)
This story and the photos really jogged my memory and brought back those times when I lived there and frequented those very places. How sweet it was. -John, Milwaukee
Facebook Comments
Disclaimer: Please note that Facebook comments are posted through Facebook and cannot be approved, edited or declined by OnMilwaukee.com. The opinions expressed in Facebook comments do not necessarily reflect those of OnMilwaukee.com or its staff.