Urban spelunking: Former Pabst grain elevators at the Brewery District
When I first scaled Building #16A at the former Pabst Brewery site in 2010, sprawled out before me was a site full of possibilities.
Nearly a decade later, that 14-story building at 1200 N. 11th St. – the Pabst grain elevators built of cast concrete in 1953 as part of a larger $8 million construction program – is the last remaining property at the site left to be developed.
As was the case back then, the Brewery District's developer, Zilber Ltd., is still hoping that the silos, which soar more than 150 feet high, but cover a mere 10,000 square feet of ground area, can be developed rather than razed.
The silos under construction in 1953. (PHOTOS: Courtesy of John Steiner)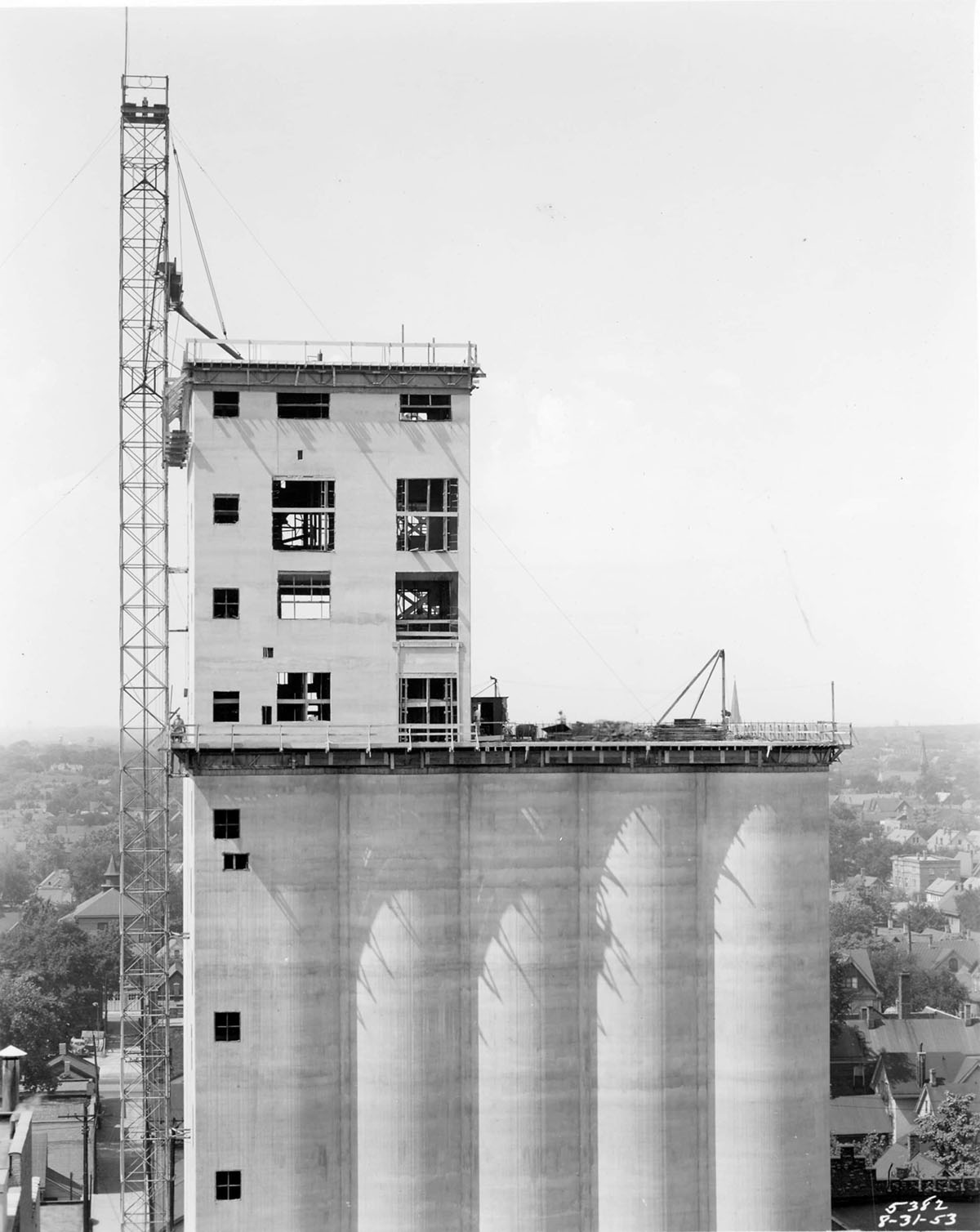 "We're maintaining the bones," says Zilber's Dan McCarthy. "Over the years interest has come and gone. Everything from a climbing business, both interior and exterior, to a club."
In 2010, a company executive told me that there had been conceptual renderings drawn in 2008 (see below) that showed how the roughly 9,000-square foot main floor, about 11 stories up, atop the silos themselves, could be redeveloped into a restaurant with an impressive roof deck.
"As we've done with all the properties here, we're looking for a good idea that we can build on," says McCarthy.
The application for the property's designation on the National Register of Historic Places described the structure:
"This very large, reinforced-concrete grain elevator consists of multiple abutting silos and a rectangular shaped elevator block. The silos feature smooth, unbroken wall surfaces, while the rectangular block contains irregularly placed, multi-light metal windows. A non-contributing, one-story, metal-sheathed addition is found on the south facade. Located on the north facade is a metal door and fire escape. A rotating sign installed in 1987 rises from the top of the grain elevator. The grain elevator is a contributing structure within the brewery complex."
There's a tad more than 260 steps to get up to the top – there's also an elevator, but it's not powered up at the moment – where there is that main floor. There are two levels with smaller footprints above.
At the very top is a penthouse for the elevator equipment and a hatch to get to the roof where the giant "The Brewery" sign has been perched since 1987 (it originally displayed the Pabst Blue Ribbon logo).
The grain elevators were for the storage of beer ingredients, like malted barley, and when they ceased operation around 1983, nine people were employed inside.
On the level just above the silos, there are openings in the floor of different sizes. Smaller round ones sit near bigger square openings.
"They used to lower someone down in a cage," says McCarthy, "to check inside."
I opened one of the round caps and, of course, it was too dark to see anything, but you could sense it was a long way down.
In some spaces there are leftover ducts swooping through a stairwell here, protruding out a hole in the wall there. In one small room there is a series of rows of a dozen or so narrow pipes running vertically through the floor and ceiling.
Surprisingly, there's a rather folksy residential 1950s screen door that opens onto the roof.
It's pretty intriguing to think about something opening up here. Something like a restaurant or bar or night club.
"Or it could be someone's compound," quips McCarthy. "If Giannis is looking for a place."
Whatever it becomes, it will take a fair bit of work and the financial means to do it.
"We always figured this would be the last piece because the investment would be pretty substantial," McCarthy says. "But now that the neighborhood has become this unique place it's probably a little safer bet."
Take a walk with McCarthy and I out onto the iconic Pabst Brewery sign – built during the same era – here.
Facebook Comments
Disclaimer: Please note that Facebook comments are posted through Facebook and cannot be approved, edited or declined by OnMilwaukee.com. The opinions expressed in Facebook comments do not necessarily reflect those of OnMilwaukee.com or its staff.