13 vintage images of old Milwaukee retail and shopping
OK, so most of us aren't old enough to remember some of these Old Milwaukee shops and department stores, but that only serves to make them more fascinating – like the West Side coal company building wallpapered in actual coal!!.
Others – like Gimbels, Boston Store, Schusters and Commission Row – are more recognizable, but who doesn't enjoy a vintage view of a familiar place?
Thus, here are a baker's dozen vintage photos of Milwaukee retail for you to enjoy, along with some information and links to find more.
Espenhain's Department Store
Vel R. Phillips and Wisconsin Avenues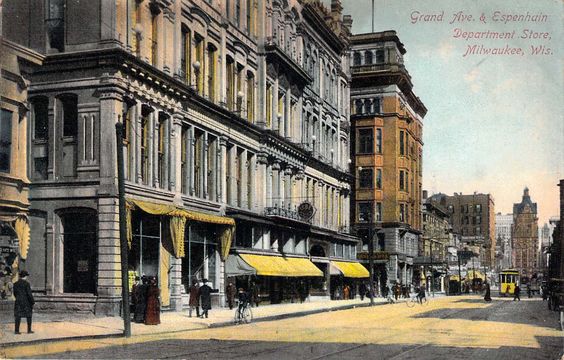 Long departed, Espenhain's was located on 4th and Wisconsin, kitty-corner from Boston Store – which it pre-dated by about 15 years – making that corner once a department store shopping destination along "The Avenue."
Opened in 1879, Espenhain's closed in 1932. The building was demolished and later became home to JC Penney, a different kind of department store experience.
Boston Store
Vel R. Phillips and Wisconsin Avenues
I'm including two photos of Boston Store, which opened in the mid-1890s in a building that had been home to Julius Simon Dry Goods and other retailers. When Boston Store took over, it removed the partitions to create a large store.
The first photo is pretty recognizable, but I especially love the second one, which shows Henry Koch's proposed addition to the south with a weighty and elaborate tower. The addition was built in 1911 but, alas, sans tower.
Boston Store closed a couple years ago but there have been tantalizing hints that it's planning a comeback. That was before the economy tanked thanks to coronavirus, so we'll see.
Gimbels
Plankinton and Wisconsin Avenues
You can read more about Gimbels in this story, but for now, here's a nice view of the store designed by Chicago's legendary Daniel Burnham in 1901, with an addition to the south by Herman Esser in 1919.
Gimbels opened in 1887, expanded into New York City in 1910 and bought Schusters in 1962. It closed in the late 1980s and the Downtown building was then home to Marshall Field & Co., then Borders Books and now Planet Fitness, as well as offices and a hotel.
Schuster's Department Store
King Drive and Garfield Avenue
(PHOTO: Milwaukee Public Library)
Founded further south on 3rd and Brown in the 1880s, Schuster's moved a few blocks north in 1904 and became a destination department store until it closed in 1970 and was transitioned into a storage facility for Gimbels.
Plankinton Arcade
Plankinton and Wisconsin Avenues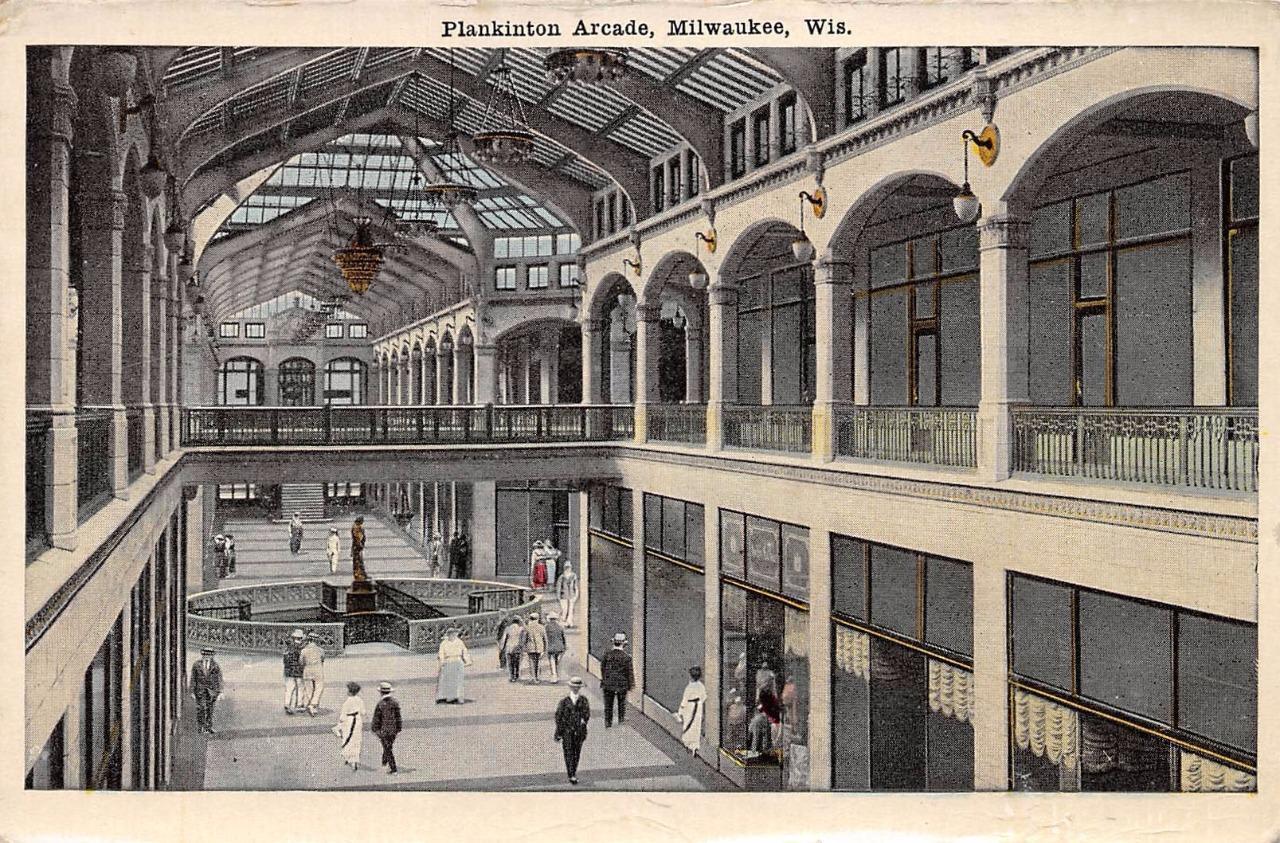 When the large Plankinton House hotel closed in 1915, it was razed and replaced with the gorgeous terra cotta-clad arcade in 1916, designed by Chicago's Holabird and Roche. For more than a century, it has been used for retail and entertainment purposes. Recently, the mezzanine-level retail spaces were converted into residential units but the main floor still houses a TJ Maxx.
Gunnis Record Shop
765 N. Broadway

(PHOTO: Milwaukee Public Library)
You can read more about this Downtown record and sheet music shop in this article I wrote a few years ago.
Founded by well-known Milwaukee sisters Helen and Stella Gunnis, it opened in 1936 and, after a move around the corner to a new location, it closed 1958.
I miss having a record shop Downtown, though I'm too young to remember this one, I'm old enough to have powerful memories of Radio Doctors a few blocks west.
F. Wittig & Co. Coal
31st Street and Lisbon Avenue
Ferdinand Wittig was born in Germany in 1840 and came to Milwaukee with his parents in 1858, where his brother Joseph already lived. The brothers founded a plumbing company Downtown and around 1894, Ferdinand left to start his own coal company with Joseph Rademacher.
In 1906, they bought land out on Lisbon Avenue and then erected a headquarters building faced in actual coal, which seems pretty cool. I wonder what the sidewalk looked like after a heavy rain.
When Wittig died in 1912, his son John took over.
I found an interesting classified ad from that same year that read, "Wanted: Married man for general office work; must speak German and live on West Side."
Commission Row
Broadway between St. Paul and Buffalo Streets
Long the hub of produce wholesaling (I know this is supposed to be retail but ... ), the familiar buildings we know today date mostly to the 1890s and many were designed by Henry Koch. Even a century later many were still occupied by produce dealers, but after the turn of the century, most had left and were replaced with the shops and restaurants we see today. Fortunately the evocative awnings survive.
Niss Furniture
3rd and Wisconsin
German immigrant Charles Niss launched his furniture business in 1867 and his son, Charles Jr., later took over, helping also to found the National Retail Furniture Association in 1891. Junior was also the association's first president, which perhaps gave him a taste for politics as he was elected to the State Assembly as a Republican in 1897.
Niss gained some attention in its field for focusing on selling furniture by the room rather than by the piece, though that method did not initially gain traction. Junior died in 1938 and the company was sold to Johnson Stores, which later bought Grant Furniture in Racine, too. They were closed by 1974.
Spiegel Drug Store
Plankinton and Wisconsin Avenues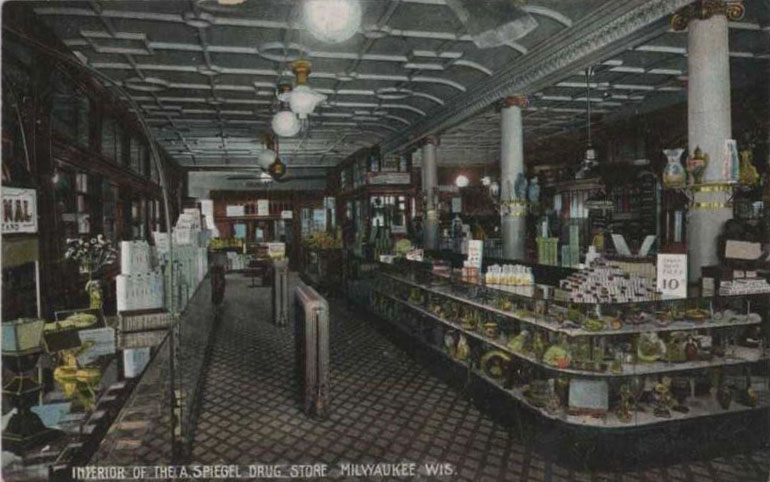 This photo postcard, circa 1908, shows the interior of one of Adolph Spiegel's three large drug stores, presumably the flagship operation which occupied the entire first floor of the Birchard Block, located next to the Plankinton House hotel on the southwest corner of Plankinton (then West Water Street) and Wisconsin.
Spiegel's operated, it seems, until around the time of the Great Depression.
Adolph Spiegel
Kaiser's Hair Bazaar
756 N. Milwaukee St.
Opened in 1903, Kaiser's offered manicures, scalp and body massages, hair pieces made on-site and haircuts and styling done in small partitioned rooms with curtains for privacy.
In 1917 it moved to 36th and North. The latest references I could find to it were in 1929.
The Light House / Chas Polacheck & Bros.
Numerous locations
Not to be confused with the well-known Old Milwaukee tailoring firm of the same name, Polacheck provided lighting for the Auditorium, Hotel Medford and other buildings, until it appears to have closed in the 1920s.
It moved a number of times, having been on 5th and Chestnut (aka Juneau Avenue) and then in at least two location on Third Street. However, the address on the building in the postcard suggests there might have been at least one more.
Bill Polacheck, about whom I wrote in this recent article, appears to have worked at what was surely his family's firm, selling chandeliers.
Facebook Comments
Disclaimer: Please note that Facebook comments are posted through Facebook and cannot be approved, edited or declined by OnMilwaukee.com. The opinions expressed in Facebook comments do not necessarily reflect those of OnMilwaukee.com or its staff.