Remembering Downtown's Gabel News newsstand
I guess you have to be "of a certain age" to remember the Gabel Newsstand on the corner of 3rd and Wisconsin, which was sold in 1993 and closed not long afterward. It was a remnant of a Milwaukee that had been fading away – and falling to the wrecking ball – for years already.
Yesterday, those memories came flooding back for many thanks to a post in the Old Milwaukee Facebook group by Mark Hickey, who worked at the stand on and off between 1973 and 1978.
Gabel News in 1974 (above) and 1980 (below). (PHOTO: Courtesy of Milwaukee Public Library)
"Remembering my days at the last newsstand in Wisconsin ... corner of 3rd and Wisconsin Ave ... rain or shine ... or blizzard and bone chilling wind off the lake ... we never closed ! And opened all night Saturday to get the Sunday editions out. Not only did we carry the NYT, WSJ, Chicago Sun Times, Tribune and Daily News but all the latest magazines and of course the Racing Form. Always remember the night before the Kentucky Derby the cars were lined up around the block.
"It was owned by Al Gabel (pictured above, at left, in photo provided by Mike Gabel), a kind and gentle man who you would never have believed left a piece of his hand on the battlefields of France. It was opened for about 30 years and saw the whole town change from a thriving commercial hub into a mere shadow of it former glory as the 'burbs' started exploding and the era of the malls transformed the cities of the nation. I had some exceptional times there. I learned how to deal with every kind of person and heard the many stories from the old veterans and lonely old men who lived in the hotel rooms about town, always out there waiting for the next edition to get dropped off. I was fortunate to have seen the last of the old days."
Hickey, who now lives in Perth, Australia – "on the exact other side of the world," as he likes to say – graduated from Juneau High School after having moved to Milwaukee from Green Bay at age 13.
Al Gabel at the newsstand in 1972 (above) and 1975 (below).
(PHOTOS: Courtesy of Mike Gabel)
"I had a great time living in Milwaukee," he tells me from the opposite end of the Earth. "I had tears writing (the Facebook post)."
Hickey says that the year after he started working at the stand he, "became free from responsibility and didn't stay in Milwaukee too long at any given time.
"But I always had hours waiting for me at the newsstand."
A trio of photos of Al at the stand in 1959. That's his son Mike sitting on the garbage can.
(PHOTOS: Courtesy of Mike Gabel)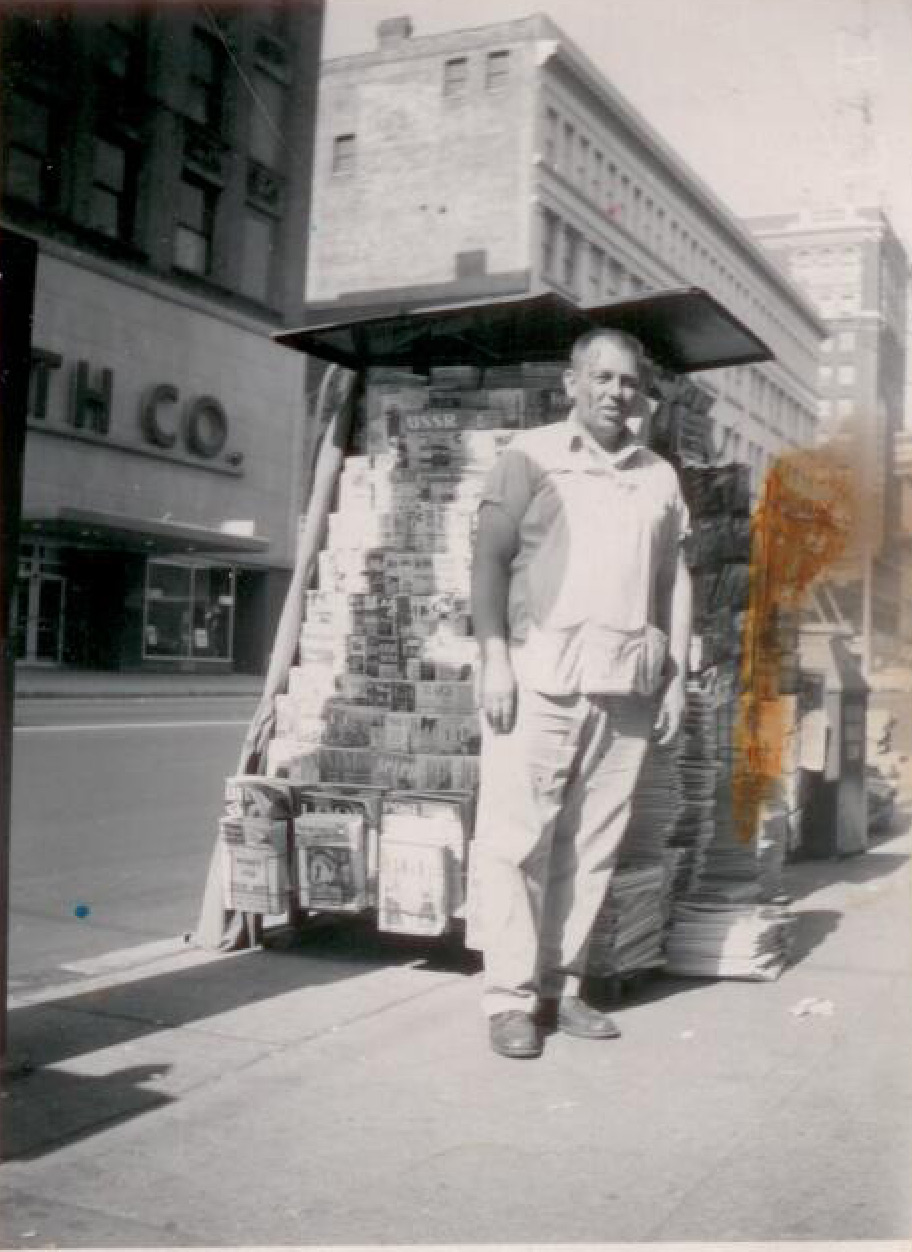 The stand was purchased in 1955 by Al Gabel (pictured below), of whom Hickey says, "he was the boss, but he always had time for a joke and a laugh."
Two images of Gabel's, taken by Les Pacholski, Jr. on Dec. 26, 1961.
(PHOTOS: Courtesy of Luke Pacholski)
Gabel, who had previously run the Gabel Hotel with his sister in Garrett, Indiana, came to Milwaukee and, according to his son, Mike, "was looking to be self-employed and came across it.
"Back in the 1920s and '30s and '40s," Gabel says, "there were newsstands all up and down Wisconsin Avenue. The last of our competition was kitty-corner from us on 3rd and Wisconsin. By the end it was only open to sell the afternoon Journal, I think. It probably closed around 1985."
"What is the most 'big city' thing in Downtown Milwaukee," posited Jay Scriba in a 1974 issue of the Milwaukee Sentinel.
"I vote for Al Gabel's newsstand. To find another Al's you have to go to a Chicago, New York, London or Paris. Al's is a piece of distinctively big city life, a unique service dependent on a large concentrated population. Years ago there were a couple dozen Downtown newsstands, with newsboys hawking the Evening Wisconsin, Milwaukee Post, Milwaukee Leader and other dailies once published here. Now there is only Al's.
"Al is a big, shy, pleasant man, who after 20 years on the Avenue, is dumbfounded to learn that I have elected him linchpin of Milwaukee, so to speak. I have to pry out of his friend Dutch, a retired Navy warrant officer, that Al was a tank corps captain and acting major at Normandy, where he was 'left for dead on the battlefield'."
Son Mike and father Al Gabel at Gabel's. (PHOTO: Courtesy of Mike Gabel)
It was at the stand that Hickey perfected what he described to an unnamed newspaper reporter as his "get warm shuffle," keeping in motion enough to stay warm on frigid Milwaukee winter nights.
"This is more fun than work," the then 23-year-old Hickey said of working at the stand
"The cold is good for your health. It increases your metabolism. It's all a matter of clothes. Sometimes I get so warm that I have to unbutton my coat."
The reporter added, "As a test of stamina, Hickey said that later this year he plans to go camping in Alaska, where he anticipates the temperatures will be much colder. So for Hickey, it's worth being out in the cold to face and overcome the challenge."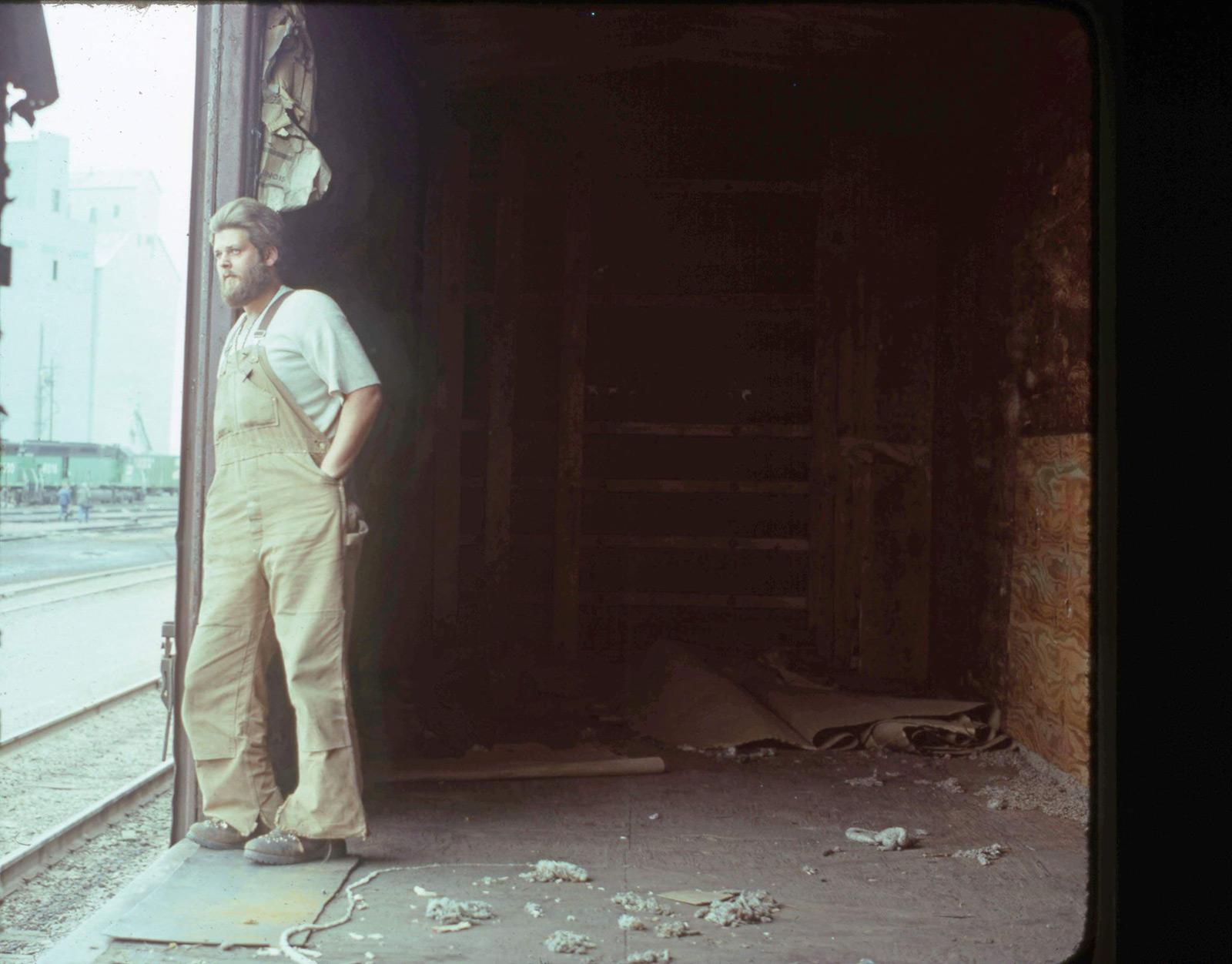 (PHOTO: Courtesy of Mark Hickey)
An aspiring photographer, Hickey (pictured above in a boxcar) did indeed hit the road, and the rails, hitchhiking around the globe, covering more than 100,000 miles in the years between 1974 and '86 alone. He lived many years in Alaska, and then in New Zealand before landing in Australia. All along the way he kept his camera to his eye.
But he never forgot his time on the corner in Milwaukee, hawking papers in all kinds of weather.
"The best part is the feeling I got when I put on the apron," he recalls. "I used to bark, 'Alright! We got the latest.'
"It was like an acting part and I got really good at it."
He also remembers that, in his words, there were "lots of great characters around then."
One of those best-loved and best-remembered of those personalities was Pasquale Scalici, aka Frankie Little.
Born in Palermo, Sicily, in 1900, Scalici came to Milwaukee with his family as a kid and by the time he was 14 – which point a newspaper noted that the boy, at just 4-feet, 3-inches tall, looked like a 7-year-old – he was hawking newspapers on the street.
(PHOTOS: Courtesy of Mark Hickey)
But not for long.
On December 12, 1915, the Journal, in a notice accompanied by a photo and the headline, "Journal hustler gives up selling papers to become a regular actor," wrote:
"Every one who goes down town knows Pasquale. He has been a Journal hustler. When he was 12, he had been selling Journals a year, and had saved $20. He bought his own clothes, too. ... He has joined the Charlie Ahearn troupe of cycling comedians and will leave the city with them Sunday night. ... He is expected to give his initial bow before the matinee audience at the Majestic Sunday."
Scalici's entertainment career quickly took off and within year he worked as a mascot for Babe Ruth, played Pudgy the Clown – which he later told a reporter was his favorite job ever – toured with the Shrine Circus, worked the Vaudeville circuit and, according to his niece, played a munchkin in "The Wizard of Oz."
According to Jay Scriba's 1974 Sentinel article, "Frankie had his own stand in front of the Schlitz Palm Garden in 1951, before he became a circus clown."
But his biggest role was as a member of the Spike Jones troupe, selling out theaters around the country in the 1940s and '50s with its musical revue packed with comedy, crossed-eyes and wacky sound effects.
Scalici told Bill Janz in 1979 that he approached Jones after a show in Chicago in 1946 because he, "looked like he could use a little guy. Best laugh I had was jumping out of the bass fiddle."
He also participated in mock battles with a 7-foot, 7-inch giant and other onstage antics, until he left the group in 1956.
Much like Hickey in later years, when Scalici wasn't on the road, he could be found living with his sister's family in the Third Ward and working at the newsstand. For a time he also ran the Scalici Bakery at 714 E. Brady St. with his brothers Ted and Michael.
His entertaining career ended with a back-breaking fall from a San Francisco stage in 1969 and the same injury hampered his newspaper-selling business, too, which became sporadic after 1973.
"He supported his whole family on $50 a day in 1930," says Hickey. "That was wealthy money. He never really worked (at the stand) when I was there. He'd just pop in and scrounge a few racing forms and scratch sheets and in return he'd give us a half-hour break now and then."
Frankie died of heart failure and complications of diabetes on Dec. 31, 1989 at St. Camillus out on Bluemound Road and his passing was noted not only in the local papers, but also in USA Today. His niece believed he might have been the world's oldest living little person.
(PHOTO: Mark Hickey)
The newsstand didn't outlive him by much. In 1979, Al Gabel retired and his son, Mike (pictured above), took over. Al died in January 1988 at the age of 74.
"I pushed him to sell it to me," Mike Gabel recalls. "He tried to veer me away from it. He could see the business was changing, but I wanted the same dream (he did): to work for myself."
In 1982, the stand – which had been in front of the Walgreen's on the northwest corner since the 1920s – was moved east across the street when the entire corner was razed to build the Reuss Federal Plaza.
"Carly Group, the developers of that building built me a new stand," recalls Mike Gabel. "That was part of the deal for me to move. The old stand was really in bad shape by then."
In 1985, the younger Gabel opened an indoor location at 236 W. Wisconsin Ave.
"It was more of a convenience store than a newsstand," Mike Gabel says. "We were one of the first to sell lottery tickets and that really kept us going for a few years at the end."
But, still, folks working at Gabel knew Downtown street life like few others.
In 1993, Mike Gabel told a Journal reporter, "I'm Mr. Information. If the city was smart, they'd subsidize me to stay here and answer all the questions (about Milwaukee) people stop to ask."
A year earlier, Tim Kernan, "the self-proclaimed best salesman at Gabel News," said reporter Rick Romell, "seems to know everyone and what they want."
But, sadly, what they wanted weren't newspapers. "When I started here (15 years ago) we were getting 200 Journals daily," Kernan said. "Now we get 75, and look," he said, indicating a stack of 20 copies left on a busy Friday afternoon.
A few years earlier, the Journal reported that even sales of the popular racing forms had dropped by 15 to 20 percent at Gabel.
On Aug. 1, 1993, the outdoor stand closed after Gabel sold the business and took a job at the post office.
Times had changed.
Fewer people were on the streets Downtown at that point and in the morning most of his business came not from pedestrians but from folks who'd pull up and roll down their window so Gabel could hand a paper over in exchange.
Other than another small bump at lunch hour, business had stalled. Soon, Milwaukee's only licensed outdoor newsstand was gone (and the indoor place didn't last much longer, either) and another slice of old Milwaukee vanished.
Hickey's been back to Milwaukee since then.
"A dozen times. The suburbs won out," he says.
Facebook Comments
Disclaimer: Please note that Facebook comments are posted through Facebook and cannot be approved, edited or declined by OnMilwaukee.com. The opinions expressed in Facebook comments do not necessarily reflect those of OnMilwaukee.com or its staff.