"Fading Ads of Milwaukee" catalogs some of the city's best old signs
Whether or not you actively pay attention to them, vintage signs – both hand-painted/hand-lettered and manufactured – can be found all over Milwaukee. And once you start noticing them you can't stop seeing them.
This is what happened to Old Milwaukee Facebook group creator Adam Levin, who has come to be the person many think of first when they spy a potentially "new" old sign.
Levin turned his passion into the signs into another Facebook group, and, now, a book called "Fading Ads of Milwaukee," published in paperback by The History Press.
In advance of a book launch event slated for Friday, Feb. 21 at 7 p.m. at Boswell Book Co., 2559 N. Downer Ave., and another signing on Saturday, March 14 at 10 a.m., we asked Levin about what he loves about these remnants of the city's commercial past.
OnMilwaukee: I know you have a passion for old Milwaukee, but how did you become interested more specifically in signage?
Adam Levin: Ghost signs and Mid-Century signs all over the country are disappearing and becoming extinct from the landscape. I appreciate these signs as works of are that are worth capturing with my camera or worth saving. Sign painting and sign writing are kind of a lost art. They're incredible reminders of years gone by in Milwaukee.
What do you think these signs can tell us about the past?
Ghost signs have a special place in any city across the country. Hand-painted signs were a popular form of advertising between the 1880s-1950s, before ads could be inexpensively mass produced, installed and replaced. Their remnants offer a backstory into a neighborhood's past, reminding people about life at certain points in history.
What makes for a great old sign? What do the signs that blow you away the most possess?
The sign should NOT be restored or recreated. Many signs have been restored ... sometimes so well that it is difficult to tell if the sign is or is not original. The signs should not be too recent. My guideline is that any sign that has more than six digits in the phone number is too new. The ones that blow me away is when a building next to the ghost sign is removed and the sign is uncovered for the first time in many decades.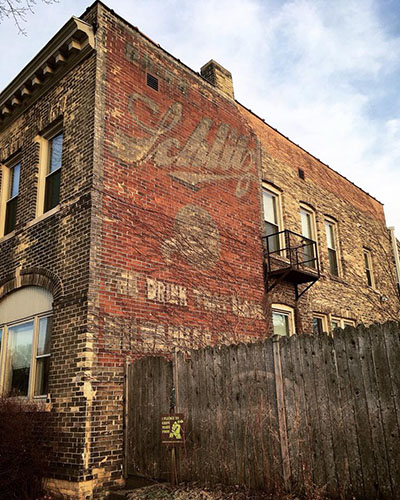 Do you have a favorite in the book?
When the Comedy Café was demolished in December 2017, an uncovered wall containing a ghost sign for a Wisconsin-only brand of gasoline, Pate Air Glide, was uncovered. I pleaded with the new arcade to save it, but unfortunately they couldn't. What fascinated me is NO one knew anything about the service station that used to be on the corner. Locating information about the station for my book was very challenging.
How did you dig up info on the signs?
I dug up information about the signs using the Milwaukee Public Library & Microfiche.
Is the book mostly eye candy for history lovers or do you hope that readers take away something more from the book?
Yes and definitely yes! Most people take ghost signs for granted and don't think about the history of them while walking past or driving by. Some friends of mine told me in recent years that when they see a ghost sign, they think of me and take a photo. Hopefully there's more of an appreciation for ghost signs and Mid-Century signs after reading my book.
Facebook Comments
Disclaimer: Please note that Facebook comments are posted through Facebook and cannot be approved, edited or declined by OnMilwaukee.com. The opinions expressed in Facebook comments do not necessarily reflect those of OnMilwaukee.com or its staff.