Urban spelunking: Concordia University tunnels
In my informal, but ongoing, quest to walk the tunnels that burrow beneath the Milwaukee area, I recently hit a not-so-secret jackpot, thanks to Kali Thiel.
Thiel is the director of communications at Concordia University in Mequon, 12800 N. Lake Shore Dr., where almost four miles of tunnels connect the campus buildings. These are corridors of every stripe. Some look just like "garden level" hallways, others basement corridors and still others are more utilitarian and industrial looking.
One chilly March day, Thiel invited me up to see and we walked a bunch of the tunnels with Concordia's Social Media Manager Andrea Adams, Director of Maintenance Steve Hibbard and Director of Advancement Services Michelle Buss.
Construction on the 200-acre complex – much of which was designed by architects Brust & Brust – began in 1957 on what had been the Kiekhoefer farm. Prior to that, the sisters had occupied a convent near Downtown Milwaukee, the history of which you can read here.

The site in 1956.

The site in 1960.
In no time at all, the former farmland along Lake Michigan was transformed into a 14-building campus with more than a half-million square feet of indoor space.
Part of that space was tunnels, so the nuns wouldn't have to face the Wisconsin winters and whatever else might lurk outside in what was then still, more or less, wilderness.

The site in 1963.

The site in 1964.

The site in 1995.
Some of the tunnels were so long that nuns used to ride bikes and rollerskate between buildings.
Now, those spaces are even longer.
"Now, there's 1.3 million square feet," says Hibbard. "That's a little bit bigger than the old place (Concordia's West Side Milwaukee campus)."
The Lutheran Church Missouri Synod bought the campus from the sisters in 1982 and soon after, Concordia moved up here, and the growth has been incredible.
Two images of the chapel under construction.
"We moved out here with only 600, 700 students," says Buss, "and everybody thought well, all of this property, you're not going to need to use it all, and obviously now we've used every nook and cranny that we have and then we've expanded."
Concordia now has about 8,000 students and they come from 42 states and from a couple dozen countries around the world, including from as far as China, Sri Lanka, Singapore, South Korea, Sudan, Sweden and Switzerland.
About 1,700 students live on campus and the remainder commute, are enrolled in online programs or attend classes at one of Concordia's nine accelerated learning centers located throughout Wisconsin."
The tunnels are a selling point for some potential students, says Buss.
"We actually have purposeful admission efforts in some of the Southern states," she says. "Our fifth and sixth most popular states that we have students from right now are California and Texas. So it does help with our recruiting efforts."
Those underground passages connect everything: residence halls, classroom buildings, sports facilities, the chapel, the administration offices. You can literally go almost everywhere on campus without going outside.
Of course, there's signage everywhere.
"We certainly have a lot of that to help people along," says Buss. "You can see how it's pretty easy to get lost or disoriented down here."
We walk through the tunnels and we see a bit of all of these different kinds of spaces. Some of the most interesting are the ones that were part of the convent campus.
You can spot them easily. They're midcentury buildings, floors lined with unique tile.
"They're individual two-inch tiles. They're not on a web," says Hibbard. "I met a tile setter whose grandfather worked on this (project) for three years."
The color scheme of the tile is so distinctive that in the more recently constructed School of Pharmacy building pays tribute to the tiles with some decorative wall panels.
One of our first stops during our tunnel tour is the chapel, a soaring modern space with sun streaming through stained glass behind a light-colored wooden screen.
"We call it the Chapel of Christ Triumphant," says Buss. "There are a lot of old and new elements in here. We have kept a lot of the original from the School Sisters. The wall etchings are original. The crucifix, the stations of the cross, on the pillars, all of that has been original."
But some notable changes were made here.
"The wood panel to the left of Jesus's feet is where there was a statue of Mary that we took down when we took over the chapel, and when the sun streams in you can still see the silhouette of Mary's head in the upper left corner of that wood panel."
Directly opposite at the back – where Concordia also installed an impressive pipe organ – is a stained glass window depicting Jesus.
"It's the only blue-robed Jesus that you will find," says Buss, "because it had depicted Mary and we just replaced the head."
Just below is the room where the bell choir rehearses and where a couple generations of musicians have added their names to a graffitied wall of fame.
Nearby, in a space called the undercroft, the school baseball team used to practice in a big, but low-ceilinged space, now subdivided.
"They would do batting practice and some of the original walls, we understand, before we started building into this space, had dents from the baseballs that would be whipping around in here," says Buss. "You definitely didn't want to try to do a cut-through when they were doing practice."
We check out some of the lower tunnels, which mostly connect maintenance areas and a few spots that once housed office space, but now are used for storage. In one of these areas are stained glass windows from the old Concordia campus.
"Sometimes they would call us," says Hibbard. "They'll ask if we want these original elements," adds Buss.
"A couple years ago they called me because they had the original altar for the old chapel and it was stored in the pool down there," says Hibbard. "I went down to look at it, but the wood was lifting and separating. It wasn't worth bringing it back. Plus, it was so tall I didn't know where we'd put it."
We also see a pipe chase that because it would require crawling in the dark on our hands and knees we decide to forgo, taking a photo instead.
"One of our admissions counselors recently shared that she was having a conversation with a perspective student who hadn't visited campus," says Thiel, "and the student kept on asking questions about the tunnels and this and that, and finally our admission counselor said, 'you think that they're like these tunnels don't you? That they're like dirt?'
"We're like, no, no. They're like hallways, but underground."
In these areas, there are exposed pipes of all kinds. Unsurprisingly, following these we end up in maintenance supply rooms, the loading dock and the multi-story boiler room. Up above, overlooking the space is a room full of windows from which a certain Sister Mary John used to oversee the operations, her German Shepherd by her side.
"That was her office," says Hibbard. "There are still files up there in her handwriting that I haven't touched."
These and other uncarpeted tunnels are the ones in which the nuns would bike and skate.
"The plant manager (Sister Mary John) would use a bicycle to get from end to end through these tunnels," says Buss. "The bike riding was definitely practical through the plant. That was the head of maintenance's means of getting around. The roller skating might have been a little bit of fun."
Buss says that the School Sisters still visit each summer for retreats and conferences.
"They don't skate anymore," she says, "but they like to look around at what we've changed and what we've kept the same. That history is important to us to be able to maintain and bring it as we're moving forward."
As we enter some of the residence halls, the tunnels become more like lower-level hallways, with nicely painted walls and carpeted floors, though they still sometimes maintain a more industrial vibe. That's on purpose.
"These are two different L-shaped residence halls that house a lot of our students, but we wanted to show you our Chemnitz lower level, because it's where we really have tried to keep that industrial look of the tunnels," says Buss.
"As we have continued to build we've tried to keep that same feel and we use the lower levels in these new residence halls for classroom space."
We follow tunnels over to the field house, where the St. Louis Rams held their training camp in the summer of 2008.
"They were the first residents of Coburg before the students even got in," says Buss.
Our subterranean travels take us to the auditorium, which had been the School Sisters' gym, where more rollerskating took place, and then to the School of Pharmacy building, which has a cool little pharmacy museum in the lobby.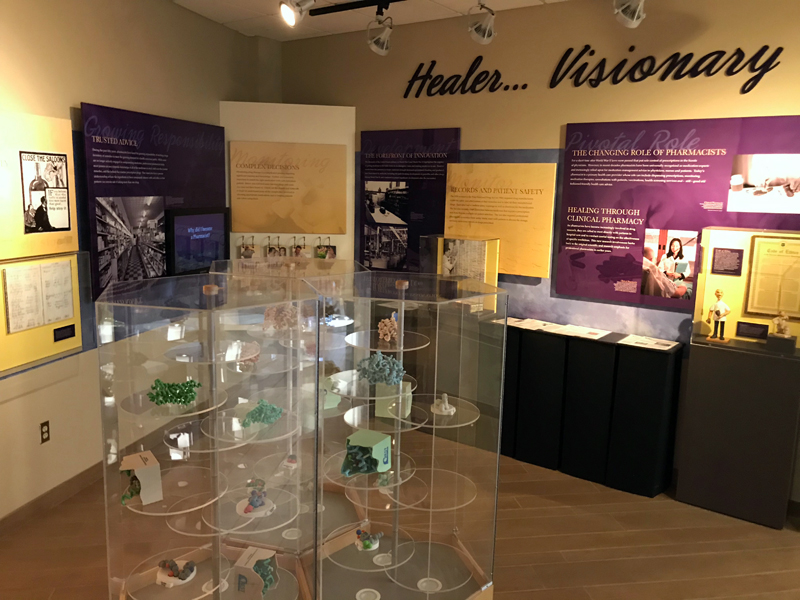 As we head back, we stop to peek in at another new building under construction in this seemingly ever-growing campus, and everyone chimes in to talk about the vibe of the tunnels.
"They're all traversing the same hallways," says Buss. "Somebody is heading to practice in their full gear to the field house at the same time that somebody is coming to the dining hall for dinner. That's always an interesting mix that you don't always see on the inside together."
"You will definitely see students of ours in shorts, flip-flops," adds Buss. "We've seen bunny slippers in the hallway. When I interview for student workers, I will often say that, that we do not expect you to dress up to come to work. We expect you to look like you got dressed this morning and are not coming in your pajamas. They don't have to go outside if they don't want to. It makes it really easy to never have to pack the summer T-shirts and shorts away."
"Mrs. Ferry, the president's wife – their whole family is really into running – and we were talking to her in the hall the other day," says Thiel, "and it was when it was really cold and slushy outside, and she said that she was running in the tunnels. I think she had a run coming up."
"Some people do walking meetings," says Adams.
"Community members can come in as long as they check in at the front desk and they can walk our hallways if they're looking for fitness in the wintertime," says Buss. "We do open ourselves up to the community like that. That's important to us to make sure that we're welcoming and having the community on campus with us."
Facebook Comments
Disclaimer: Please note that Facebook comments are posted through Facebook and cannot be approved, edited or declined by OnMilwaukee.com. The opinions expressed in Facebook comments do not necessarily reflect those of OnMilwaukee.com or its staff.