Milwaukee's original Bronzeville was packed with frozen custard stands
When we think of frozen custard, our thoughts of course go right to the big three: Gilles', Leon's and Kopp's – three of the longest-lived (Gilles' is, in fact, the oldest) and most iconic stands in Milwaukee.
But there was a time when every corner of the city had custard stands, often one right across the street from another. It appears there was no shortage of business.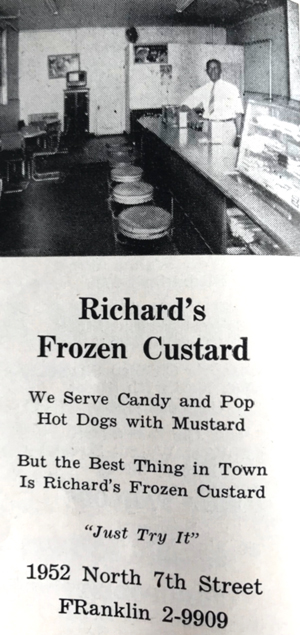 Many of us lament lost favorites like Al's and the Pig'n Whistle, and there are even more that have faded from memory, like the early Eat-Mohr and even the pioneering first-ever, Clark's Frozen Custard.
Surely there are folks that remember the numerous Bronzeville frozen custard stands, but as the entire Walnut Street neighborhood was razed for freeway construction and the dreaded "urban renewal" – which felt like anything but to folks whose entire lives were bulldozed – even memories of those are fading fast.
In research that I undertook with my co-author Kathleen McCann for our book "Milwaukee Frozen Custard," we came across a few African-American-owned and operated frozen custard stands in the old Bronzeville neighborhood.
If you remember others or have photos of any old custard stands anywhere around Milwaukee, please let me know.
Best I can tell, Lamar and Gladys Williamson opened the first black-owned custard stand at their North Side home in 1946, later expanding into a shop at 620 W. Walnut St., in the heart of Bronzeville.
Across the street at 619 W. Walnut St., Larry Hill ran a restaurant with a great barbell-shaped counter that had a few incarnations, including Larry's Chicken Shack and Larry's Lunch-ette. It's unclear when Hill added custard to his menu, but it was definitely by the early '50s, when Negro Business Directories already carried ads boasting, "Where Chicken is King and Frozen Custard Queen."
Milwaukee writer Richard Carter remembered the place as "Larry's Frozen Custard," which suggests the custard was a major draw.
By then, Williamson had left the dessert business and attended mortuary school, graduating in 1950 and opening a funeral home now run by his son Leon.
Milwaukee renaissance man Bill Mosby also sold custard at his Gay Paree on 7th and Galena. I wrote a more in-depth look at Mosby's interesting life, which you can read here.
A few blocks up 7th Street from Mosby's place was Richard's Frozen Custard, which, in an advertisement, noted that, "we serve candy and pop, hot dogs with mustard, but the best thing in town is Richard's frozen custard."
Like a number of these places, it had counter seating.
Ann's Frozen Custard, which also sold candy and cigars, hot dogs and burgers, was on 14th and Juneau and stayed open until 11 p.m. every day.
George and Ruth Sephus ran the stand which had one of the best names. Brooks' Gayoso, 626 W. North Ave., specialized, like Larry's Lunch-ette, in both custard and fried chicken.
There were frozen options other than custard in the neighborhood, too, with at least two locations of the soft serve chain, Tastee-Freez, founded in Illinois in 1950. One was at 7th and Walnut and the other at 16th and Galena.
Just west of 8th Street on Walnut, Johnnie Caldwell operated the Tompkins Ice Cream Parlor.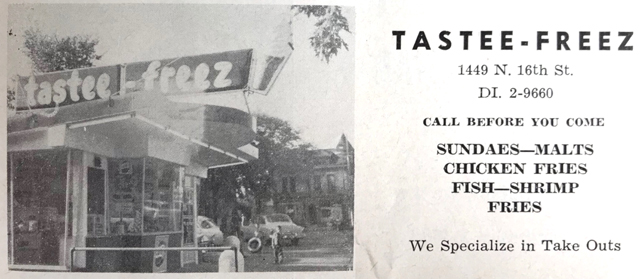 Sadly, so many of these places fell to the wrecking ball, along with hardware stores, grocery stores, butcher shops, libraries, schools, homes, tailor shops, salons, bars, restaurants, movie theaters, jazz clubs, Borchert Field and, basically, everything else.
Facebook Comments
Disclaimer: Please note that Facebook comments are posted through Facebook and cannot be approved, edited or declined by OnMilwaukee.com. The opinions expressed in Facebook comments do not necessarily reflect those of OnMilwaukee.com or its staff.