Urban Spelunking: Badger Mutual's Art Deco headquarters
Milwaukee possesses some lovely high-profile Art Deco/Moderne gems, like the Wisconsin Gas Light Building, the Wisconsin Telephone Building, the research and development building at the former A.O. Smith, WTMJ's Radio City, the lobby of the Warner Theater, to name but a few, mostly Downtown.
But one of the nicest of all isn't Downtown at all. It's at 1635 W. National Ave. and it is the home to Badger Mutual Insurance.
The small office building, which feels large in its residential and neighborhood retail setting, has soaring vertical lines, great decorative iron work and brass details inside, too.
The building was designed by Herbert Tullgren, whose work you might recognize: the former home to George Watts & Son, the Shorecrest Hotel, the Bertelson Building (home to Strange Town restaurant), the former home of Izumi's, etc.
It was built in 1937 and it was expanded upward by architects Grassold and Johnson, either in 1947, as the Wisconsin Historical Society suggests, or in 1956, which is the date on construction photos the company has.
As we stand in his corner office, with its original trim and built-in corner desk, VP/Chief Financial Officer Darrin Groendal tells me that the building's foundation and first floor were built strong enough to support even further upward growth, though he doubts that would ever happen.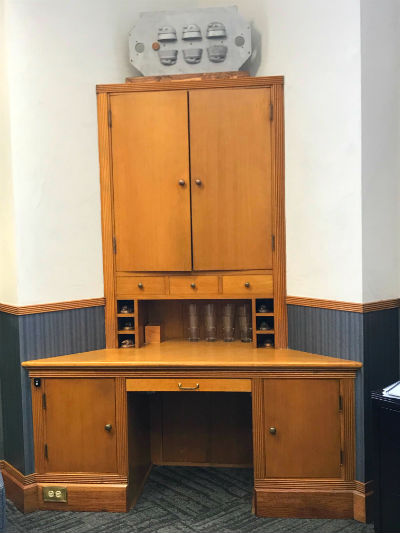 "With the business the way it is today," he says, "we'd have people in more offices scattered around before we'd add more floors here."
Badger Mutual's first office was in this building on 10th and National. (PHOTO: Courtesy of Badger Mutual)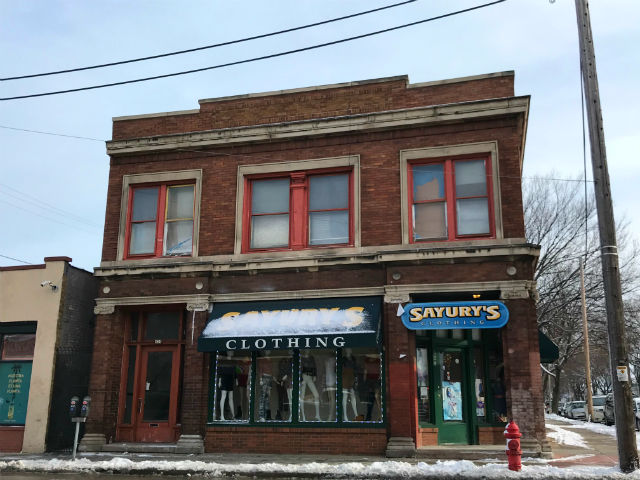 Badger Mutual's second home, on Cesar Chavez Drive and Walker Street.
Below are two photos of the interior, courtesy of Badger Mutual.

Badger Mutual was founded in 1887 by a number of German-language congregations as a mutual aid society to help churches protect their property in case of fire. A copy of the company's first policy, written in German in 1887, hangs in the lobby.
In 1891, the society was incorporated and became the Badger Mutual Fire Insurance Company. It was then that policies began to be printed in English.
In 1895, the company rented an office on 10th and National, just east of where it is currently located. Before that, the business was run out of the secretary's home. In 1910, Badger Mutual built its first home, at 16th (now Cesar Chavez Drive) and Walker, which still stands today, just around the corner from the current headquarters.
"You know why they chose National Avenue," asks President and CEO David Kane, rhetorically.
"They had thought of Wisconsin Avenue, because that's where all the businesses were, but at that time there were a lot of financial institutions on Mitchell Street, too. They couldn't decide, so they built right in the middle."
In 1930, the company expanded into Minnesota and, six years later, moved into Michigan and Pennsylvania, too. A little less than a decade ago, the business added some states out West, too.
According to Kane, the company no longer insures churches because there are specialized firms that offer more specific coverage to religious institutions.
Instead, Badger Mutual focuses on restaurants, bars and apartment buildings.
"The kinds of places where the owner is on-site," Kane says.
Its lovely current home was built in part to celebrate Badger Mutual's 50th anniversary, and now, well after it has notched 130 years in business, the company – which employs just under 100 people, almost, but not all of them, housed in the headquarters building – is still located on the near South Side.
In addition to being a striking structure visually, the use of the then-in-vogue Art Deco/Moderne style is notable, too, according to the building's entry in the Wisconsin Historical Society's Architectural Inventory.
"The streamlined appearance of this moderne style insurance company stands in bold contrast to Milwaukee's other mutual insurance companies housed in classically inspired designs," the site notes.
"Crisply sheathed in Bedford limestone, Badger Mutual's home office was built in two stages: the first story in 1937 to mark 50 years in business; and its second story addition in 1947.
"The moderne first story features a balanced massing of streamlined block-like forms projecting from the low-slung building, each block vertically striped by a narrow window band.
"Vertical speed lines mimic stone piers astride its recessed central entry portal. Carved stone garlands above the entrance bracket its logo, a badger mounted on a shield, to underscore the low-relief moderne balloon lettering that identifies the company name."
Here are some photos of the construction and expansion of the building, courtesy of Badger Mutual:

Construction of the building, July 26, 1937.
Badger Mutual's headquarters, Nov. 9, 1937.

Construction of the second floor, Aug. 6, 1956.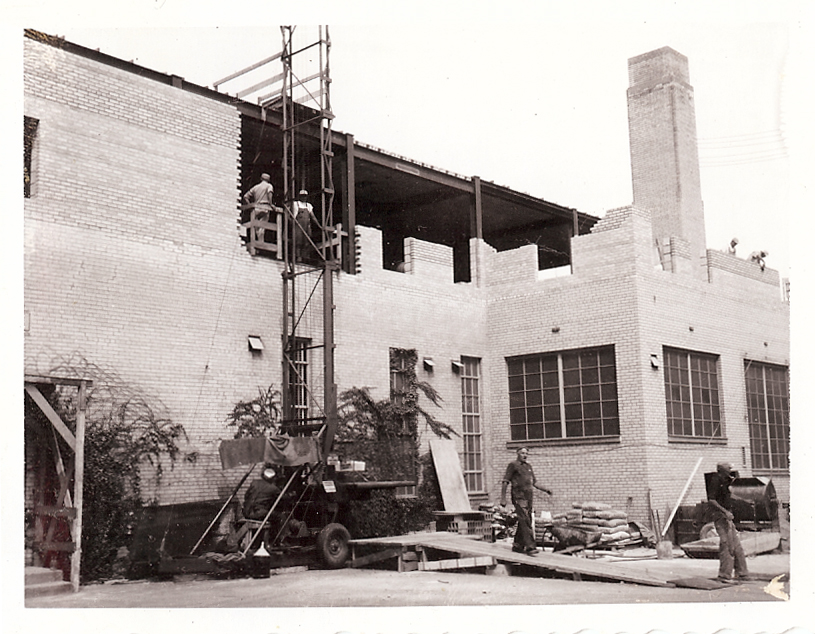 Construction of the second floor, Aug. 6, 1956.
Facebook Comments
Disclaimer: Please note that Facebook comments are posted through Facebook and cannot be approved, edited or declined by OnMilwaukee.com. The opinions expressed in Facebook comments do not necessarily reflect those of OnMilwaukee.com or its staff.