First look: Playmobil showroom at Delafield's Smiley Barn
There are just two Playmobil showrooms in the United States and, of course, one of them is at New York's legendary toy palace FAO Schwartz, now located in Rockefeller Center.
The other?
At Delafield's The Smiley Barn, of course.
The barn, 2420 Milwaukee St., which had been expressionless and painted red for a few years, returned its yellow emoji-inspiring facade in 2018.
And now just up the steps to the second floor – or hayloft, if you will – you'll find a space packed full of figures and scenes made by Germany's Playmobil to spur children's imaginations.
The showroom – which opened about two weeks ago and is growing in popularity – is lined with shelving full of klickies (the small figures) and their many and varied habitats, from pirate ships and medieval castles to pony stables and mystical fairy glens, plus vehicles and other accessories galore.
There are also posters and some human-sized klickies decorating the space and more are on their way from Germany, along with an interactive bus.
Of course, there are plenty of opportunities to test out some of the merchandise, too (surely sending some parents leaping for the hand sanitizer, especially at this time of year).
A grand opening celebration is slated for Saturday and in addition to 10 percent off all Playmobil stuff, there will be giveaways of coloring books and Playmobil mystery packs.
The shop is open daily at 10 a.m. and closes at 6:30 p.m., except on Sundays when it closes at 5. You'll have no trouble finding it at the intersection of Interstate 94 and Highway 83.
Here is a look at the space: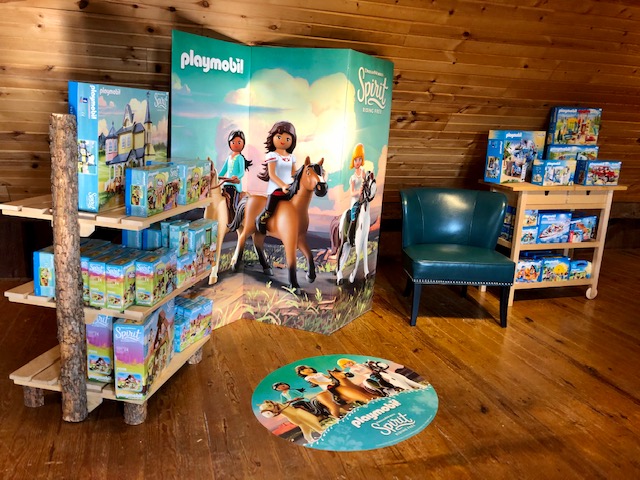 Facebook Comments
Disclaimer: Please note that Facebook comments are posted through Facebook and cannot be approved, edited or declined by OnMilwaukee.com. The opinions expressed in Facebook comments do not necessarily reflect those of OnMilwaukee.com or its staff.