Surprise: STOMP is super funny
I knew STOMP – a popular live, traveling show that originated in England in 1991 – would be loud, percussive and clap-tacular, but what I didn't know was that it would be funny. Really funny.
STOMP, which is in Milwaukee at the Pabst Theater for the entire weekend, features eight performers – six men and two women – using a variety of everyday objects like brooms, garbage can lids, shopping carts, water bottles, inner tubes, paint cans, Zippo lighters and sink basins to create explosive, perfectly-timed sounds and impressive movements.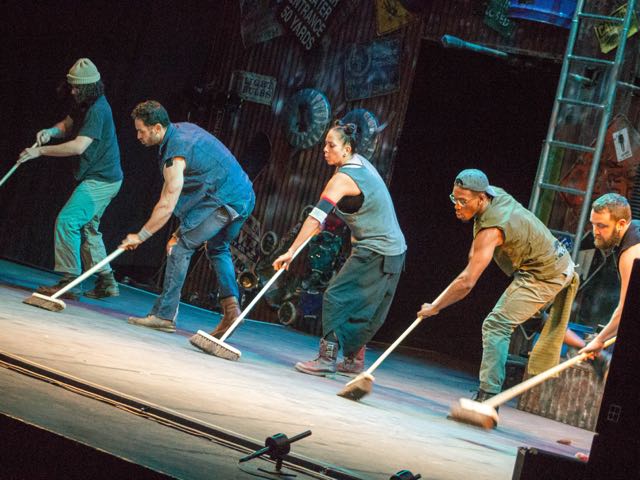 The graceful, uber-energetic performers are astounding in their drumming and acrobatic talents. And by adding a aura of comic relief – a guy whose plastic tube, for example, is always smaller than the others' – the show has a strong comedic element.
It's already fascinating that STOMP conveys so much emotion and sentiment without words and the fact it appeals to people of all ages, but the strong presence of humor adds another dimension. The subtleness and simplicity of the funniness is what really makes it work. The slightest gesture by one of the performers or the timing of one sound brought roars of laughter from the audience.
In general, the Milwaukee audience – with the exception of one outburst that was responded to by a performer with a universal "someone drank too much" hand gesture – was awesome. The group was interactive and participated wholeheartedly in rollicking clap-a-longs. Best of all, they didn't try to contribute their own "music" during the show by tapping, clapping or stomping to their own beats. (This can happen at STOMP shows and it's the equivalent of sitting next to someone at a concert who sings off key along with the band.)
STOMP is almost 30 years old and continues to grow and change in its routines and yet the message remains the same. It doesn't take more than a few household items and a talented troupe of merrymakers to sustain our interest, feel a human connection and laugh our asses off. And these unexpected laughs were particularly appreciated on a cold and rainy April night.
STOMP is currently at the Pabst Theater. Shows are Saturday, April 14 at 2 and 8 p.m. and Sunday, April 15 at 2 p.m. Go here for tickets or more information.
Facebook Comments
Disclaimer: Please note that Facebook comments are posted through Facebook and cannot be approved, edited or declined by OnMilwaukee.com. The opinions expressed in Facebook comments do not necessarily reflect those of OnMilwaukee.com or its staff.