Milwaukee Art Museum opens first-ever Nares retrospective this week
This week, Milwaukee Art Museum opens what is, rather astonishingly, the first retrospective show of works by British-born, New York-based artist Jamie Names.
"Nares: Moves," which opens Friday and runs through Oct. 6 in the Baker/Rowland Galleries, is an in-depth look at a varied oeuvre and is rich in works – nearly 150 in all – in a wide variety of media, from film and video to works on paper, sculpture, painting, photography and more.
Regular museum-goers will recognize two landmark Nares films – "Pendulum" and "Street" – which were on view at MAM in 2017.
"Nares is not constrained by any one medium. A central figure of punk rock and No Wave cinema in New York in the 1970s,she has remained curious and innovative as her work has broadened and matured," says MAM Director Marcelle Polednik.
"Her influence on the artists and art of New York is indelible; placing her work in the canon of art history allows us to more fully understand the development and nature of contemporary art."
Notably, the show is the first here to be curated by Polednik, whose collaboration with the artist pre-dates her tenure at the museum. The two worked together to create a lavish catalog of the exhibition, which is available in the MAM shop.
Hear more from Polednik about their association and the show here:
"Jamie Nares is a prolific, perpetual creator," said Polednik. "I first worked with the artist when I was at the Museum of Contemporary Art Jacksonville and decided then that I wanted to explore the full breadth of her work and share it with a broader national audience."
Nares' career, which, so far, spans five decades, has been informed by a philosophy the artist describes as, "things in motion, motion in things" and "body has fluid, fluid has body."
Indeed, much of the work – regardless of medium – ripples with movement, not only through space, but also time, with works that play with manipulating both.
Nares' iconic films are included, as are the colorful swooshes of paint that explode from their canvases, but my favorites are a trio of works from her latest series, "Monuments" – a much larger show of which is currently on view in New York City at Kasmin.
These large-scale canvases were created by Nares' wax frottage rubbings of 19th century New York City granite sidewalk paving stones that were etched by masons well over a century ago to prevent pedestrians slipping on them when they were wet.
Back at the studio, Nares then gilded the intricate and artful patterns created by the anonymous stonecutters with 22-carat gold, celebrating the work, she says, of, "the unknown souls whose touch still lingers on the city's sidewalks."
Nares told me that she's created more than 30 of these works by doing rubbings all around downtown Manhattan. The three on view in Milwaukee are from stones on Lafayette and Prince Streets.
Jamie Nares is in Milwaukee for the opening of the show this weekend and will return for a couple of events in the coming months.
Here, Nares talks about the first work you'll see as you enter the exhibition:
New York-based artist James Nares talks about the first work you'll see when you enter the first-ever retrospective show, "Nares: Moves," which opens this week at @milwaukeeart pic.twitter.com/MdXQcWlmxW

— Bobby Tanzilo (@BobbyOnMKEcom) June 12, 2019
Nares will be back in Milwaukee – where, she says she's noticed that, "something good is really going on" – on Aug. 16 when her friend and collaborator, Sonic Youth's Thurston Moore, will be here to perform his soundtrack live as the hour-long "Street" is screened at the Oriental Theatre at 7 p.m.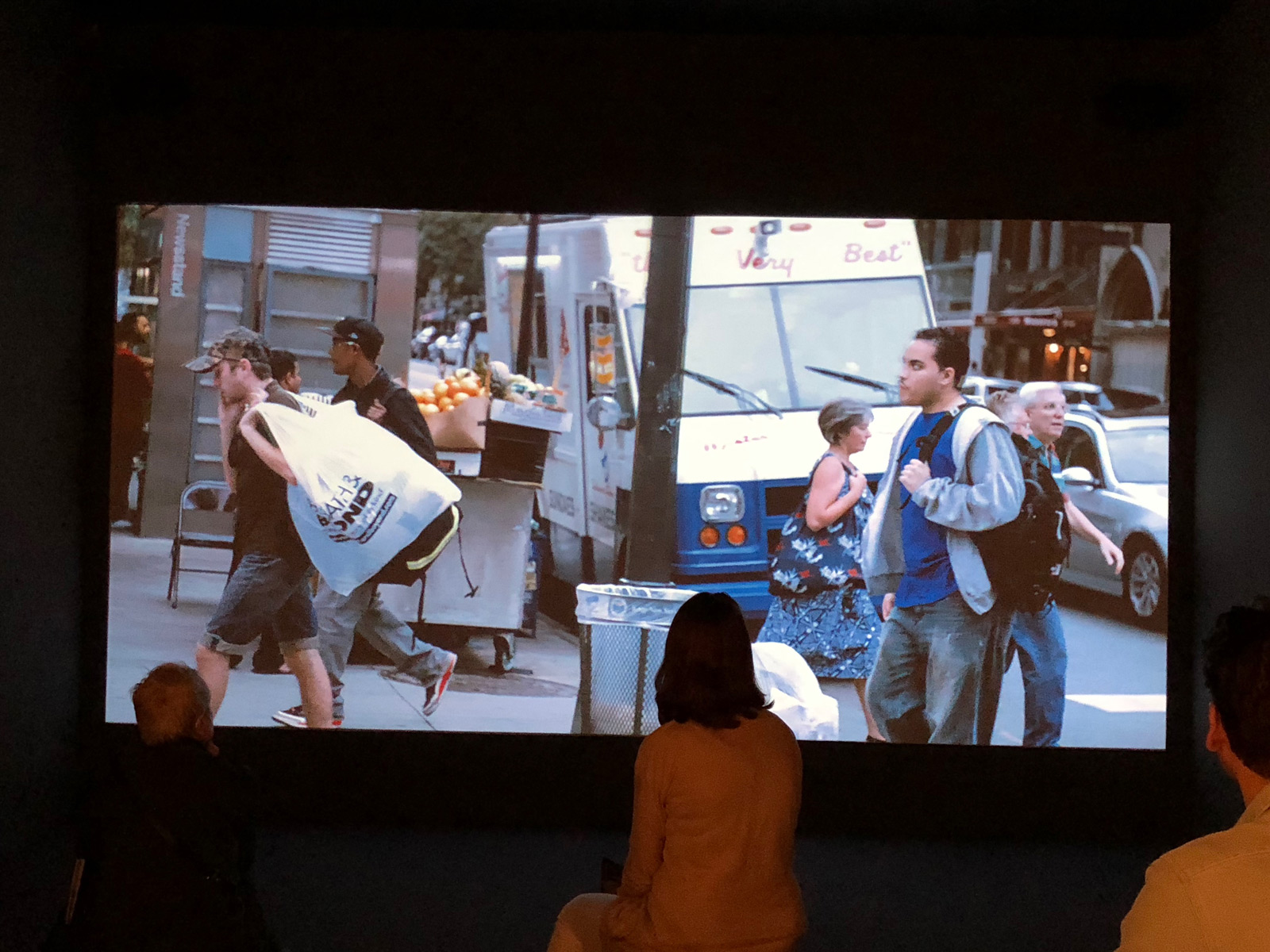 The artist returns again for a conversation with Oscar-winning filmmaker Julian Schnabel, Thursday, Sept. 19 at 6:15 at the museum's Lubar Auditorium. Details on that event are here.
Facebook Comments
Disclaimer: Please note that Facebook comments are posted through Facebook and cannot be approved, edited or declined by OnMilwaukee.com. The opinions expressed in Facebook comments do not necessarily reflect those of OnMilwaukee.com or its staff.