MTO's Third Ward murals spotlight endangered species
According to a post on Facebook, graffiti/street artist MTO is responsible for a pair of murals in the courtyard at the Jefferson Block Apartments, 143 N. Jackson St., in the Third Ward.
The murals were painted last week by MTO, who, according to his Facebook page, was born and raised in France, "Living in Berlin between 2006 and 2013. Currently living in "Nowhere," Planet earth."
The artist has already left Milwaukee.
Each four-story-tall mural depicts an endangered animal – a yellow-crested cockatoo and a giant panda – in a break-dance-style pose and bears an "American Idol" logo.
The apartment complex is owned by Milwaukee's New Land Enterprises.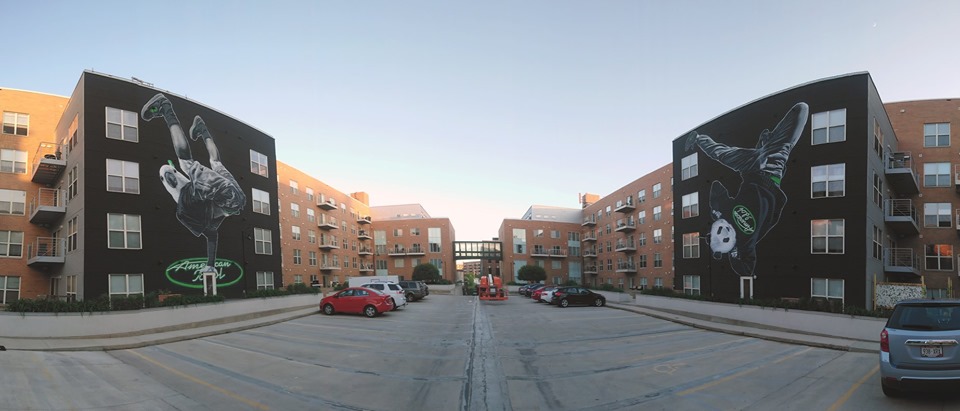 "We were really impacted by what we saw at Black Cat Alley," says New Land's Tim Gokhman," and the power of art to transform and engage communities. So, we continue to look for opportunities to do that, and we had this blank space ... It's a fun reveal because people don't expect it."
According to the Facebook post, "The yellow-crested cockatoo is considered a critically endangered species. The giant panda a conservation-reliant vulnerable species."
The murals are a statement on climate change and President Donald Trump's pulling out of the 2015 Paris Agreement, according to the post, which you can see here in full:
Why did Gokhman select MTO, who is best known here for his giant frog mural on the Kenilworth Avenue side of the Oriental Theater, which is also owned by New Land?
"When the frog mural was done," he says, "one of the partners at New Land – Walter Shuk – developed a really great and sort of unlikely friendship with (MTO) and they keep in touch. So, he said, 'why don't you come back to Milwaukee and do another piece?'"
Facebook Comments
Disclaimer: Please note that Facebook comments are posted through Facebook and cannot be approved, edited or declined by OnMilwaukee.com. The opinions expressed in Facebook comments do not necessarily reflect those of OnMilwaukee.com or its staff.