6 more great Milwaukee reads to add to your stuck at home book list
The coronavirus pandemic has changed our everyday life, but it doesn't need to change who we are. So, in addition to our ongoing coverage of the coronavirus, OnMilwaukee will continue to report on cool, fun, inspiring and strange stories from our city and beyond. Stay safe, stay healthy, stay informed and stay joyful. We're all in this together. #InThisTogetherMKE
As I wrote yesterday, when sharing a list of books about Milwaukee history, we're all going to have some time to finally catch up on those TV series we've been meaning to binge and all the books we've been hoping to read someday.
Someday is now.
And books are something you can still get, thanks to Boswell Book Company's curbside pickup – and even Milwaukee-area delivery – as well as the usual Amazon option. But, now more than ever – or as much as ever – it's imperative that you support the local guy (which is Boswell).
Hey folks, here's today's update.
As of 2 pm, Boswell is closed to the public for browsing until 3/31/20. You can still call us with an order or place orders online. We'll deliver it to you in the MKE metro area for free. We're also offering curbside pickup between 10am - 5pm.

— Boswell Book Company (@boswellbooks) March 17, 2020
Here are some more titles you won't want to miss ... I'll try to keep the lists coming:
"Lessons from the Heartland: A Turbulent Half-Century of Public Education"
By Barbara Miner
If you want to know about public education in Milwaukee, start with "Lessons from the Heartland: A Turbulent Half-Century of Public Education." A Milwaukee native, Miner has spent most – though not all – of her life in the city, where her children attended public schools, where she has been associated with Rethinking Schools magazine, where her husband has been a teacher and union leader. Miner's book is not only a fact-laden history of MPS from the late '50s forward, but it is an extremely readable book. Blending personal experience, hard facts and Milwaukeeana – like the Braves' heroic upset of the Yankees in the 1957 World Series – "Lessons from the Heartland" focuses on the big-ticket issues in public schools in Milwaukee and beyond: desegregation, choice and charters.
"Milwaukee Food"
By Lori Fredrich
OnMilwaukee's own food expert charts the history of restaurants in Milwaukee and also surveys the scene as it was in 2015, when the dining world in Brew City seemed like it would be perpetually booming. Interesting looks at classic eateries, innovative chefs, food movements and the best up and comers.
"Good Time Party Girl: The Notorious Life of Dirty Helen Cromwell 1886-1969"
By Helen Cromwell, edited by Christina Ward
Publisher Feral House and Milwaukee writer Christina Ward bring a classic Brew City memoir back into print in an expanded and annotated edition with great photographs. It's a bawdy story of bootleg booze, prostitution and Milwaukee taverns. It's eye opening and engrossing reading.
"The Drifter"
By Nicholas Petrie
Has a book as gripping and engaging as Nicholas Petrie's crime novel, "The Drifter," ever been written about Milwaukee? Interweaving terrorism, homelessness, veterans and Riverwest, the book is a compelling page-turner. I won't spoil it for you, but rest assured, when you switch off your phone and pick up the book, you'll recognize the places Petrie describes in his debut novel.
"Images of America: LGBT Milwaukee"
By Michail Takach
OnMilwaukee contributor Takach has spent years collecting images and information on LGBT Milwaukee bars, events and more, and much of it is in this book, which was celebrated by The Advocate when it was published a few years ago. "I've been fascinated, inspired and humbled by the colorful adventures of our LGBTQ elders, navigating a dubious and often dangerous nightlife landscape in the early 1960s without ever once losing their sense of self. Very few people alive today can understand what it really meant to be your best self in that era," he told me in 2016.
"Milwaukee Rock and Roll, 1950-2000: A Reflective History"
Edited by Bruce Cole, David Luhrssen and Phillip Naylor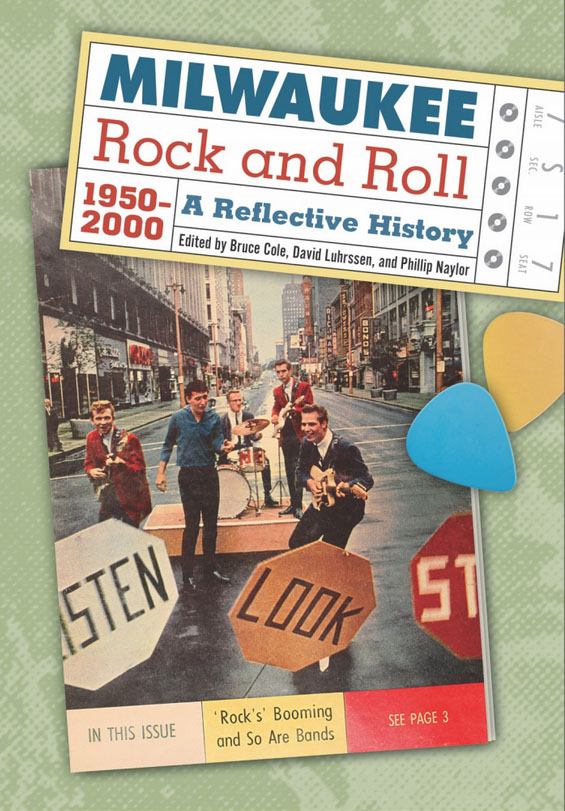 The three editors are all affiliated with rock and roll history courses offered at Marquette, where Naylor is a history professor and where Cole is the curator of the university's Jean Cuje Milwaukee Music Collection. Luhrssen is a longtime editor at the Shepherd Express and a widely published author. Their more than 200-page book is broken up into chapters like "Rock's Beginnings in Milwaukee," "The British Invade Milwaukee," "The Blues in Milwaukee," "Punk and Post-Punk" and others.
Facebook Comments
Disclaimer: Please note that Facebook comments are posted through Facebook and cannot be approved, edited or declined by OnMilwaukee.com. The opinions expressed in Facebook comments do not necessarily reflect those of OnMilwaukee.com or its staff.