First look: Milwaukee Ballet's Baumgartner Center for Dance
After years of jockeying for space at its long-time former home in Walker's Point everyone at the Milwaukee Ballet – including the six new company dancers – has moved into the sparkling new Baumgartner Center for Dance at 128 N. Jackson St. in the Third Ward and an official ribbon cutting takes place on Wednesday.
We visited for a peek when the building was still under construction last December and last week we returned for a look at the (nearly) finished result, ready in the nick of time for the Ballet's 50th anniversary season.
The 52,000-square foot building was designed by Jim Shields of HGA Architects and it offers considerably more space that the old building at 504 W. National Ave. Plus, there's parking, which is a deal-sealer for the many families who avail themselves of the Ballet's school classes. And, perhaps best of all, the Baumgartner Center is fully ADA accessible.
Annia Hidalgo and Randy Crespo. (PHOTO: Eric Olson/Saturn Lounge)
The new building has seven studios, including the Vandenberg/Mardak Community Studio and the We Energies Foundation Performance Studio (pictured above), with state-of-the-art audio and lighting as well as permanent seating for about 200.
That's up from the old building's four studios and these boast the latest technology in ballet flooring from Harlequin Dance Floors in New Jersey.
On the second floor are more studios, a lounge for ballet school students, changing rooms, a board room and the offices of the Ballet staff.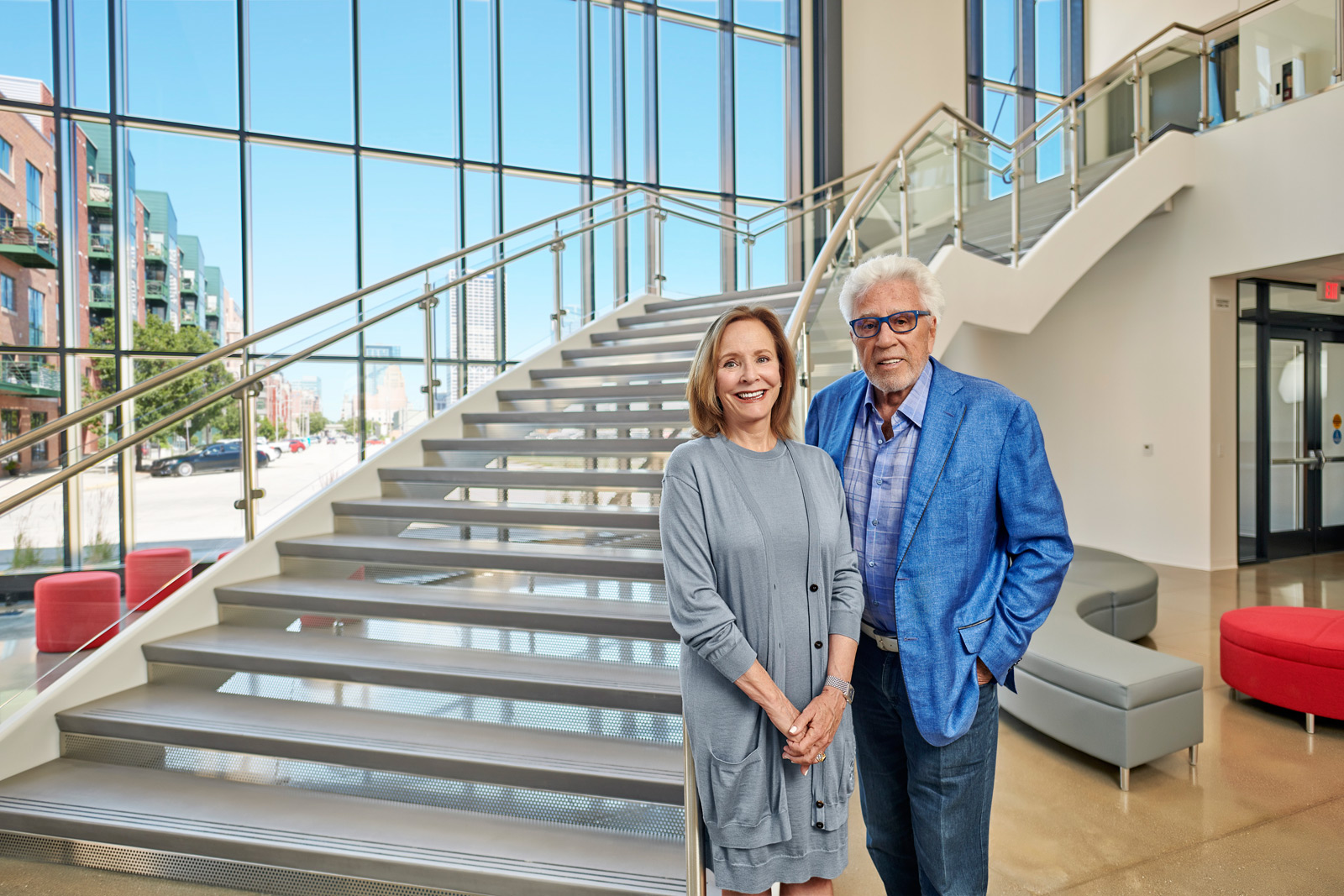 Donna and Donald Baumgartner in front of the grand staircase.
(PHOTO: Eric Olson/Saturn Lounge)
The first thing visitors see, however, is the open, two-story Herzfeld Atrium with its grand staircase swooping up to the second floor. Just across from it is the Ballet's first dedicated, public-facing UPAF Box Office for sales of performance tickets. There's also space for a small boutique.
As stunning and impressive are the front-facing parts of the facility, seeing the back of house was especially striking after having seen the impossibly cramped quarters in the old building, where costumes hung on racks in already narrow corridors and some office departments had staff on different floors on opposite ends of the facility.
Here, the offices flank a main open space designed for collaboration. There's also a quiet room, a kitchen area, meeting rooms and, gasp, the entire staff is all together in one space.
The Teerlink Family Costume Shop in appreciation of Mary Piering is positively spacious in comparison and even has a dedicated space for dyeing garments. The Walker's Point home also had one: the alley out back.
"We are living the dream," quips Managing Director Anne Metcalfe as we stand in her bright new office, with windows looking out at the Third Ward.
"The best thing about it for the staff is that we're all in the same pool and before that we were split over two levels and already you can see the huge advantage of this. It just makes the collaboration side of it that much better.
"For me, the building, obviously, is just beautiful, but the collaboration between departments means that we will go from being all about the art, which is obviously what people know us for, to being able to be also about community engagement in our school, which is so important. The mission for this company is the artistic side, the education and training, and the community engagement. Now we can already see so quickly how connecting those dots is so much easier."
The additional space also allows the Ballet to expand its programming and do things it couldn't accomplish before because of space constraints. An example is the new Ballet 4 Boys program that encourages boys to get into and stick with ballet by offering free classes.
Milwaukee Ballet uses GMA comment to encourage boys to dance https://t.co/L93nx5OsVx pic.twitter.com/mmftTMvBVo

— WISN 12 NEWS (@WISN12News) August 27, 2019
"Now that we have more studios we can bring in kids who want to try it for the first time," says Metcalfe, whose own son is ballerino. "In the pre-professional program, you'd see that kids would get to 14 and 15 years old, they're going en pointe, the girls, and then they're juggling high school and three classes a week. So you go from being semi-serious to suddenly really having to train a lot. And we would see people drop out of ballet cause they had to give it up.
"Now we can give those kids an opportunity to just take a class a week or two classes a week. So it grows revenue capacity and keeps kids interested in ballet, which is great."
And it's a big deal for the already popular Summer Intensive Program, which draws 150 students not only from across the U.S. but from multiple other countries. In the past, those students were spread out over the Ballet's three facilities, including one in Brookfield. Moving forward, the entire program will be held at the Baumgartner Center.
"The summer intensive is like 'The Nutcracker' for the school (in terms of popularity and revenue)," says Metcalfe, noting that the program can now expand. "Which for me is personally really important because my son is doing that this year, He's going into ninth grade. He would, because he's very serious about becoming a dancer and he's got a great base technique, have had to go to another city. He would've gone to Boston or Seattle, Washington or New York to study. But he's been able to stay here because of that program."
The Ballet has also launched a pre-professional program at the new center that has 20 students from around the country and one from abroad.
"We'll start to become a destination," says Metcalfe.
The Milwaukee Ballet's 50th season kicks off Oct. 17 with "Coppélia." Information and tickets can be found here.
Facebook Comments
Disclaimer: Please note that Facebook comments are posted through Facebook and cannot be approved, edited or declined by OnMilwaukee.com. The opinions expressed in Facebook comments do not necessarily reflect those of OnMilwaukee.com or its staff.