5 reasons to get serious about seeing Milwaukee Art Museum's "Serious Play"
Let's be honest, sometimes art can be heavy. And sometimes the exhibitions at the Milwaukee Art Museum are similarly weighty.
Consider the stark imagery and serious subject matter in the recent "William Kentridge: More Sweetly Play the Dance" video installation. Or the deep art scholarship of "Constable? A Landscape Rediscovered," still on view now.
But starting last Friday, MAM is serious about something altogether different.
"Serious Play: Design in Midcentury America," which runs through Jan. 6, is bursting with color, with playfulness, with, well, fun.
The exhibition represents a massive transformation of the Baker/Rowland Galleries in the Calatrava-designed Quadracci Pavilion after Kentridge's sprawling work most recently took up the entire space, which had all its dividers removed for the first time ever.
"Serious Play" is broken up into three sections and within those sections, there's a path that winds through designers' drawings, posters, furniture, toys and other objects. And there's an explosive palette of bright colors all around.
The show, which displays more than 200 objects from the organizing institutions (along with some loans), is a collaboration between MAM and the Denver Art Museum, where it will travel in 2019.
"While midcentury American design may be familiar to some audiences, this exhibition sheds light on work by many designers from the perspective that play can be a serious form of experimentation," said MAM's Demmer Curator of 20th- & 21st-Century Design, Monica Obniski, who curated the show with Darrin Alfred, curator of architecture design and graphics at the Denver Art Museum.
"Serious Play," said Obniski, explores, "the spirit of play and its importance to the cultural production of the period."
Here are five reasons you shouldn't miss the show.
You can touch stuff!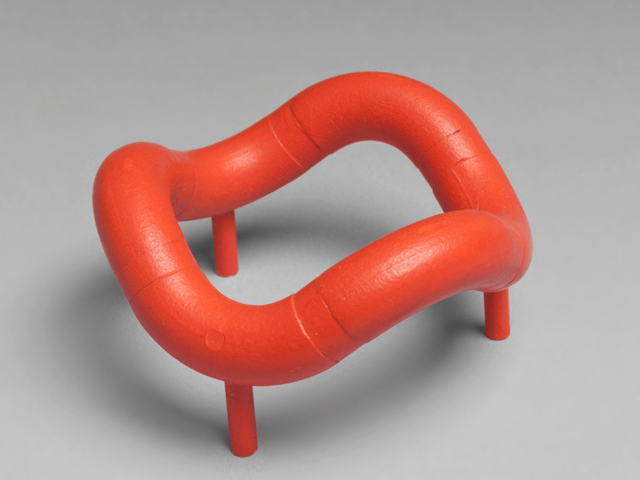 There's a section – clearly marked – in the exhibition that has a range of toys that kids (and, yes, you, too) can touch and play with. Go in, have a ball and please remember to respectful once you leave the area and keep your hands to yourselves. Just outside the exhibition is the Isamu Noguchi study model for Play Sculpture (pictured above) that kids can also climb on.
Eye candy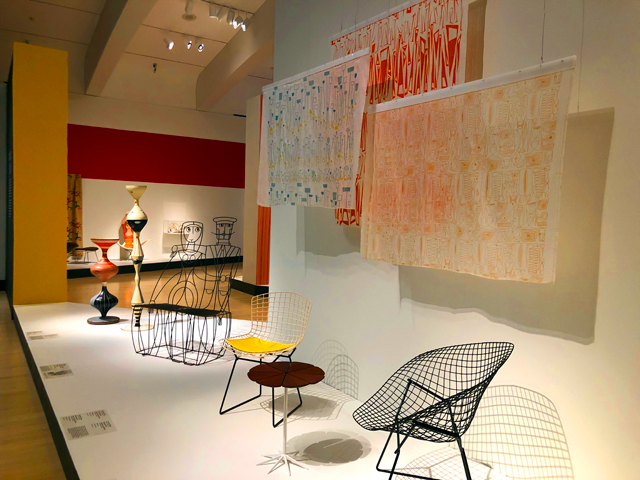 As I noted earlier, the show is bright and full of color. So much so that when you enter you just might need a moment to adjust to the wonder.
Mad Men
For folks who were wowed by the midcentury modern look of "Mad Men," this show will be like an amusement park of quirky furniture and decor. You'll especially love the recreated Braniff Airlines VIP lounge where the only thing missing is a smoking cigarette and a snifter of brandy.
That gift shop
The gift shop at the end is a show in itself. It starts with a recreated mod New York candy store and step further in and you'll find many wondrous gems, including some objects – notably some of the amazing wall clocks – featured in "Serious Play" for sale.
Fun for the whole family
As you've gathered by now, while little Dick and Jane might not fully grasp or enjoy something like a Kentridge video installation or the long-overdue proper attribution of a long-unseen painting, they sure as heck will dig "Serious Play." And so will you.
For details on admission, hours and related program, visit mam.org.
Facebook Comments
Disclaimer: Please note that Facebook comments are posted through Facebook and cannot be approved, edited or declined by OnMilwaukee.com. The opinions expressed in Facebook comments do not necessarily reflect those of OnMilwaukee.com or its staff.