MAM's "Portrait of Milwaukee" nods at Brew City flash pioneer
Back in the day, newspaper photographers had a pretty challenging job. Not only did they have to be at the scene of the crime, they had to rush back to develop film and make prints to be reproduced in the paper. And, at night and in dark interiors, they had to use extremely dangerous flash powder, igniting a new batch of this flammable material that had to be carried with them for each click of the camera shutter.
These dangerous powders were later replaced with single-use flashbulbs that were still good for a single shot and once it was fired, it was too hot to handle right away. And sometimes the bulbs would explode during the flash.
In 1931, Harold Edgerton at MIT invented the electronic flash tube called a strobe. Because these were cumbersome, they were typically used in studios rather than out in the field.
And then came Edward Farber, a Milwaukee newspaper photographer that began to dabble in creating more portable strobes for his fellow newspaper cameramen.
Some of Farber's work is featured in the "Portrait of Milwaukee" photography exhibition at the Milwaukee Art Museum.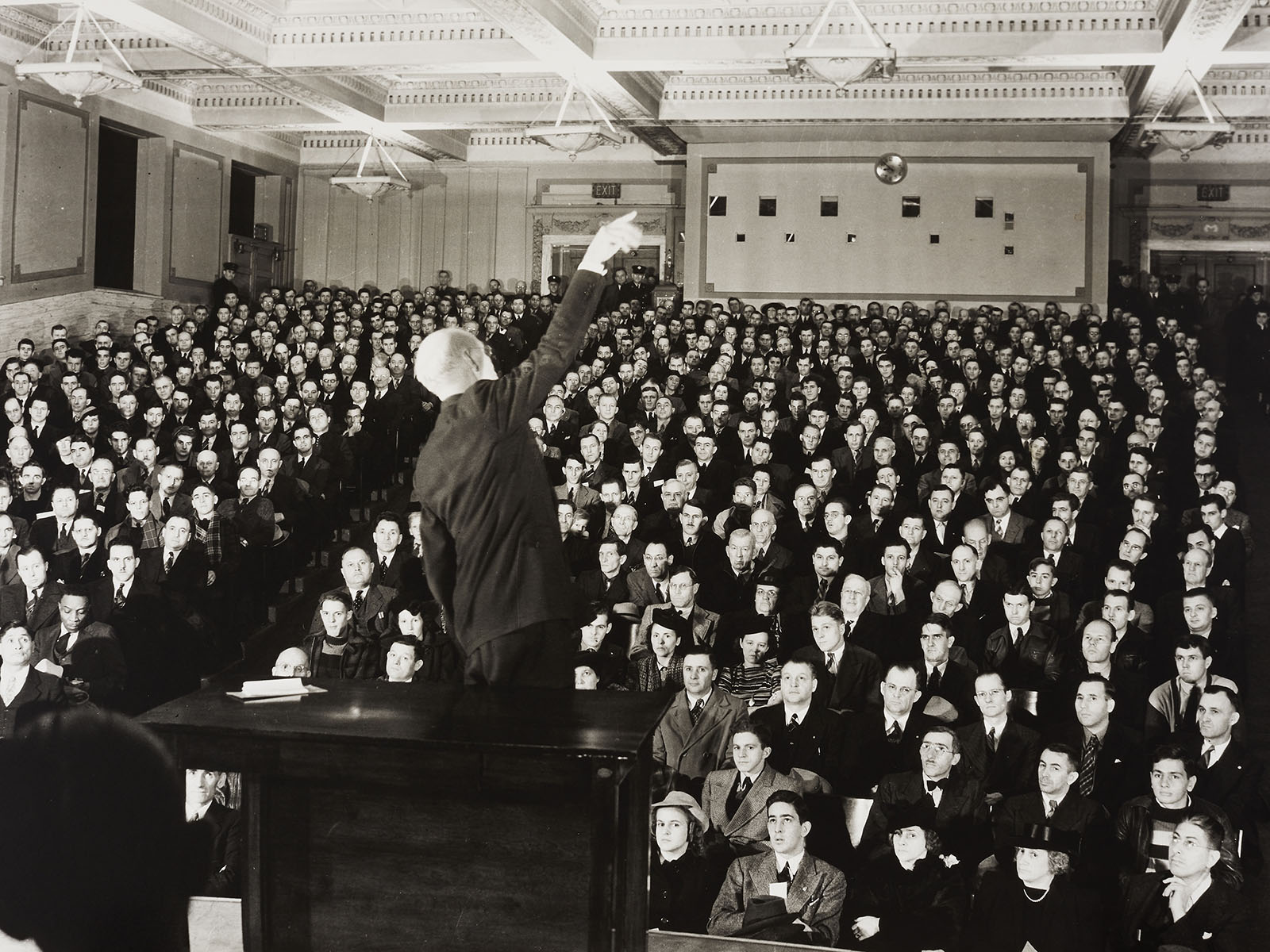 Edward Rohlke Farber, Foreman's Safety School - 9th Street Auditorium, Milwaukee Library,
ca. 1940. Gelatin silver print. Gift of Janet and Marvin Fishman to the Edward Farber
Memorial Collection, M1983.388. Copy photo by John R. Glembin.
"Farber created a portable electronic flash unit that photographers could use 'on the go,'" says MAM curator Ariel Pate. "The new unit, called a Strobo-Flash, was financially backed by the Journal and was put to use by the paper in in 1942, when they outfitted six of their photojournalists with the new equipment.
"It freed photojournalists. It allowed photographers to take flash photographs quickly, and not have to wait to reload a bulb or powder. The Strobo-Flash also made it possible to 'freeze' motion, and for that reason expanded the options for sports photography in particular."
A UW-Madison graduate, Farber was hired by the Journal initially as a part-time photographer, but he soon worked his way up to full-time staff, of which he was a part twice, first in 1937-42 and again from 1945 to '46.
It was during that first stint that Farber began tinkering and created his own unit, which he copied to make more units for a dozen of his colleagues.
"Electronic flash, reduced to manageable size thanks to Farber's expertise, opened up a whole new range of possibilities: playing-cards frozen while being riffled from hand to hand; a light bulb being smashed to pieces by a hammer; a roller skater at the peak of his leap at the Arena; sports figures in action, in attitudes that are commonplace in our time but were revolutionary in theirs," wrote the Journal.
Farber left the paper to found Strobo Research, along with engineer and photographer Robert Dumke and photographer Frank Scherschel.
"Farber had a genius for invention," his former employer noted, posthumously. "He teamed with a glassblower to design tubes for his Strobo-Flash. The first one was an elongated bulb that lit up for 1/10,000th of a second, permitting incredible stop-action pictures."
In 1946, Strobo Research hired architect Fritz von Grossman to design a small laboratory – with a residence upstairs for GM Egon Grimm – which still survives (and houses a day care) at 35th and Congress.
"The studio and laboratory will be used for high speed photographic research and development work," the newspaper reported at the time.
In 1954, Graflex bought Strobo, which remained based in Milwaukee, at least for a time, before moving out to Graflex's home of Rochester, N.Y.
"Portrait of Milwaukee" includes a trio works by Farber (and a few more by other area newspaper lensmen) taken during his tenure with the Journal.
"The works I selected demonstrate the influence of Edward Farber and the Journal's photojournalism," says Pate.
"Farber commented that Milwaukee was a news market that focused on local stories to sell papers rather than splashy headlines, and the photographs in that section of the show, such as Miss America visiting the local Marine Reserve; a particularly bad April snowstorm; and photos of the Bucks basketball team reflect that."
After Farber's time at the paper and even after he sold Strobo, he often wrote articles for magazines like Popular Photography and Photo Methods.
"He remained active in the photographic community, frequently lecturing and writing on the use of flash and lighting," Pate adds. "He was a true believer in creating good – and easily reproducible – photographs through careful set-up of the subject and lighting."
While technologies have changed and improved, Farber's contribution to photojournalism was a landmark one.
Farber died of an apparently heart attack at home in Delafield at the age of 67. He was found, by a neighbor, sitting at the dining room table with a newspaper.
Facebook Comments
Disclaimer: Please note that Facebook comments are posted through Facebook and cannot be approved, edited or declined by OnMilwaukee.com. The opinions expressed in Facebook comments do not necessarily reflect those of OnMilwaukee.com or its staff.