Ilana Glazer rode the raunchy, rowdy and righteous comedy train tonight
In her Comedy Central show "Broad City," Ilana Glazer rocks zany, meta fashions like a mesh crop-top with a fanny pack, a Florida-woman windbreaker with a matching visor and a hat that reads "Perv."
Tonight, at a sold-out show during her "The Planet Is Burning" tour at The Pabst Theater (moved from Turner Hall), Glazer stormed the stage in cut-off jeans shorts, a black T-shirt and sneakers.
It was the perfect fashion choice – or non-fashion choice – that didn't overshadow a razor-sharp performance cutting through dozens of topics from DivaCup insertion etiquette (single-occupancy bathrooms are the key) to homophobia.
"Homophobes are the people who fart and then immediately blame it on someone else," Glazer said. "And remember: he who smelt it … is extremely curious about hooking up with another man."
On opening night of Milwaukee's Pridefest, Glazer aptly – and hilariously – defined "mostly straight" sexuality that has only recently garnered media attention, yet has been the unidentified identity of many since cavewoman invited both cavedudes and cavechicks back to their caves.
"If I were a cocktail, I'd be one part gay, two parts straight – a 'Gina Tondick (gin and tonic) or Both Sexes on the Beach or … a Muffpeeni," she said.
Glazer, who is married to a man, referred to him as a "cis male partner" followed by an "ewwwwwwww!" She later, however, shared the fact that although she is probably 60/40 male-to-female, she loves traditionally female actions like "making a house into a home."
Other highlights included her anti-Mel Gibson montage with a 10-second recap of the three-hours-long "Braveheart" and her admission that she's never seen – nor cares to see – "Star Wars."
"I've gotten the 'whaaaa you've NEVER SEEN STAR WARS?' many times in my life, but we are never all gonna match up on our content journeys. And I get 'Star Wars' even without seeing it: very, very soft brother / sister porn where the blackest guy in the galaxy is also an absentee father. I say we burn it all down," Glazer said.
Glazer – with co-star Abbi Jacobson – completed "Broad City" this year after a five-season run. In the show, Glazer plays a sillier version of her real self, but she proved tonight that even when she gets slightly more serious, she is every bit as funny and high energy.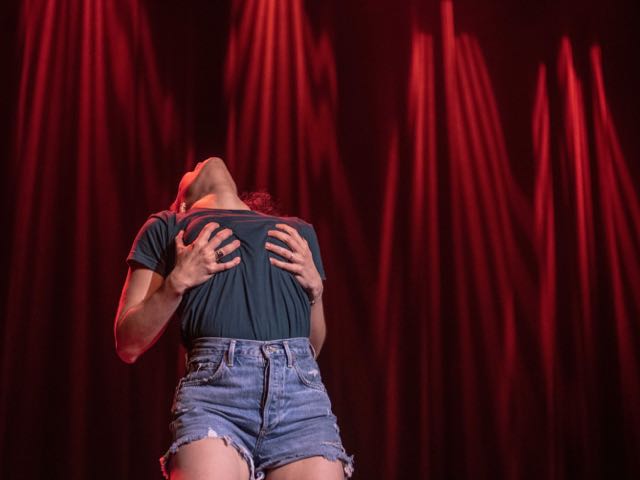 She used her body almost as much as her words to conjure hilarity, including offering up to the audience a few poses specifically for Instagram posts, a mime version / interpretive moment of how a pimple gets popped that turned into a brilliant "Trump is a whitehead on the bacne of American politics" rant and a recreation of her fantasy where a male barber shaves her legs with a straight razor from "ankle to pussy."
Her act was surprisingly void of environmental commentary, which was unexpected considering the title of her tour, but the show was as rich and full as a DivaCup on day three, and the brief but pleasant surprise of Hannibal Buress (comedian and "Broad City" co-star) appearing on stage to play a theremin really popped the cherry on top. Or the bottom, whatever. Definitely no judgments from Glazer or anyone in the audience who gave her an earth-shattering standing ovation after the show.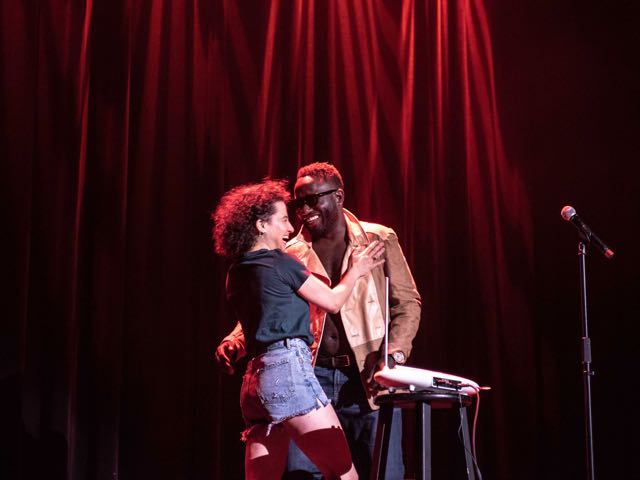 Facebook Comments
Disclaimer: Please note that Facebook comments are posted through Facebook and cannot be approved, edited or declined by OnMilwaukee.com. The opinions expressed in Facebook comments do not necessarily reflect those of OnMilwaukee.com or its staff.