Milwaukee Bucket List: Farmhouse Paint Bar & Cafe
"This is an advanced level piece," the instructor told my Saturday morning class at Farmhouse Paint & Sip, 4511 S. 6th St. The four people present, besides myself, groaned. It didn't take long for those groans, however, to turn into good times – and even better art.
The task was to paint a scene from the area around Veterans Park/McKinley Marina. It's a pretty detailed scene compared to the other painting options the studio offered. The instructor was there to guide us along as we tackled the challenge, step by step. Plus, there was a bar available with light snacks and drinks, alcoholic and not, and because it was morning, I thought there wasn't a drink more fitting than a mimosa.
Disclaimer: I have painted throughout my entire life. Besides the basic level art classes in elementary school, I studied art in high school, took a class similar to this at Splash Studio in the Third Ward, and painted and made other art on the side just for fun.
While I took my time adding some details because of my perfectionist nature, others did not. And that's OK – my perfectionism actually got in the way at times because the artist was moving on to the next step and I was still finishing the last. But by the end of the session, everyone's paintings – regardless of skill level – turned out great, and each one was unique. Even the people who said they never painted; they were probably just being humble.
We covered our blank canvases in layers, slowly turning the white space into a recognizable scene. We mixed the proper tint or shade of color we wanted, with instructions of what colors to use and how much, and then slathered it on the canvas.
We started with the sky, added the cloudy, wavy water, then the wispy clouds, the land jutting out over the water, trees, surrounding rocks in the lower corner of the painting, extra waves along the bottom and finally the boats, which were by far the hardest thing to paint. The instructor went through her instructions slowly enough for everyone to understand and go at their own pace.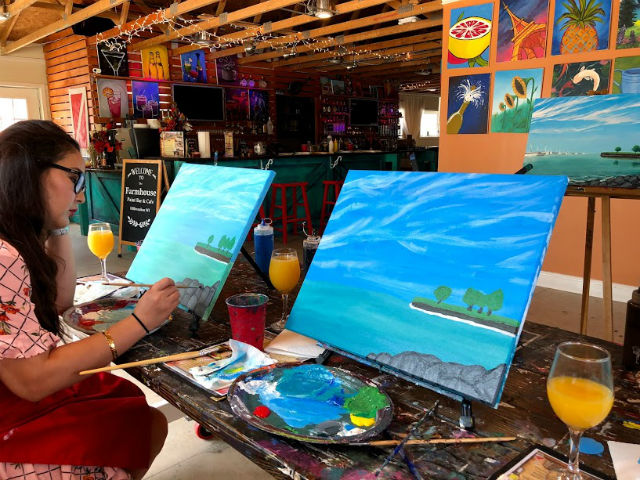 Thanks to to the instructor's regular walking around and check-ins, I received individualized attention and tips on how to improve my own painting. At Splash Studio, there are often many people participating artist didn't have time to give customized tips to each one – just maybe a quick compliment or two. And the process went a lot faster at Splash.
At Farmhouse, however, it's small enough that there really isn't a rush to finish. In fact, the artist said we could stay for an extra 45 minutes after the step-by-step instruction was done. Here's my finished painting: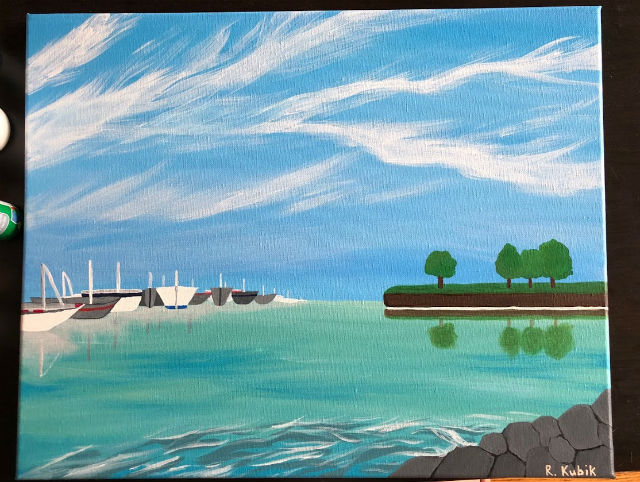 I really enjoyed spending my Saturday morning at Farmhouse – which, as the name implies, occupies remodeled buildings that were once part of an actual farm. Opened in 2016, the business is family owned and operated, with one of the buildings on the property offering a hall to rent for wedding ceremonies, private parties and other special events. Otherwise, there are classes going on almost every day.
Check out the website for more information.
Facebook Comments
Disclaimer: Please note that Facebook comments are posted through Facebook and cannot be approved, edited or declined by OnMilwaukee.com. The opinions expressed in Facebook comments do not necessarily reflect those of OnMilwaukee.com or its staff.